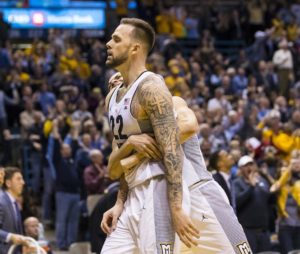 Tuesday's Top 25 action.
MARQUETTE 74 No. 1 VILLANOVA
Katin Reinhardt drew a foul late and converted a pair of free throws with 11 seconds left in the game, giving the Marquette Golden Eagles a two-point lead and the upset over No. 1 Villanova.
Reinhardt came off the bench to score 19 points, hand out four assists and grab a pair of rebounds for the Golden Eagles. Mikal Bridges netted 20 points and grabbed nine rebounds for the Wildcats.
The Wildcats, the 37th ranked team in three-point percentage going into the games, finished at 6-34 (17.6 percent) from beyond the arc.
The Golden Eagles improves 14-6 and the Wildcats fall to 19-2. This is the second consecutive Top 10 upset (No. 7 Creighton) for the Golden Eagles.
No. 18 WEST VIRGINIA 85 No. 2 KANSAS 69
Esa Ahmad dropped 27 points, added five rebounds and collected two assists for West Virginia (16-4) in the upset. Josh Jackson gave Kansas (18-2) 22 points, four rebounds and four assists.
TENNESSEE 82 No. 4 KENTUCKY 80
Robert Hubbs III led Tennessee (11-9) with 25 points, seven rebounds and two assists. Malik Monk paced Kentucky (17-3) with 25 points, and Isaiah Briscoe contributed a double-double (11 points, 14 rebounds). The loss snapped Kentucky's seven-game win streak.
No. 12 VIRGINIA 71 No. 14 NOTRE DAME 54
Virginia's (16-3) London Perrantes netted 22 points, also pulling in five rebounds. Bonzie Colson topped Notre Dame (17-4) with 20 points, adding three rebounds. Virginia has won five straight games.
No. 13 LOUISVILLE 106 PITTSBURGH 51
Louisville (17-4) saw Donovan Mitchell pour in 29 points, while collecting three assists and two rebounds. Pittsburgh (12-8) has now lost five straight games.
No. 15 WISCONSIN 82 PENN STATE 55
Bronson Koenig put up a 20-point, three-assist, two-rebound performance for Wisconsin (17-3). Tony Carr scored 12 points, dished out four assists, pulled down two rebounds and snatched two steals for Penn State (11-10).
No. 20 PURDUE 84 MICHIGAN STATE 73
Caleb Swanigan led Purdue (17-4) with 25 points and 17 rebounds. Miles Bridges put up a 33 point, seven rebound night for Michigan State (12-9).
No. 22 MARYLAND 67 RUTGERS 55
Melo Trimble had 17 points, six rebounds and four assists for Maryland (18-2). Corey Sanders of Rutgers (12-9) scored 15 points, grabbed three rebounds and handed out three assists. Maryland has won its last five games.
No. 23 SOUTH CAROLINA 98 AUBURN 69
Duane Notice led South Carolina (16-4) in points with 27. Sindarius Thornwell added 22 points, eight rebounds and five assists. Auburn's (13-7) Austin Wiley picked up a double-double with 10 points and 11 rebounds.
OTHER: 
MIAMI (OH) 75 BUFFALO 74
Dontay Caruthers (East High) scored five points, handed out two assists and grabbed a rebound for Buffalo.