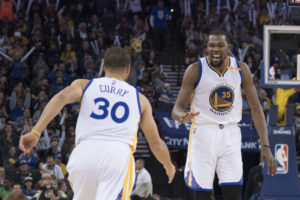 Monday's NBA action.
Golden State Warriors 126  Cleveland Cavaliers 91
SAN FRANCISCO – The big three (Kevin Durant 21 , Stephen Curry 20, Klay Thompson 26) for the Warriors (35-6) combined for 67 points.
The Warriors took control of this game going into half when Curry nailed a three to put the Warriors up 78-49. The Cavaliers (29-11) fought back to cut the deficit to 24 but that was as close as the reigning champs got.
Curry, Thompson and Durant combined for 13 threes in the game. Draymond Green added a triple-double with 11 points, 13 rebounds and 11 assists.
Atlanta Hawks 108  New York Knicks 107
NEW YORK – Dennis Schroder scored a team-high 28 points as the Hawks (24-17) improved to 9-1 in their last 10 games. Tim Hardaway Jr. added 20 points, three rebounds and four assists. Carmelo Anthony netted 30 points and grabbed seven rebounds, but the Knicks (18-24) lost for the fifth time in their last six games.
Washington Wizards 120  Portland Trail Blazers 101
WASHINGTON – John Wall registered  24 points, four rebounds and seven assists as the Wizards (21-19) won their second straight. Bradley Beal netted 25 points, handed out five assists and took away three steals. Markieff Morris added a double-double with 17 point and 13 rebounds. C.J. McCollum (Lehigh) had 12 points, two rebounds, two assists and two steals. The Trail Blazers (18-25) dropped their second straight.
Philadelphia 76ers 113  Milwaukee Bucks 104
MILWAUKEE – Joel Embiid's 22 points and 12 rebounds helped the 76ers win for the fourth time in their last five. Jabari Parker and Giannis Antetokunmpo each scored 23 points as the Bucks (20-20) lost their second straight.
Indiana Pacers 98  New Orleans Pelicans 95
INDIANA – Paul George recorded 19 points, five rebounds, six assists and two steals as the Pacers (21-19)  have won  six of seven. Myles Turned added a double-double with 18 points and 12 rebounds. Langston Galloway (Saint Joseph's) had nine points, four rebounds and a steal in 24 minutes played off the bench.
Denver Nuggets 125  Orlando Magic 112
DENVER – Kenneth Faried (20) and Nikola Jokic (30) combined for 50 points as the Nuggets (16-23) won their second straight. Jokic added 11 rebounds, five assists and three steals. Elfrid Payton scored 20 points and handed out 12 assists, but the Magic fell to 17-26 on the season.
Boston Celtics 108  Charlotte Hornets 98
BOSTON – Isaiah Thomas's team-high 35 points helped the Celtics win their third straight. Thomas is the first Celtic since Kevin McHale  (1986) to score 20 plus points in 25 straight games. Al Horford dropped 22 points, grabbed six rebounds and dished out four assists.
Utah Jazz 106  Phoenix Suns 101
PHOENIX – Rudy Gobert netted 18 points and grabbed 17 rebounds as the Jazz (27-16) won their fourth straight. Gordon Hayward and George Hill added 17 points each. Eric Bledsoe registered 31 points, nine rebounds and nine assists, but the Suns (13-28) dropped their third in four games.
Los Angeles Clippers 120  Oklahoma City Thunder 98
LOS ANGELES – Marreese Speights recorded 23 points and grabbed 10 rebounds as the Clippers (29-14) improved to 7-0 to start the calendar year, tying a franchise record set by the 1974 Buffalo Braves. DeAndre Jordan added 19 points and 15 rebounds. Chris Paul left the game with a hand injury, no time table on his return.