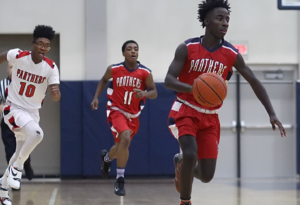 Jiahmere Mitchell hit a 3-pointer with .8 seconds left on the clock, and the NE Douglass Panthers went on to defeat the Brighton Barons 50-49 in the East High Invitational. After connecting seven times behind the arc and scoring 30 points in a loss Thursday night, Mitchell chipped in 11 points Saturday afternoon.
Trailing at the end of the third quarter, Jack Tullio hit a three to give Brighton a 49-47 lead with 28.8 remaining. Douglass took a timeout but came away with an empty possession. Brighton missed the front end of a one-and-one. NE Douglass grabbed the rebound and called a timeout to set up the game winner.
Brighton was able to get the ball in bounds to half court on the ensuing play but was never able to get a shot off.
NE Douglass opened the first quarter switching between multiple half court defenses to stifle the Brighton offense and hold the Barons to nine points in the quarter. Brighton came out in the first in a half-court man to man and had to switch out of it due to the balanced scoring attack of Mitchell, Torrence Phillips and Daiquon Turner. The Panthers led the Barons at the end of the first 18-9.
Brighton made their own adjustments starting the second quarter and throughout the quarter used multiple half-court zone defenses to limit the NE Douglass four points in the second quarter. The Barons chipped away at the Douglass lead and trailed at halftime, 22-19.
The first half was just setting the table for the exciting second half that was to ensue.
After a frantic start to the third quarter, Brighton controlled tempo and made it a half-court game. The Barons moved the ball well against the NE Douglass zone and set up two of Jack Tullio's four triples in the game. The Panthers answered with their own triple from Mitchell and a couple of lay-ins from Phillips. Brighton cut the deficit to one at 37-36 to close the third.
Turner led all scorers with 19 and also contributed 14 rebounds, four steals, four assists and three blocks.  Phillips added 13 points for the Panthers (9-4).  Tullio and Alex Jordan paced Brighton (7-5) with 12 apiece. Isaac Nelson collected 10 points and nine rebounds.