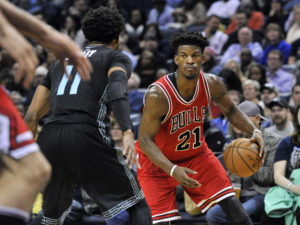 Sunday's NBA action.
Chicago Bulls 108  Memphis Grizzlies 104
MEMPHIS – Jimmy Butler helped the Bulls (21-21) win their second straight with 16 points, eight rebounds, six assists, and three steals.
One steal in particular came with five seconds left, when Butler took away an inbound pass to Mike Conley. Butler hit the go ahead 15-footer to put the Bulls up two, 106-104.
Doug McDermott collected a career and team-high 31 points in 33 minutes off the bench. Mike Conley (28) and Marc Gasol (24) combined for 52 points, but the Grizzlies (25-18) dropped their fourth in their last seven.
Troy Daniels (VCU) had two points and an assist in seven minutes off the bench.
Toronto Raptors 116  New York Knicks 101
TORONTO – DeMar DeRozan scored 23 points, grabbed five rebounds and dished out five assists as the Raptors (27-13) won their third straight. DeMarre Carroll (20) and Norman Powell (21)  combined for 41 points. Carmelo Anthony netted 18 points, but the Knicks (18-23) are 2-10 in their last 12 games.
Houston Rockets 137  Brooklyn Nets 112
BROOKLYN – James Harden's 12th triple-double (22 points, 11 rebounds, 11 assists) of the season ended the Rockets (32-11) first losing streak. Trevor Ariza added 23 points and eight rebounds.
Dallas Mavericks 98  Minnesota Timberwolves 87
DALLAS – Wesley Matthews helped the Mavericks (13-27) win their second straight with a team-high 19 points. Deron Williams added a double-double with 13 points and 10 assists. Gorgui Dieng scored 21 points as the Timberwolves (14-27) lose their first in four games.
Atlanta Hawks 111  Milwaukee Bucks 98
ATLANTA – Kent Bazemore's team-high 24 points improved the Hawks (23-17) to eight and one in their last nine games. Dwight Howard scored 16 points and grabbed a team high 14 rebounds. Giannis Antetokounmpo registered 33 points, grabbed eight rebounds, handed out six assists, took away two steals and sent away three blocks, but the Bucks (20-19) snapped a two game winning streak.
Oklahoma City Thunder 122  Sacramento Kings 116
SACRAMENTO – Russell Westbrook's 20th triple-double (36 points, 11 rebounds, 10 assists)  of the season pushed the Thunder (25-17) past the Kings (16-24). Victor Oladipo added 23 points, two assists, two steals and two blocks. DeMarcus Cousins scored a team high 31 points and 11 rebounds, but the Kings were handed their sixth loss in eight games.
Detroit Pistons Los Angeles Lakers
LOS ANGELES – Marcus Morris and Tobias Harris's 23 points a piece helped the Pistons (18-24) end a three game losing skid. Andre Drummond added 15 points and 17 rebounds. Lou Williams registered 26 points off the bench as the Lakers (15-29) lost their third straight.