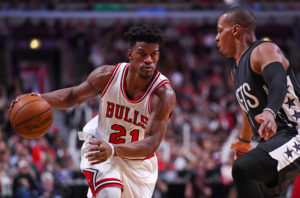 Wednesday's NBA action.
CHICAGO BULLS 101 BROOKLYN NETS 99
CHICAGO – Jimmy Butler took a step-back jumper 18-feet away from the basket and sank the game-winning shot at the buzzer to lift the Bulls (16-16). The Nets (8-23) lost at the buzzer one game after they won at the buzzer, when Randy Foye hit a buzzer-beating trey to give Brooklyn the victory over the Charlotte Hornets on Monday.
Butler scored nine points in the final 2 1/2 minutes, including a 15-footer that gave Chicago their first lead of the half with 27.7 seconds to go. Butler dropped 40 points for the second time this season to go along with 11 rebounds and four steals. Dwyane Wade, who left the game due to a migraine early in the fourth quarter, added 16 points in 22 minutes.
Brook Lopez, who dunked over his twin brother Robin to tie things up with 12.6 seconds left, had 33 points and a career-high five threes on six attempts for Brooklyn. The Nets have gone 31 straight games without stringing together consecutive wins, which is the second longest streak in franchise history. The longest streak in franchise history came in the 2009-10 season when the Nets went 71 straight games without consecutive victories. The Nets, who were still in New Jersey at the time, went just 12-70 that season.
WASHINGTON WIZARDS 111 INDIANA PACERS 105
WASHINGTON – John Wall paced the Wizards (15-16) with 36 points, 11 rebounds and nine assists. Otto Porter added 22 points. Paul George had 34 points and converted six of his 10 attempts from downtown for the Pacers (15-18).
CHARLOTTE HORNETS 120 ORLANDO MAGIC 101
ORLANDO – Nicolas Batum led the Hornets (18-14) with 20 points, nine boards, and eight dimes. Charlotte converted 54.8 percent of their shot attempts. Nikola Vucevic had 21 points and six rebounds for the Magic (15-19).
ATLANTA HAWKS 102 NEW YORK KNICKS 108 (OT)
ATLANTA – Dwight Howard scored 16 points and grabbed 22 rebounds to push the Hawks (16-16) to the overtime victory. Dennis Schroder had a game-high 27 points. Mike Muscala (Bucknell) added two points and five boards off the bench. Derrick Rose finished with 26 points, seven rebounds and six assists for the Knicks (16-15).
MILWAUKEE BUCKS 119 DETROIT PISTONS 94
DETROIT – Jabari Parker netted a game-high 31 points, hauled in nine rebounds and dished out seven assists to lead the Bucks (15-15). Giannis Antetokounmpo added 23 points and eight dimes. Tobias Harris came off the bench to score 23 points and grab 12 boards for the Pistons (15-19).
NEW ORLEANS PELICANS 102 LOS ANGELES CLIPPERS 98
NEW ORLEANS – Anthony Davis scored 20 points to lead the Pelicans (13-21) to their third straight victory. Langston Galloway (Saint Joseph's) added 12 points off the bench. Chris Paul's 21 points, eight rebounds and six assists weren't enough against his former club as the Clippers (22-12) dropped their fourth straight game.
SAN ANTONIO SPURS 119 PHOENIX SUNS 98
SAN ANTONIO – LaMarcus Aldridge (27 points) and Tony Parker (20 points) combined for 47 points to lead the Spurs (26-6) to the blowout victory. Pau Gasol added 16 points and 10 rebounds. Phoenix falls to 9-23.
DENVER NUGGETS 105 MINNESOTA TIMBERWOLVES 103
DENVER – Danilo Gallinari hit the game-winning shot with 27 seconds left en route to a team-high 18 points for the Nuggets (14-18). Jameer Nelson (Saint Joseph's) had three points and three assists. Karl-Anthony Towns posted a triple-double – 15 points, 11 rebounds, and 10 assists – for the Wolves (10-22). KAT became the youngest player in Wolves history to post a triple-double, a mark previously held by the great Kevin Garnett.
PORTLAND TRAIL BLAZERS 102 SACRAMENTO KINGS 89
PORTLAND – C.J. McCollum (Lehigh) put in 20 points and handed out seven assists to help the Blazers (14-20) snap their six-game losing streak. Mason Plumlee added a double-double (12 points and 14 boards). DeMarcus Cousins had a game-high 28 points as well as eight rebounds and six dimes for the Kings (14-18).
GOLDEN STATE WARRIORS 121 TORONTO RAPTORS 111
OAKLAND – Kevin Durant scored 22 points, grabbed a season-high tying 17 rebounds, dished out six assists and blocked a career-high tying six shots to lead the Warriors (28-5) to the victory following a Christmas Day loss to the Cleveland Cavaliers. DeMar DeRozan dropped 29 points and became the Raptors (22-9) all-time leading scorer (10,290), passing Chris Bosh's 10,275.