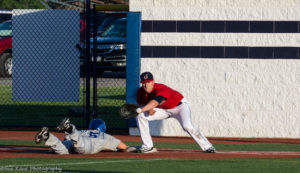 By MIKAEL DeSANTO
If you attended a Rochester Ridgemen game this season, odds are you noticed a big guy playing either first or third base, or possibly even pitching. That mans name is Ethan Luna (Southwestern University), who according to his team bio stands at six-foot-three and weighs in at 215 pounds. However, if you listen around you may begin to hear some people calling out "Big Tuna" and be confused about what they mean by it. But they aren't talking about a large fish, they are talking about Luna.
Luna, traditionally a first baseman, played in 44 out of 46 games for the Ridgemen this season, touting a team-leading .376 batting average while leading the team in hits (64), doubles (12), triples (6), runs batted in (32) and tied in home runs (4). He also pitched in six games, finishing with a 5.78 earned run average, six strikeouts and eight walks over 14 innings. His success earned him a spot on the Western Division team in the All Star Game.
Luna, originally from Argyle, Texas, explained how the name came at an early age and how it changed as he got older.
"The name 'Big Tuna' came as I got older, well the 'Big' was added," Luna said. "'Tuna' actually came from third grade, one of my good buddies, Hunter Stewart, he's a little hard of hearing and so at school, when he was trying to remember how to spell tuna he figured out that Luna is spelled just like tuna but there's a T instead of an L. He started calling me 'Tuna' every now and then, and it's just a name that his dad started calling me. It's really the only nickname that's stuck with me."
VIEW MORE SUE KANE PHOTOS HERE.
He also said that the nickname was not a serious one at first, but grew into what it is today progressively.
"At first it was something we kind of laughed about, we didn't think it was going to be anything serious, definitely wasn't meant to be a nickname that was going to stick, I don't think at least," Luna said. "But then it just kind of stuck around, I think The Office made it a little more popular when Andy called Jim 'Big Tuna', (it) just made it a little more acceptable to call me that I guess, but I did have it before The Office."
Luna said it stuck because of the nature of it and how it fits him well.
"I think it ended up sticking just because its kind of fun, it's funny, I'm a big fella and I like to have fun too," Luna said. "I'm all for anything that lightens the game up a little bit. The kids around here (the Ridgemen games), they love 'Big Tuna', if my name was just Ethan Luna they wouldn't know who I was, but it's 'Big Tuna', it's fun."
RJ Thomas, Luna's head coach at Southwestern University, explained how the nickname has helped the team on the field, including an occasion when not using the nickname made things confusing.
"Luna is one of three Ethans on our team, so it's necessary to have some way of differentiating them," Thomas said. "At one point this year Luna was at first base, Ethan Widoff was at second base and Ethan Hallmark was in right field.  I was attempting to move Widoff into the hole towards first and yelled Ethan, next thing I know all three guys are looking and moving."
Thomas also looked at Luna not only as a player on the field, but as a person off the field.
"Ethan is a great person, he has some natural leadership ability and a desire to help people," Thomas said. "He has really grown up in his time at Southwestern and we are looking at him to anchor our infield this year.  As a player, he is a first to field last to leave type of kid who just wants to help his team win.  He is always trying to gather information and learn as much as possible.  He has done a great job developing his swing and approach while improving his physical condition."
According to Thomas, Luna may have a baseball future ahead in he continues on the track he is on.
"I think he has the potential to play some professional baseball, if he continues to improve his athleticism," Thomas said. "He needs to shave some time off the 60 and continue to develop the power side of his game, which has improved each year hes been at Southwestern."
In the end, according to Luna, a nickname comes down to the meaning behind it, for both him and others.
"For me, it always reminds me of Hunter Stewart whenever I hear the nickname, we haven't stayed in touch over the years with moving schools and stuff," Luna said. "It kind of brings up some memories too about when people figure out my name's 'Big Tuna', especially the summer one that's going to stick is Brody Jipson, he just latched on to 'Big Tuna' and he's just my little super fan pretty much. It just comes along with those memories, I think that's probably the biggest thing you can take away, I don't know about everyone, I'm sure there's some that are probably from embarrassing moments that people have gotten their nicknames from, but it still comes along with those memories."
Luna will return to Southwestern University this year to play his final year for the school.