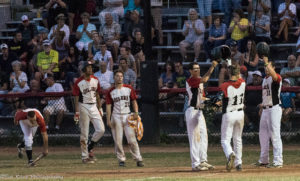 MIKAEL DeSANTO
OLEAN, N.Y. — Championship Series Most Valuable Player Cole Peterson (St. Bonaventure University) finished 2-for-4 with a run batted in and two runs scored as the Olean Oilers defeated the Syracuse Junior Chiefs 13-6 to claim their second straight straight New York Collegiate Baseball League Championship in front of 2,876 fans at Bradner Stadium, Sunday night.
"I can't even explain it with words, it's just an awesome feeling," Peterson said. "To win it last year was just amazing, and to come back in front of all these fans who were probably her last year and win it again, it's just an unbelievable feeling."
Bobby Bell, the Oilers' head coach, said the performance his team gave in the game was representative of how they got there.
"This is the way this team has played all summer," Bell said. "No matter what the score they are punched in for nine innings, busting their (butt) in the batter's box, on the mound, out in the field, and we just look for opportunities to capitalize, that's what we did tonight."
On the mound for the Oilers was Adam Rigney (Nichols College), who finished the regular season with a 4-1 record and a 2.38 earned run average while the Junior Chiefs countered with Jimmy Skiff (Purdue University Calumet), who had a 5-1 record with a 3.39 ERA. Skiff pitched five and two-thirds innings, giving up four runs on four hits and three walks while striking out two.
"That first inning, I don't know what it was, I just couldn't find the zone," Skiff said. "After that, (I) kind of settled in a little bit, and got into trouble in the sixth inning with that two-out walk, but overall I felt pretty well."
Rigney threw six innings, surrendering three runs (two earned) on eight hits and one walk, and picked up four strikeouts.
"I was hitting all of my spots and my stuff felt good," Rigney said. "I just left that one pitch down the middle to that kid for the home run, but other than that I felt great."
VIEW MORE SUE KANE PHOTOS HERE.
After the Oilers opened with two runs in the first, the Junior Chiefs responded scoring three runs between the fourth and fifth to take a 3-2 lead.
Anthony Seminaris (Mount San Antonio College) started the fourth with a single, moving to second on a Sam Little (Ithaca College) sacrifice fly. Joe DeLuca (College of Saint Rose) cut the lead to one with an RBI single.
Syracuse took the lead with a two-out rally in the fifth. John Militano (Salve Regina University) singled, and Seminaris lifted a home run to left-center field for a 3-2 Jr. Chief edge.
"I just wanted to go up there and hit something hard," Seminaris said. "I knew that was a big time in the game and I ended up barreling something up pretty well, and it ended up leaving the yard, so it was pretty good."
The Oilers offered an emphatic response scoring 11 runs, all with two outs, in the bottom of the sixth.
Mark Kolozsvary (University of Florida) reached to start the stanza when he was hit by a pitch. David Yanni (University of Pittsburgh) moved the runner with a groundout. One out later, Dave Vaccaro (St. Bonaventure University) walked, and Evan Ryan (St. John Fisher College) brought home Kolozsvary with a single. Two errors on the play allowed Vaccaro to score with the go-ahead run.
Sam Kysor (Lock Haven University) walked, and Peterson plated Ryan with a base hit.
"Just get the pitch I wanted, and I knew the kid was gonna probably throw a fastball, so I wanted to jump on that first pitch because he didn't want to get behind," Peterson said. "But that inning is not on me, it's on everyone, Evan Ryan started with two outs and it just kept rolling around, it was just an unbelievable inning."
Peterson and Kysor moved up on a wild pitch. David Hollins (St. Petersburg) was hit by a pitch to load the bases, and Aaron Phillips (St. Bonaventure University) reached on an error as Peterson and Kysor scored. Vaccaro tripled home two runs, and Ryan capped the explosion with his second two-out RBI single of the frame.
The Junior Chiefs pulled together a rally in the top of the seventh to pull closer. Nicholas Roy (Nichols College) started it off with a single, with Cristobal Ruiz (St. Thomas Aquinas College) walking, and Roy came in on a Militano double. A Seminaris sacrifice fly plated Ruiz and a single from Asher MacDonald (Bates College), who had come in as a defensive replacement in the sixth, drove in Militano. But this is as far as the rally would go, as a double play ended the inning and the only hit they got in the next two innings was a double by Roy in the ninth.
Joe Antonio, the Junior Chiefs' head coach, said what really hurt the team was the issues with their infield.
"It really shocked the (heck) out of me, certain little plays that should have been made, weren't made," Antonio said. "That happens in baseball."
Nathan Hunt (Canisius College) pitched one inning of relief for the Oilers, giving up three runs on three hits and one walk.
Shawn Dubin (University of Buffalo) pitched the ninth inning for the Oilers, giving up one hit and striking out the side.
Jason Wasilnak (St. John Fisher College) pitched two and one-third innings for the Junior Chiefs, giving up no hits or runs.
Vaccaro joined Peterson taking Offensive MVP honors while Hollins was named Defensive MVP.
"It's unreal, it's an honor to win it," Peterson said. "With all these guys on this team, they're all a bunch of special players, they all work hard and to win this, it's just an honor."