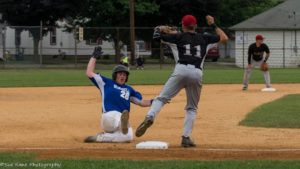 By MIKAEL DeSANTO
HORNELL, N.Y. — Eddy Demurias (University of Florida) went 2-for-4 with five runs batted in and two runs scored to help the Olean Oilers advance to their second straight New York Collegiate Baseball League Championship Series appearance with an 11-4 victory over the Hornell Dodgers Thursday night at Maple City Park.
"That was a great game today, hats off to Hornell, they had a great season, they played us well tonight," Demurias said. "We just had an overall good team win today, (in) big key situations we were able to come through, so that was the difference maker tonight."
Bobby Bell, the Oilers' head coach, said the hard work of the team has allowed them to live up to the lofty expectations in front of them.
"These guys grinded all summer and there was a little bit of pressure with the summer we've had: breaking the win streak and breaking the wins record," Bell said. "These guys seem to step up to every challenge. Tonight's kind of game was the game we always expect whenever we play Hornell. We know they're a good club. We had to grind one out, and our guys did a great job tonight."
Billy Griffin (Washington College), who went 4-1 with a 1.43 earned run average during the regular season, started for the Oilers while the Dodgers sent Billy Gregory (Mansfield University), who went 1-2 with a 5.94 ERA on the season, to the mound for the start. Gregory pitched six innings, giving up six runs (four earned) on five hits and four walks while striking out one.
VIEW MORE SUE KANE PHOTOS HERE.
"I was just trying to keep them off-balance," Gregory said. "It's probably one of the best lineups I've ever faced in my life and that's kudos to them, they're a bunch of great hitters, I just tried to keep us in the game, keep us here maybe one more day and keep us alive in the playoffs, but it didn't happen, that's baseball."
Griffin threw three and two-thirds innings, surrendering four runs (three earned) on five hits and four walks, while striking out four.
"I got out there and I didn't have my best stuff," Griffin said. "I think I did the best job I could of grinding it out, (Shawn) Dubin (University of Buffalo) did a good job of coming in after me and picking me up on not my best day."
The Dodgers opened the scoring in the second inning with a couple runs to take a 2-0 lead. John Ricotta (Monroe Community College) singled and Tanner Klein (Mansfield University) walked to reach base, allowing for a Tyler Burns (Trevecca Nazarene University) single to plate the first run of the game in Ricotta and move Klein to third. Klein then scored when Andy Brahier (University of Wisconsin-Oshkosh) flew out to center.
"I just knew that every run was critical," Burns said. "I wasn't trying to do too much, I just wanted to get at least a base hit and hopefully score a run, that's what I was going through the whole at bat."
The Oilers responded in the top of the fourth by tying the game at two. After Mark Kolozsvary (University of Florida) reached on an error by the third baseman, Alex Griffith (University of Pittsburgh) took advantage of the opportunity by hitting a two-out, two-run home run to pull the teams even.
"I got ahead 3-1 and I was just looking for something I could hit hard," Griffith said. "I got a fastball on the outer-half of the plate that I could hit to dead center."
In the bottom half of the fourth the Dodgers regained the lead with another two-run inning. Burns opened with a walk, stole second and then scored on an error on a Ty Reginelli (Wofford College) single. Reginelli then moved to third on a groundout and scored on a single by Jack Trotman (St. John Fisher College).
"The kid had a good curveball and he was hiding it well," Trotman said. "I was trying to time up his fastball throughout the at bat, he deuced a few curveballs, I thought the last one was honestly going to be a curveball, then he threw a fastball and I got my barrel to it, drove it through the right side and that's what I've been doing lately, just stuck with the approach and it worked."
After blanking the Oilers in the top of the fifth, the Dodgers looked to extend their lead in the bottom half. This did not come to be however, as after two straight fly outs, David Hollins (St. Bonaventure University) had a bare-handed pick and throw to rob Connor Brandon (University of Concordia-Chicago) of an infield single at first. The play appeared on SportCenter's Top 10 plays for the day.
The Oilers grabbed the lead for themselves in the sixth, scoring four runs to take a 6-4 lead. They loaded the bases with walks to Kolozsvary, Griffith and Dave Vaccaro (St. Bonaventure University), allowing Demurias to plate Kolozsvary and Griffith with a two-out double. Jimmy Webb (Lock Haven University) followed with a single, scoring Vaccaro and Demurias to give them the lead.
"I knew we had the bases loaded, there were two out,s and we were down two," Demurias said. "That was the turning point of the game, so I knew I had to come, bare down in the situation and get a hit for our team, and I was pulling for us the whole time."
The Oilers added five insurance runs in the ninth to put the game out of reach. They loaded the bases again when Aaron Phillips (St. Bonaventure University), Kolozsvary and David Yanni (University of Pittsburgh) all singled, with Phillips scoring on a walk to Vaccaro. Demurias then unloaded the bases with a three run double, and came around to score on a single by Webb.
"We were trying to get some additional runs there to help seal the victory," Demurias said. "Again, right situation, I put a good swing on it and helped produce some more runs for us to seal the victory."
Jake Kenney, the Dodgers' head coach, said even thought their season is over, he is happy with how his team performed and how they stayed in it fighting.
"I was proud of our guys today, it would have been very easy after giving up 22 yesterday to just pack it in and give up another 22 tonight," Kenney said. "We didn't do that, we competed, we just ran out of gas, until that last inning we're right in it, up until then it was a good ballgame against a good team, so I'm proud of the way our guys competed."
Dubin pitched five and one-third innings of scoreless relief for the Oilers, giving up two hits, walking one and striking out five.
Jake Miller (Lackawanna College) threw two scoreless innings of relief for the Dodgers, giving up one hit and one walk.
Burns pitched the final inning for the Dodgers, surrendering five runs on five hits and one walk, while striking out one.
Olean will meet the Syracuse Jr. Chiefs in the NYCBL Championship Series. Game one will be played Saturday, July 30 at Onondaga Community College. A 7 p.m. first pitch is scheduled.