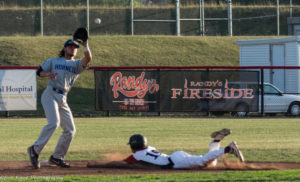 By MIKAEL DeSANTO
OLEAN, N.Y. — David Hollins (St. Bonaventure University) went 3-for-4 with five runs batted in and four runs scored to help the Olean Oilers score runs in all but one inning in their 22-6 win over the Hornell Dodgers, taking game one of the New York Collegiate Baseball League Western Division Championship Series Wednesday night in front of 1,750 fans at Bradner Stadium.
"I think everybody did a great job," Hollins said. "Coming out and getting on them early, getting five runs in the first inning, we've got to try and come out and do that every day in the playoffs."
Bobby Bell, the Oilers' head coach, said they showed what they are capable of and they focused on executing prior to the game.
"We know that when we play our game we're going to be tough for anyone to beat," Bell said. "We had practice yesterday and early work this morning. We talked about making sure pitchers were throwing strikes, taking every out we can get on defense and then having quality at bats, and that's what we did tonight."
Aaron Phillips (St. Bonaventure University), who went 6-1 with a 1.31 earned run average for the regular season, took the mound for the Oilers, and Chance Murphy (University of South Carolina-Salkehatchie), who finished at 2-6 with a 9.17 ERA, started for the Dodgers. Murphy pitched one inning, giving up five runs on three hits and one walks, while striking out one.
"It started with me, couldn't get a strike, get ahead 0-2," Murphy said. "We (he and the other pitchers) have to come out as a starting pitcher, get ahead, maintain throwing strikes and everything, our hitters are there, they have been all year, we just have to maintain the big innings."
Phillips threw five innings, surrendering two runs (neither earned) on four hits and two walks, and struck out one.
"Just being able to throw my off-speed stuff in any count, being able to get ahead of hitters, being able to put away hitters with my pitch instead of them dictating how the at bat goes," Phillips said on his development as a pitcher. "I feel like I can dictate that now with four different pitches: fastball, curveball, slider, changeup."
After the Oilers jumped out to a 6-0 lead in the first two innings, the Dodgers were able to put a dent in it with two runs in the third. Tyler Burns (Trevecca Nazarene University) was able to reach second on an error by the shortstop an Ty Reginelli (Wofford College) walked to reach base. This allowed Adam Fitzgibbon (Saginaw Valley State University) to drive in two runs and make it a 6-2 game.
But the Oilers responded scoring a combined nine runs from the third to the fifth, making the game 15-2. In the third, David Yanni (University of Pittsburgh) opened by singling, followed by a walk to Alex Griffith (University of Pittsburgh) and a single by Dave Vaccaro (St. Bonaventure University). Yanni scored on an error during Vaccaro's single and then Eddie Demurias (University of Florida) doubled home Griffith and Vaccaro.
The fourth opened with a Hollins double. The Oiler third baseman him moved to third on a wild pitch and  scored on a Mark Koloszvary (University of Florida) two-run home run. Yanni followed up with a home run of his own, this one a solo home run to  plate the third run of the inning.
Cole Peterson (St. Bonaventure University) started the fifth with a walk and scored when Hollins doubled.
"I was trying to get a good pitch to hit, try to put a good swing on it and hit it hard somewhere," Hollins said.
Phillips added on to the scoring by immediately tripling home Hollins. He then scored on a groundout to the shortstop by Koloszvary.
"That might have been the first pitch, most of my at bats this year have been just trying to hit the first good pitch I see," Phillips said. "He threw me a ball middle away, I was looking fastball because I had seen curveballs my first couple at bats, he left one up and I just stayed inside, and got it in that gap."
The Oilers went on to score seven runs over the next two innings, highlighted by a three-run home run by Hollins in the sixth inning, but did not score in their final time at bat in the bottom of the eighth inning.
Having been shut out since the third inning, the Dodgers were able to break through late, scoring two runs in the eighth inning and two runs in the ninth inning. But their attempted comeback fell short, as the Oilers were able to work through the jam in the ninth to secure the game one win.
However, Hollins said that now that the game is over, the Oilers need to move past it and focus on the games ahead of them, not behind them.
"I think we have to forget about it later tonight," Hollins said. "Then go back out and do the same thing, have the same mindset going into tomorrow and the rest of our games."
Tyler Walter, the Dodgers' assistant coach, recognized his team's struggles and said the regular season has taken its toll on the team.
"We didn't really show up today," Walter said. "It's been a long summer. Some guys are just getting really tired, really sore. It's a grind; baseball is a grind."
Dave Lyskawa (Niagara County Community College) pitched two scoreless innings for the Oilers, giving up three hits and striking out three
Kaden Darrow (Marymount University) pitched the last two innings for the Oilers, giving up four runs on five hits and two walks.
The series shifts to Maple City Park in Hornell for game two on Thursday at 7 p.m.