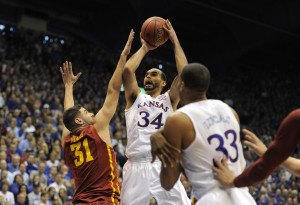 Compiled by RYAN McDONOUGH with liner notes from JOSH KAY
Kansas (27-4/15-3)
Points: 324. (12 first-place votes)
The Jayhawks finished the regular season with a win over Iowa State, giving them nine victories against ranked opponents, the most in Division I basketball.
2. Michigan State (26-5/13-5)
Points: 309. (one first-place vote)
It is the year of the senior in college basketball, and it was on full display in East Lansing, as seniors Denzel Valentine, Matt Costello and Bryn Forbes combined for 56 of Sparty's 91 point in a blowout win vs Ohio State.
3. Villanova (27-4/16-2)
Points: 292.
Villanova cruised to its third consecutive Big East regular season championship. Now post-season in the Big East transitions to MSG, does Villanova have any history there?
4. Virginia (24-6/13-5)
Points: 286.
Mike Tobey had a total of 18 rebounds in all of February. He had 20 in his final game at JPJ against Louisville on Saturday night.
5. North Carolina (25-6/14-4)
Points: 262.
For UNC, beating Duke is one thing, beating Duke on the road at Cameron Indoor is another.
6. Xavier (26-4/14-4)
Points: 254.
Xavier's 98-93 victory over Creighton on Saturday tied a program record for regular season wins with 26.
7. Oklahoma (24-6/12-6)
Points: 254.
Buddy Hield netted 20 or more in 22 games this season.
8. Oregon (25-6/14-4)
Points: 228.
The Ducks clinched just their fifth PAC 12 regular season title in program history and first since 2002 with a win at USC Saturday night.
9. West Virginia (24-7/13-5)
Points: 218.
West Virginia's number 2 seed in the upcoming Big 12 tourney is its highest seed in a post season conference tournament since they were the number 1 in the 1989 Atlantic 10 tournament.
10. Indiana (25-6/15-3)
Points: 199.
The Hoosiers have won two outright titles in four seasons, the first time they have done that since taking three league titles from 1980-83.
11. Miami (24-6/13-5)
Points: 191.
The Hurricanes scored just once on back-to-back possessions in the second half of their regular season finale loss to Virginia Tech. Still Miami should be a formidable team in the NCAA Tournament.
12. Utah (24-7/13-5)
Points: 159.
Utah has very quietly been playing some of the best basketball in the country. Winners of seven in a row, the Utes, led by Jakob Poeltl, would not surprise me if they found their way to an Elite 8.
13. Arizona (24-7/12-6)
Points: 153.
Caleb Tarczewski, a four-year starter, tied Matt Muehlbach (1988-1991) for the most wins as an Arizona player as the Wildcats finished off their regular season with a rout of Stanford at home on senior night.
14. Purdue (24-7/12-6)
Points: 147.
Purdue bench players have outscored their opponents bench in 29 of 31 games this season.
15. Texas A&M (24-7/13-5)
Points: 141.
A mid-season lull for the Aggies prevented an outright SEC title but Texas A&M, winners of six in a row captured a share of the regular SEC crown.
16. Kentucky (23-8/13-5)
Points: 137.
One thing you never do this time of year: Bet against a John Calipari coached Kentucky team, hitting their stride in March.
17. Maryland (24-7/12-6)
Points: 101.
Maryland has lost four of six since climbing to number two in the poll in early February.
18. Louisville (23-8/12-6)
Points: 98.
No post-season for Louisville this year, so the cards finish at 23-8. Tough way to go out for seniors Damion Lee and Trey Lewis.
19. Duke (22-9/11-7)
Points: 74.
How far can Grayson Allen and Brandon Ingram carry Duke?
20. Iowa (21-9/12-6)
Points: 62.
The Hawkeyes stopped the bleeding of a four-game losing streak with a win over Michigan on Saturday.
21. California (22-9/12-6)
Points: 58.
Golden Bears have won eight of nine.
22. Iowa State (21-10/10-8)
Points: 49.
The Cyclones finished 3-7 against the Big 12's top five teams.
23. Baylor (21-10/10-8)
Points: 39.
Weekly Big 12 rant: Baylor is good enough that they would probably have 13 wins in any other conference, but because they play in the Big 12 they finished the regular season 10-8 and fifth in the conference.
24. Texas (20-11/11-7)
Points: 36.
Longhorns are still recovering from last week's beatdown at the hands of Kansas.
25. Saint Mary's (26-4/15-3)
Points: 27.
The Gaels are two wins from usurping Gonzaga's hold on the West Coast Conference.
Also receiving votes:
SMU (22), Seton Hall (21), Wisconsin (14), Dayton (14), Valparaiso (11), St. Bonaventure (10), Wichita State (5), Providence (3), San Diego State (3), Saint Joseph's (2), Vanderbilt, Cincinnati