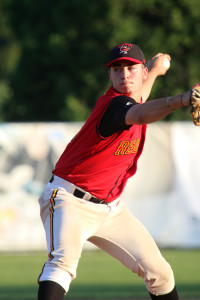 By Tim Mullhaupt
In case you hadn't noticed, Vince Apicella is pretty good.
Never mind the fact that lefty out of Carson-Newman is 6-0 in six starts and a relief appearance. How's this for a stat? Of the 205 batters the Geneva Red Wings ace has faced in the summer of 2015, only one has crossed home plate without the virtue of an error. Just four others have found their way home this way and are thus are not held against Apicella.
"It's indescribable to give a guy like that the ball and watch him go to work," Geneva Red Wing manager Ryan Kassab said.  "You almost go from being a coach to a spectator and a fan of just the game and enjoy watching him do what he does. You've got be careful not to take it as an off-day."
As it stands Apicella's ERA is a 0.19, or, you know, microscopic-but even if all five runs were earned, it'd still only rise to a measly 0.83. To put that in perspective, even if you increased his earned runs by a total of 400 percent (one to five), he'd still only have the best mark in the league (among qualified pitchers).
"He is a true pitcher in every sense of the word, Kassab added. "He can throw fastballs mid-80s until he wants to throw one at about 90 or so. He mix and matches. Throws every pitch for a strike in any kind of count. Hitting is timing, and pitching is nothing more than a disruption of timing. That is exactly what Vince does."
If your mind still craves more mind-bending statistical phenomena, attempt to wrap your head around this: at the current rate, an opposing batter's chance of scoring any kind of run against Apicella is 2.4 percent. You have a 13.2 percent chance of getting a hit, a 6.8 percent chance of working a walk, 32.2 percent chance of striking out, and an overall 78.5 percent of heading back to the dugout empty handed.
VIEW MORE BRIAN HOREY PHOTOS HERE.
"He's a guy who throws four or five pitches for strikes," Syracuse Jr. Chiefs' manager Matt Colbert stated. "Even his fastball he's able to change velocities on his fastball. You can't predict pitches with him. He's extremely unpredictable. You may think you know what's coming, but you probably don't. He's able to locate any pitch he really wants to."
Now even a great batter against an average pitcher has losing odds, but if Apicella was a casino game, he'd be the one you'd feel morally obligated to tell the Star Wars smuggler Han Solo the odds about, the one Ocean's 11 heist-master Danny Ocean couldn't cheat, the one you can't find a book to explain.
"He never gets rattled. He pitches like a poker player," Kassab explained. "You don't see any expression on his face. You don't see anything change. He does something for our team that is unquantifiable."
On top of it all, the New York Collegiate Baseball League strikeout record is still very much in reach for the ace. Three weeks ago, Prime Stats detailed what Apicella would have to sustain if he wanted to break now-MLBer Mike Fiers' record of 76. The rate to beat was 13.32 for K/9 and 1.48 for K/IP. As it stands, he's holds marks of 11.0 and 1.22. While those numbers won't break Fiers' record in fewer innings, Apicella has seven games left to strike out 11 batters, something that's feasible even when accounting for days off given some of the stretches he's put together this season. Consider his two appearances on June 20th and 26th; the 21-year old struck out 24 batters over 17 combined innings.
Want more? The four teams which Apicella has pitched against have a combined record of 97-69 or a winning percentage of .584. Take out Apicella's six wins and the combined winning percentage is .606.
"You kinda give him the ball and let him go do his thing. Vince is a guy who doesn't ever seem to get tired. He gives us a sense of over-confidence from everybody to the coaches down to the guys in the bullpen. Everybody has that sense of over-confidence when Vince is on the mound. It feels like an almost guaranteed win."
Contributing to this article: Paul Gotham.