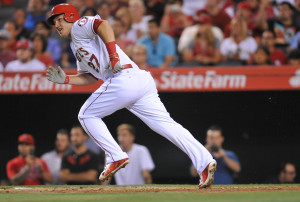 By TIM MULLHAUPT
Ali and Frazier.
Nadal and Federer.
Nicklaus and Palmer.
Brady and Manning.
Magic and Bird.
It's fitting that in the wake of the first 2015 NHL draft we turn the discussion to baseball. For those not familiar, the NHL's class of 2015 featured two "generational" players to the point where team's actively "tanked" for the chance to draft centers Connor McDavid or Jack Eichel. McDavid has been pegged for the number one pick in this draft since his early stages of his adolescence. McDavid's destiny was realized around 7:30 pm EST time Friday night while Eichel, a recent revelation amongst American prospects, went second. The stage is set for the two to be compared for the entirety of their respective careers. In a similar manner it's what the MLB world is now facing with young stars, Bryce Harper and Mike Trout.
The ascension of the pair into major league lore has been well documented. The pair were not classmates (Trout was taken in 2009 while Harper was selected in 2010), but each heard their name called in the first round. That said, there was a large discrepancy between each player's origin.
Harper made waves, not unlike McDavid in juniors hockey, spending his prep school days hitting home runs that broke the tape measures at 570 (at the age of 15) and 502 feet (age 16). The hype quickly escalated into a fervor that can be best summarized by Sport's Illustrated's dubbing of Harper as "Baseball's LeBron," and "The Chosen One."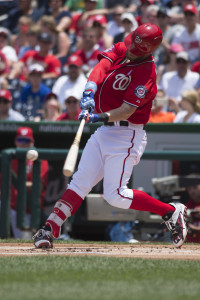 Trout was less-heralded but not unknown for his talents after the Angels selected him 25th overall in the 2009 MLB draft. By 2011 he'd gained national recognition for his skills, entering pundits like Keith Law and Baseball America's lists of top prospects. Injury gave Trout an early opportunity to reach the show, but given the fact he had yet to reach triple-A in his minor league career, he understandably struggled in his first 40 games played. His return to the minors would be brief.
April 28th, 2012 cemented the linking of the pair's careers for good. In the course of the prior 24 hours, both Trout and Harper were called up for good.
Without any doubt, Trout scorched out of the starting gate at Secretariat-like speed, on his way to AL Rookie of the Year as well as a 2nd place finish to triple crown winner Miguel Cabrera in the AL-MVP vote. Harper's start was steady, but he stumbled in the dog days of summer, hitting just .222 in the month of July and .244 in August. He would finish on a tear, clubbing .330 in the final month of the regular season, on his way to winning the NL rookie of the year award.
Following rookie seasons that saw both outfielders play in an identical 139 games, Trout put the pedal to the metal while Harper lagged behind where durability was concerned. Between 2013-2014, Trout played in 314 of a possible 324 games. Hampered by a multitude of nagging injuries, Harper managed nearly a hundred less with 218. This after the Nationals converted Harper from catcher to outfielder to promote his longevity. The lack of good health for Harper partially explains why Trout trounced him in just about every statistical category in the pair's corresponding first three full seasons. The remaining variable was Trout's other-worldly play.

After finishing runner up to Cabrera in the MVP vote, he did so once again in 2013, with many stating the award went to the wrong person. Not satisfied, Trout won the MVP in his third try, posting a 2014 slash line of .287/.377/.561 to go along with 115 runs scored, 111 RBI, and 36 homers. He received a unanimous 30 votes despite his WAR (wins above replacement) being slightly lower than his prior two seasons.
So what's the discussion? How can Harper even hope to compare? His three year slash line totals of .272/.351/.461 are hardly disappointing, but they weren't quite the stats equivalent of the expectations of "The Chosen One." Then came 2015. Harper's oozing potential ignited in what has been an absolute machine.
Through just 69 games, Harper has already surpassed his career high in home runs with 24, is one away from tying his high for RBI with 58 and is just eight free passes from surpassing his watermark for walks.
According to ESPN, the former number one overall pick is currently on a pace for 175 hits, 116 runs, 53 home runs, and 127 RBI. Such tallies are easily MVP-material and exactly what scouts, pundits, writers, and even the casual observer dreamed for Harper back when he was a smooth-swinging 16-year old from Vegas. Such results re-validate his comparison to Trout even for the most skeptical of Harper's prospects.
For his part, Trout is not having a bad year by any stretch. He's right on track with his usual standard in most categories, if not ahead of his usual pace. His slash trio are in line with his career averages, and at his current rate, he's projected to surpass his career highs in home runs.
That should tell you how special Harper's 2015 has been. Even with his AL-counterpart producing his usual MVP-numbers, Harper is still outpacing him and by good measure. Perhaps the Secretariat metaphor is more fitting for Harper, given that the legendary race horse was known to bury his opponents in the later stages of the race. Mike and Bryce are still years away from the end of their race, but if the 2015 Harper is the Harper we can expect from now on, then it's hard to imagine anyone keeping up with him.
One distinct difference in the pair of outfielders' play: Harper has the cannon arm; Trout brings the range. Now in his fourth season, Trout boasts a stellar career fielding percentage of .992, with just 11 in errors to date. He makes absurd catches and robbing home runs look all too easy. He doesn't have the deadliest arm however, recording just nine assists in 596 games played.
Harper isn't a liability but he's far from perfect. For his part, his fielding percentage sits at .976, but he truly represents one of the game's stronger arms, with 34 assists. With 872 chances to make a play on the ball, that's a rate of one assist per every 25.6 chances. That's one per every 13.6 games, which is impressive considering how rare it is to witness the outfield assist.

So given the choice, who's the better cornerstone for a franchise? Harper's natural talent appears to be unrivaled, but consistency has not been his strong suit, especially as far as durability is concerned. Things were going well for him this year up until this past week. Recent reports have Harper day-t0-day with a hamstring injury, an ailment that can be as nagging as any. There's also Harper's personality to consider. Though as passionate and fiery as they come, Harper possesses a special talent for making his own manager squirm as much as an opposing pitcher might.
Some eye-brow raisers.
–Breaking a bat into his face in rage
"I'm not your typical, 'Hey, I'm going to be Johnny Good.' You are a baseball player….I'm going to have fun off the field, too."
–Desecrating other team's logos
–Publicly second-guessing managerial decisions
–Being benched for not hustling
By contrast the only negative thing one can dig up on Trout is his "destruction" of Subway Restaurant Windows and awkwardly shuffling in front the camera.
Despite Trout being decidedly ahead of Harper in his maturity and decision-making, Harper has been able to talk-the-talk, especially in 2015. Injuries are a different matter, and nothing saps potential faster and more effectively than constant suspect health. This has been the unfortunately reality for Harper to this point, but he's still just 22 years old. His body is still very capable of timely recovery, and while his bumps and bruises have been many, he's yet to suffer any kind of season-ending calamity (knock on wood).
In the end it depends on what kind of person the hypothetical decision-maker is. The majority will take Mike Trout, his polished persona, his jack-of-all trades, master-of-all skill set, and his absurd consistency. He's more the Lou Gehrig type; a role model that is impossible to dislike.
It's a risk, especially give the bravado and antics of Harper. People forget that Babe Ruth was no cherub, no matter how much he resembled one. Harper grew up a Yankees fan idolizing Mickey Mantle (his number 34 a tribute to Mick using simple addition), another legend who struggled with bad PR during his career only to make amends after. This minority is the gambler; members will see this season as what to expect from Harper from here on out, and if proven correct a place on Cooperstown's Mt. Rushmore awaits.