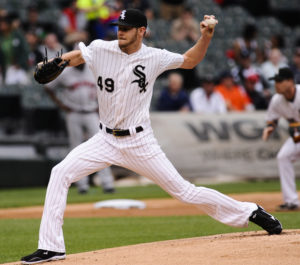 By TIM MULLHAUPT
Without question the MLB's most sought-after pitching award is based off one's entire body of work in a given year. If the season ended today, I'd have no qualms handing Chris Archer the AL hardware (his K/9 giving him the nod over the nearly identical Sonny Gray) and I'd be content giving Gerrit Cole his first big league accolade that didn't end in "of the month." That said, we're only a little past a third of the way through the 2015 season, and if current trends are anything to go by there's two names not enough people are talking about; Chris Sale and Jacob deGrom.
Honesty time: It has been a rough for Refsnyder's Rough Riders in 2015, but of the few things I've done right this year as fantasy GM of my mediocre team was drafting the pitching pride of Chicago and the long hair don't care defending NL rookie of the year. What has kept my sorry club from being the ultimate laughing stock of my league has been the utterly untouchable level of play of the pair in recent weeks. Inspired, I dove headfirst into deeper analysis.
In Sale's American League, the hype surrounding the fast starts of Sonny Gray, Chris Archer and Dallas Keuchel are well deserved. All three are tied for the third-highest win count in the league with seven apiece, and all three currently rank in the top three in ERA in their league. The trio has combined for an impressive 28 quality starts in 39 total opportunities, and 33 starts of allowing three runs or less. As you might expect, their names have been uttered again and again when it comes to consideration for weekly and monthly awards, and aside a few minor hiccups there haven't been many lows in what seems to be a season of ascension for all three.


Chris Sale's start 2015 was the polar opposite. After missing the first few weeks of the season coming back from injury, Sale was solid, if not dominant in his first two starts. The wheels quickly came to a screeching halt in the next three starts; Sale allowed 26 hits, eight walks and 15 earned runs while recording just 12 strikeouts in 15.1 innings. That's good for a line of an 8.80 ERA, a 2.21 WHIP, and a K/9 of just 7.04. Frustrated fantasy owners and fans had to wonder if Sale was 100 percent healthy. Sale's answer wasn't  resounding, it was a deafening yes.
After posting a lousy 5.93 ERA through his first five starts, Sale went to war with the next six lineups he faced. In those six outings, Sale has not thrown for less than 7 innings, has not allowed more than three earned runs, more than five hits, or struck out less than seven and has reached double digit strikeouts in a staggering five of six outings.

Amongst his fellow AL Cy Young hopefuls over the last 30 days, Sale has the most quality starts (six), the most strikeouts (67), the lowest WHIP (0.66), the highest K/9 rate (12.9), the lowest opposing batting average (.168) and the lowest opposing opposing on base percentage (.188). In categories he isn't first, he's second and only by the slimmest of margins. According to baseballreference.com, he's been throwing 70 percent of his pitches for strikes, with 19 percent generated on batters looking and 20 percent on them swinging and missing.
As for his stat line for the entire season, the lefty's hot streak has him sitting at strong 6-2 with an ERA of 3.01, a WHIP of 1.01, a K/9 of 11.31, a batting average against of .214 and on base percentage against of .264. To truly separate from the rest however, Sale not only needs to keep his performance but could use a complete game or two to help pad his resume. This seems to be one feat that proves elusive for Sale as he's recorded just one shutout in his career.
Across leagues I have to say I am only slightly surprised the success of Jacob deGrom this year. Don't get me wrong, after his stellar rookie season, his talent was never in question-it's just that like Sale, deGrom didn't have the best of starts to 2015. I know because I was there for part of it.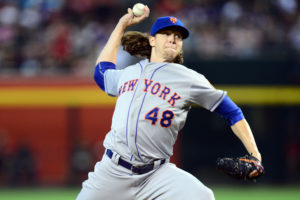 Back in late April, I watched as Mark Teixeira punished two separate meatballs deGrom left floating the zone as they sailed into the short porch of Yankee stadium. From my seats in the upper deck of right field, the Michael Kay "see ya" chorus was reaching decibel status, I wondered if deGrom was in the process of readjusting to his opponents readjusting to his rookie tape. Conflicted as a Yankee fan but a deGrom fantasy owner, I mumbled a few halfhearted "see-yas" and a couple of greasy hi-fives over my bucket of $20 chicken tenders while fumbling to see how far behind I was in my match up.
After starting the season surrendering just two runs over 19.1 innings, the Yankees sent the 26-year old into a mini tailspin right as Sale was suffering his. Though not quite as pronounced as Sale's, deGrom's skid saw him surrender 14 earned runs over 22.1 innings of work in his four starts between April 24th and May 11th. He went 1-3 in that stretch with a 5.64 ERA and only one game with over six innings of work. Also like Sale, deGrom decided that he'd grown tired of batters going anywhere but back to the dugout.
A 1.24 ERA, a 0.63 WHIP, an infeasible 11:1 strikeouts-to-walk ratio, an a 4-0 record were byproducts of his next six starts. Batters have hit just .154 and reached base just 17.8 percent of the time off the Stetson product in the last month which holds special irony in that deGrom's batting average on the year is .179, the same as his OBP. Yes you read that right; Jacob deGrom is performing at a higher rate offensively than those foolish enough to step into a batter's box against him. If that weren't enough, there was a stretch in his game against a red-hot Cardinals team where he retired 23-straight batters, and another performance against the Padres when he took a perfect game into the sixth inning. Upon surrendering a base hit, deGrom promptly retired seven of the next eight batters on his way to an eight-inning shutout innings of two-hit ball to go along with eight strikeouts.

As far as his previous 30 numbers against his contemporaries', it's not close. While the NL is ample in its supply of strong pitching, no one in the league can touch deGrom's level of consistency. Despite a valiant effort on the part of Gerrit Cole who tied deGrom's five quality starts, has one less earned run allowed, and subsequently a slightly lower ERA, the Mets hurler still takes the cake in W-L, hits allowed, walks allowed, strikeouts, WHIP, K/9 (though tied with Max Scherzer), K:BB, .BAA and OBPA. Nothing can reduce the corniness, but likewise, nothing can detract from its accuracy, but those numbers are simply deGrominant.


On the season, deGrom has compiled a 7-4 record to go along with a 2.42 ERA, a 1.00 WHIP and a K/9 of 9.35. Even with the slow start figured in, the Stetson University product is holding batters to a very Sale-like .219 | .262 BAA | OBPA combo.
So maybe I've made a crucial mistake in highlighting the other-worldly success of the two young aces and marrying that success to my fantasy team. The baseball powers at be have a nasty habit of making me look bad (the "All-Star Game Fist Bump Travesty," headline writes itself) but something tells me superstition means little in the face of two of the game's most promising young pitchers. For now, sit back and enjoy the ride for as long as it lasts, because no matter what stake you may have in it, great baseball is great baseball.