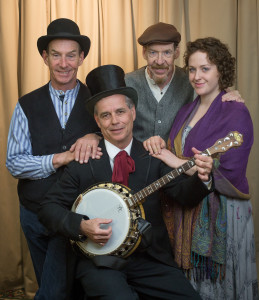 By JOE MAGS
Richard Barry's Stephen Foster is constantly in motion — bouncing, frolicking, weeping, singing, swaying. There is an unabashed sweetness to his Foster that borders on naivety. But let's try to understand Foster's plight: Suddenly transported through time, Foster stares out at an audience that recognizes him as the Father of American Music; while rummaging through his tattered pockets, however, he finds "all his earthly possessions" — a flask and 38 cents.
He's jittery, perhaps nervous. Why wouldn't he be? After 150 years and a drunken life of misunderstood strokes of genius painted as insensitive failures, Foster finally is afforded the opportunity to put on the show he's always wanted.
Written by Richard and Cathie Craig Barry, Beautiful Dreamer (Stephen Foster Tells His Own Story) is a one-act play about the songwriter's life and musical journey. Barry's Foster meanders between center stage, a writing station off-right and the aisles of the crowd, sharing his successes and failures as his most famous works come to life — performed by the Dady Brothers — Joe and John and vocalist Mara Dady, John's daughter.
Beautiful Dreamer premiered in Mount Morris, N.Y. in 2014 with two shows. On Tuesday, May 5, 2014 Beautiful Dreamer played to a capacity audience at Monroe Community College in Rochester as part of the school's Side-by-Side series. In conjunction with the performance, the Dady Brothers released their new CD Beautiful Dreamers at the Rochester premiere, a 13-track live album of Foster songs featured in the play.
Beautiful Dreamer will be performed June 13th -18th at the Multi-Use Community Cultural Center – 142 Atlantic Ave. in Rochester.  
"All he wanted was, as we say, his songs to be sung," said Cathie. "He didn't need to be rich. He didn't need his name on everything. We should be grateful. Too bad for him and his family, but if he had copyrighted everything, we couldn't do this kind of show."
"It's the first CD we've ever recorded where we didn't have to pay any royalties," John added.
Foster lived and loved at a time when America was splitting in two; his music — from the devastated "Gentle Annie" to the easily manipulated but forever playful "Camptown Races" — fought for the convergence of multi-cultural, humanizing art. Foster was more Mark Twain than Charles Dickens. He was also a horrendous businessman (like Twain, who failed on several business ventures). His paternal influence over American music notwithstanding, Foster lost ownership of every tune he ever wrote, often receiving a pittance for his work.
"The way that people bought and sold songs was broad sheets on the street," Joe said. "You'd buy a song for one cent, go down and put it on your piano and that was the iTunes of the day. His songs were bought and sold many, many, many times and the irony of it is the guy friggin' died penniless. People were making loads of money off it."
"I saw so many musicians and song writers at the show tonight that I was so tickled to see because it really is our heritage," John said. "If you sing a folk song, Stephen Foster is part of your musical heritage whether you know it or not."
Much of Foster's life is paradoxical. He is the first American songwriter to recognize a woman of color as "a lady." And yet he sold out, writing for the popular Christy Minstrels shows of the era — although, to his credit, he never performed in black face. Foster is a trail blazer, cultivating original American music from the inspiration of African instruments and Irish immigrant folklore; commonly mistaken as a man from the South, however, he seldom visited the places about which he wrote. His "Old Folks at Home" refers to the Swanee River because Foster saw the name on an atlas and thought it sounded nice. (For what it's worth, the name does work perfectly.) In fact, Foster had really only visited the South once while he and his wife honeymooned in New Orleans. Barry's Foster jokes that the closest he came to knowing the South was having cousins that lived in Kentucky.
After all, Foster was a Yankee — he was born in Pittsburgh and died in New York City. He was also a drunk and a poor husband. Foster ran back and forth between home and the Big Apple, spending the final years of his life overwhelmed by alcohol and fame. He barely saw any of the profits his songs made while he was alive. At the same time, Foster's music was celebrated and performed throughout New York City. He missed entire chunks of his daughter's life before dying alone in a hotel room at 37. His final words were "Dear friends and gentle hearts…," found on a piece of scrap paper.
"He's inspirational," Rick stated. "I feel like we have a responsibility to defend him because he does get battered at times."
"We heard [Hard Times Come Again No More] done by a gal from Ireland – Mary Black from a group called De Dannan & Friends — more than 20 years ago," Joe said.
"It was kinda like one of those crazy things," he continued. "And so [there's the] connection with Ireland, Irish music, American and African-American plantation songs. That's the impetus or the beginning of his style. We had a kid in the studio who recorded for us. He's from Argentina; he knew 'Camptown Races.' Those songs have been around the world, man. That's the influence Stephen Foster has had on the world with his music."
Foster's greatest gift as a songwriter was the bravery to humanize his subjects. In Beautiful Dreamer, the Barrys and Dady Brothers dare to humanize him. Foster lived through music — his joy, his sorrow, his triumphs and downfalls — and spent his career experimenting with ways to share his love of other cultures with a cold, cruel world.
The role of race in his music becomes an interesting microcosm for race relations in all of American culture. From the days of the minstrel shows to Elvis Presley to Eminem — the history of popular American music truly mirrors the history of America and the cultural collision centuries ago between Africans and Europeans. The banjo exists as a symbol of this collision. Barry's Foster goes as far as referring to the banjo as the slave's revenge over the white man — "it's in the way the banjo sings," he says.
Foster is enamored by African culture — the rhythm, the church, the dialects. But as strong as his admiration was for black people, Foster nevertheless was a white northerner, pointing many toward a cynical interpretation of his lyrics.
"You got to realize this guy brought black music to white America," explained Rick. "He was the Elvis Presley of his generation, and the banjo played a part in that. It was an African instrument. Blacks used to play the banjo all the time, but then it became a stereotype where they didn't want to play it."
The timing of this production and the modern state of race relations — only days ago, six officers were charged in the Freddie Gray homicide case — creates a reaction. I think back to "Gentle Annie" and the emotional farewell Foster gives his subject:
Thou wilt come no more, gentle Annie,
Like a flow'r thy spirit did depart;
Thou art gone, alas! like the many
That have bloomed in the summer of my heart.

Barry's Foster is devastated over the criticism of "Gentle Annie," and the heavy debate over whether Annie was white or black. "Annie being white or dark-skinned, it doesn't matter," he says through a chocked-up tenor. "Annie is dead."
"Stephen Foster was the first person to come along and humanize black people in a song," Joe stated. "That did not happen before that."
"He came from a state that never had slavery," Rick described. "Quakers wouldn't allow slavery in Pennsylvania. He saw black people, but his black nurse wasn't a slave. She was a private nurse hired by their family to take care of those children. He saw both worlds. If he worked down in Cincinnati, they were very close to that Kentucky borderline. He saw how blacks were treated on the docks and the rivers down there between slave blacks and free blacks."
Americans are talking about the role of race in our culture now more than ever. With each city that cable news invades, penetrates and leaves behind following the death of a black person, the sentiment of Foster's music resonates with me more and more. We bicker and argue over the social context and forensics of these crime scenes like it's an episode of CSI — as if these aren't real lives being lost. It's exhausting and depressing — it's how I imagine Foster must have felt knowing he had become famous for supposedly exploiting the music he loved most.
While watching Beautiful Dreamer, I couldn't help but realize how many similarities there are between now and when Foster was writing these songs. America is at war with itself. We have been disillusioned by our institutions, and we have lost faith in one another. Meanwhile, our artists are being robbed of their creative properties, yanked around by industry shirt-and-ties and bottom lines.
And yet, just a couple months ago, we see the launch of Tidal — the first major attempt for recording artists to control the sale and streaming of their music. Baby steps.
"Twain and Foster were taking baby steps humanizing incredible human beings because nobody else was going to do it," Rick said. "If it was going to stop, white people we're going to have to stop it because they were the perpetrators.
"He's basically talking about those baby steps. They're sad. They're merry. They call forth a tear and a smile."
Beautiful Dreamer will be performed June 13th -18th at the Multi-Use Community Cultural Center – 142 Atlantic Ave. in Rochester.  
Joe Mags (@thatjoemags) is a writer for the Watertown Daily Times, Crossover Chronicles and Pickin Splinters.
Contributing: PAUL GOTHAM