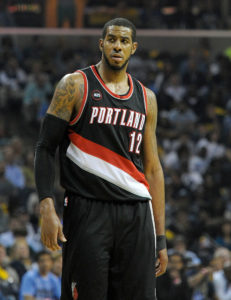 By JOE MAGS
If Wednesday was the final time watching LaMarcus Aldridge in a Blazer uniform then we should all be a bit bummed out. Aldridge, a player who just last year was quoted as saying he wanted to be the "best Blazer ever," was 5-for-18 from the field, harassed by the burly magnetism of Zach Randolph. Aldridge looked exhausted — tired of the matchup, tired of playing through a nagging thumb injury, and tired of this season that was snatched out from underneath him.
Aldridge and the Blazers were competing for a championship, gunning for the No. 2 seed in the West, before Wes Matthews suffered a ruptured Achilles tendon in March. To suggest they weren't "for real" is silly. Their starting lineup had become a two-way force, perhaps the best five-man unit in the NBA. Trading for Arron Afflalo was supposed to bolster a wobbly second-unit and help coach Terry Stotts' team gear up for a long postseason.
Within weeks Afflalo became an under-qualified replacement for Matthews in the starting lineup. Subsequent injuries to him and other Blazers all but ripped the beating heart out from Portland's body. Outside of Oklahoma City, no other team lost as much to injuries. Last year's Blazers benefited from uncanny health but were run off the floor by the Spurs because of their weak bench. The irony is that Portland invested a number of assets in its bench this season, and injuries pulverized them, so much so that they had a 7-man rotation by the end of the Memphis series. Even GM/Coach Doc has eight guys!
While the Thunder saw the failed season as an opportunity to move on from Scott Brooks, there is a very little chance they will be shaking up their roster next season — the luxuries of having Kevin Durant and Russell Westbrook. The mood is much different in Portland, however, where Aldridge is one of a handful of unrestricted free agents this summer. It was recently reported through an anonymous teammate that Aldridge is 50-50 to stay with the Blazers, and that was before the five-game love tap from the Grizzlies. In a matter of months, Portland could be a wholly different team — an organization traveling in an entirely new direction.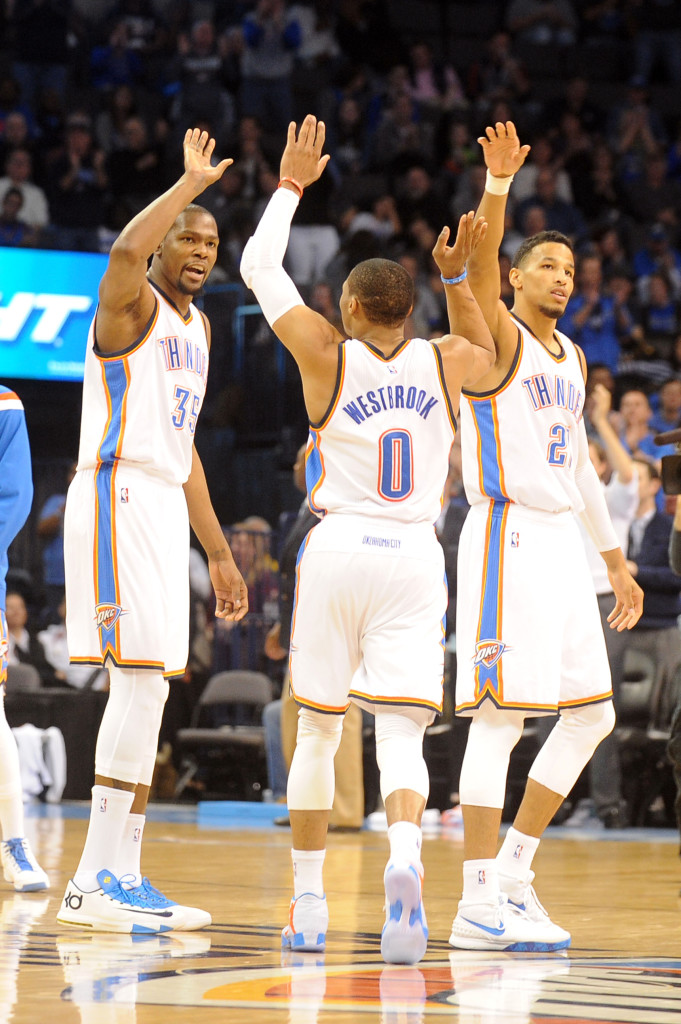 Asking if Aldridge should leave Portland is a silly question, because who are we to suggest what a grown man should do professionally? This is how I felt about the Carmelo Anthony free agency decision last summer. Nobody can tell him that taking the fattest offer was wrong. If Aldridge, 29, entering his 10th season in the league, wants to jump to a new situation where he believes he has a stronger chance of winning, then he should. Or if being the greatest player in Blazer history is the most important thing to him, than he should stay there.
With all that said, I'd be fairly surprised if he stays in Portland. As somber a talking point as it is, the uncertainty surrounding Matthews has to be a factor. How could it not be? Their defense plummeted without Matthews — down from a Top 5 outfit, Portland allowed more than 109 points per 100 possessions whenever Robin Lopez, Nicolas Batum or Aldridge were on the floor. The Blazers were a sub-.500 team after Matthews went down, falling ass-backward into the postseason and, hilariously, into a No. 4 seed on a technicality. (This is the part where Clippers fans start crying.)
It's impossible to know what version of Matthews will be available next season. Matthews turns 29 in October, and according to studies from 2013, players returning from an Achilles tear drop in PER by 4.64 their first year back — roughly the gap between Matthews (16.15) and Mario Chalmers (11.76). If Matthews and Portland negotiate a fair deal this summer, that's something we can all get behind. But it would be unwise to expect Matthews to return to peak form in a matter of months.


Matthews was a fringe-All-Star candidate who led the NBA in made 3s before his injury, and we have evidence that he was the most important defensive player for Portland — an individual standout who could check three positions and bail Damian Lillard out of jail against the league's toughest point guards. A watered-down variation of Matthews in a comeback season won't be able to shoulder the same responsibilities on both ends of the floor.
And that's the rub: Even if the Blazers collect all of their puzzle pieces, it remains unclear if they can put them back together again. Lopez (27) and Batum (26) are sneakily young, but they are also role players by definition, and their price tags —Lopez will command $8-9 million on open market, Batum has one year at $12 million remaining on his deal — are consequential even with a rising cap.
Lopez was roasted on a skewer by Marc Gasol, as Portland was outscored by 17.8 points per 100 possessions with him on the floor. The bushy-haired big man retrieved just 10.1 percent of available rebounds, or how Evan Turner performed on the glass during the regular season. In the final games of his worst season, Batum was 24-for-70 from the field (34.3 percent) against Memphis, and Portland had a 100.1 offensive rating with him on the floor — a far cry from their 106.8 rating after the All-Star break.
I wasn't alone praising the Blazers for the Arron Afflalo trade at the time. The move was low-risk, high-reward. Portland dealt a lottery-protected pick in 2016 and a trio of backend bench players for a proven commodity. In Afflalo, Stotts had a third wing he could stagger with the starting 5. He can guard 2s and 3s, and has a Kobe-light post-up game that could liven up secondary groupings.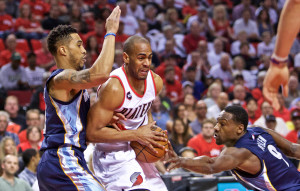 Only Matthews' injury tripped everything up. Afflalo isn't a dead eye like Matthews and is a step down defensively. While Afflalo did turn in a satisfying clip from the perimeter (40 percent), he virtually never attempted a 3-pointer outside of wide open, catch-and-shoot situations. Asking Afflalo to replace 75-80 percent of Matthews is one thing, but the bench never recovered, and Afflalo faced his own injuries down the stretch — Portland was destroyed in Games 1 and 2 without Afflalo in the lineup.
Portland had a couple bright spots in the closing months of the season. CJ McCollum rebounded from an empty rookie season to prove he is an electric offensive talent — something like Jamal Crawford in a smaller package. Meyers Leonard has transformed into one of the sweetest shooting 7-footers in recent memory after initially appearing to be a bust of seismic proportions. Both players are under team control next season for just $5.6 million.
The Blazers don't have a single dime invested past 2016, when the salary cap sky rockets and Lillard is due for a new contract. Lillard's uneven, lopsided play is the elephant in the room for the team, of course. On the one hand, he is a budding star and one of the league's most popular players. He has a signature moment on the playoff stage that will buy him drinks in Portland indefinitely.
On the other hand, Lillard is a total sieve defensively, and a high-volume shooter masquerading as a point guard. Copy-paste everything negative you've ever heard or said about Kyrie Irving onto Lillard. Irving now plays with one of the greatest basketball players ever, the type of talent that has unlocked Irving's massive offensive potential. Irving may be heading to his first NBA Finals in his first ever trip to the postseason.
Lillard and Aldridge, meanwhile, were unable the past three seasons to put a real dent in the West. That might be unfair to say after the depth to the team's health complications this season, fine. But Portland would have had many of the same issues in a potential series with San Antonio as L.A. is having right now — a shallow bench, exhausted starters, predictable actions and a dependency on the high pick-and-roll.
We won't find out Aldridge's decision until July. My money, however, is on Aldridge sizing up that Lillard isn't the No. 2 with whom he can climb the mountain. Aldridge would thrive on a team like San Antonio, where he could slide into a complimentary scoring position, use Kawhi Leonard and Tiago Splitter as defensive insurance and fit into the team's defensive scheme. The same goes for Houston. Hey, Texas Forever, right?
As for Lillard, his youth allows him to play the long game. Stotts can reload around Lillard, McCollum and Meyers Leonard. For everyone's sake, let's hope Matthews and Portland come to acceptable terms, and that by 2016 Matthews is back to full strength. Portland is out of the West playoffs without Aldridge, that's without question. But Lillard could inherit the chase for "best Blazer ever." After a season like this, let's hope the fans have a Silver Linings Playbook.
Joe Mags (@thatjoemags) is a writer for the Watertown Daily Times, Crossover Chronicles and Pickin Splinters.