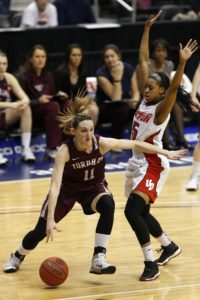 Eighteen straight for the Colonials, an almost-got-my-swagger-back win in the Bronx, and a continual skid in Fairfax country made up an interesting night in #A10WBB.
Compiled by Matthew Fidurko (@Durko33Matt)
George Washington 52, Davidson 35
The Colonials have now won 18 straight and remain the only perfect team in conference play thanks to Jonquel Jones 13th double-double of the season, totaling 12 points, 13 rebounds, and a career-high four assists.
Fordham 54, St. Bonaventure 51
The Bonnies, led by Miranda Drummond's near double-double (nine points, eight rebounds), were looking to keep getting their swagger back, however, Emily Tapio (13 points, 17 rebounds) and the Fordham Rams had other ideas, securing their eighth conference win.
Dayton 84, George Mason 73
The dynamic duo of Ally Malott (18 points, seven rebounds) and Andrea Hoover (17 points, four rebounds) was enough to give a Dayton a nice road win. George Mason's Taylor Brown single-handily tried to stop the Patriots skid with 28 points and eight rebounds, however, Mason dropped their fifth straight after starting league play 3-1.

Video courtesy of Dayton Athletics. 
Atlantic 10 Standings—
1. George Washington – 9-0
2. Dayton – 8-1
3. Fordham – 8-2
4. Duquesne – 6-3
5. Richmond – 6-3
6. Rhode Island – 5-4
7. VCU – 5-5
8. Saint Louis – 4-5
9. St. Joseph's – 4-5
10. George Mason – 3-6
11. La Salle– 2-7
12. UMASS – 2-7
13. St. Bonaventure – 2-8
14. Davidson – 1-8