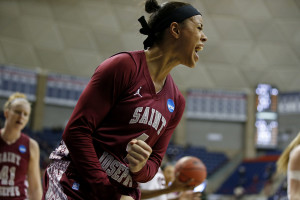 Two double-doubles in Philly, the Battle of Richmond, and a diaper-dandy breakout performance made up an exciting Wednesday night in #A10WBB.
Compiled by Matthew Fidurko (@Durko33Matt)
St. Joseph's 70, LaSalle 64
Two Hawk double-doubles by Sarah Fairbanks (22 points, 10 rebounds) and Natasha Cloud (13 points, 10 assists) were enough to guide St. Joe's past La Salle and Alicia Cropper (25 points, eight rebounds) in a Big 5 battle on Hawk Hill.
Richmond 67, VCU 64
Thanks to a great performance by a trio of Spiders, Janelle Hubbard (24 points), Lauren Tolson (16 points), and Liz Brown (15 points), Richmond was able to pull out a home conference win and prove who is the best women's basketball team in Richmond.
Rhode Island 70, UMASS 58
Just when you thought Charise Wilson's freshman year could not get any better, she pours in 33 points in a huge home win for Rams. Along with reaching the 30 point mark, Wilson added five rebounds, two assists, and six steals.
Atlantic 10 Standings—
1. George Washington – 8-0
2. Dayton – 7-1
3. Fordham – 7-2
4. Duquesne – 6-3
5. Richmond – 6-3
6. Rhode Island – 5-4
7. VCU – 5-5
8. Saint Louis – 4-5
9. St. Joseph's – 4-5
10. George Mason – 3-5
11. St. Bonaventure – 2-7
12. La Salle– 2-7
13. UMASS – 2-7
14. Davidson – 1-8