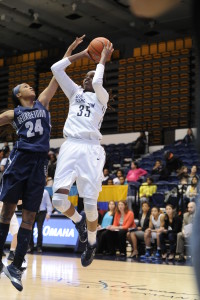 By Matthew Fidurko (@Durko33Matt)
1. Jonquel Jones (George Washington) – GW is as hot as can be and the "Double-Double Machine" is prepared to lead them the rest of the way. Jones garnered her third straight A-10 Player of the Week award after posting two double-doubles this week (10 points and 18 rebounds against Rhode Island, 13 points and 10 rebounds against UMASS).
2. Andrea Hoover (Dayton) – Hoover was out to prove that she is one of the best, if not the best, player in the conference on the road at St. Bonaventure. On national television Hoover poured in 21 first half points, totaled eight rebounds, and completely took over the game. Earlier in the week against Duquesne, Hoover scored 22 points, while adding five rebounds.
3. Ally Malott (Dayton) – Sometimes it may seem like Malott takes a backseat when it comes to Flyers basketball, however, against St. Bonaventure, Malott recorded a huge double-double (11 points, 10 rebounds) and was nearly unstoppable, consistently taking guards to hoops. Against Duquesne, Malott poured in 15 points and added five rebounds.
4. Taylor Brown (George Mason) – Brown did it again; after hitting a buzzer-beater against LaSalle, Brown was able to drill a fade-away three pointer against St. Bonaventure to send the game into overtime, allowing Mason to win their third conference game. However, over the weekend Brown was held to only 10 points against Richmond.
5. Natasha Cloud (St. Joseph's) – The "Queen of Assisting" was finally back to her old self against Duquesne in another St. Joe's loss. Cloud nearly missed a double-double, scoring 15 points and adding nine assists. Earlier in the week in the Hawks loss to Fordham, Cloud would only dish out three assists but added seven points and eight rebounds.
6. Charise Wilson (Rhode Island) – The freshman sensation Wilson cooled off this week; in the Rams weekend game win against La Salle, Wilson would only play 24 minutes and only added six points. In Rhody's mid-week loss to GW, Wilson would score 15 points but would only play 30 minutes.
7. Kim Pierre-Louis (UMASS) – When Kim Pierre-Louis plays well, UMASS plays well. Pierre-Louis would score 15 points over the weekend against George Washington, however, she would only tally three rebounds in the Minutewomen's weekend loss. Against La Salle, Pierre-Louis would pour in 24 points and pull down 13 rebounds in a UMASS win.
8. Samantha Clark (Fordham) – During a battle in the Bronx over the weekend, Clark was able to nearly record a double-double (18 points, nine rebounds) in a Rams victory. In Fordham's mid-week game, Clark added seven points and eight rebounds.
9. Katie Healy (St. Bonaventure) – The Bonnies have had a rough go of it lately, now losers of four straight, however, Healy still has the ability to take over a game. In a blowout home loss on national TV, Healy would be in foul trouble the whole game, only scoring 12 points and grabbing four rebounds. In a tough over-time loss to George Mason, Healy added 14 points, seven rebounds, and two blocks.
10. Hannah Early (Davidson) – Early's 17 points and four rebounds were essential in the Wildcat's garnering their first-ever Atlantic 10 win. In a close mid-week loss, Early would pour in 19 points, while adding another four rebounds. Early is starting to catch her stride as a junior and is only getting better and better.