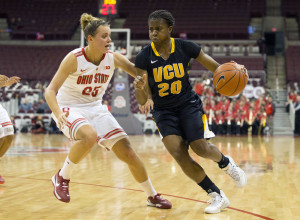 It was an interesting week in #A10WBB as Taylor Brown hit a buzzer-beating circus shot to keep the Bonnies reeling; Richmond suffered a non-conference loss. Jonquel Jones and GW won their 13th straight. Fordham remained perfect in conference. VCU kept Davidson winless in their conference debut season. Kim Pierre-Louis was dominant again in a UMASS victory, and Duquesne was able to win on International Night at home.
Compiled by Matthew Fidurko (@Durko33Matt)
George Washington 59, Rhode Island 59
The Colonials stayed hot, won their 13th straight game and stayed perfect in conference play on the road against the Rams. Jonquel Jones added yet another monster double-double, scoring 10 points, pulling down 18 rebounds, and blocking five shots.
Fordham 57, St. Joseph's 47
The Rams were able to match GW's perfect conference record with a victory over the Hawks. The "Queen of Assisting," Natasha Cloud has not been doing much assisting in conference play, as she only dished out three assists in St. Joseph's third conference loss; for Fordham T. Ruffin led the way with 16 points, five rebounds, and eight assists.
VCU 62, Davidson 53
The Rams, led by Adaeze Alaeze's 17 points and Melanie Royster's nine rebounds, were able to keep the Wildcats winless in conference play during their short Atlantic 10 tenure. For Davidson Dakota Dukes recorded a double-double, 12 points and 14 rebounds.
UMASS 71, LaSalle 68
Kim Pierre-Louis' double-double (24 points and 13 rebounds) and Rashida Timbilla's 17 rebounds guided the Minutewomen past the Explorers for their second conference win. LaSalle had four players finish in double-figures, led by Micahya Owen's 18 points.
Duquesne 77, Saint Louis 64
April Robinson's near double-double (15 points and nine assists) guided the Dukes, who outrebounded the Billikens 48-38, to the victory inside the Palumbo Center on International Night. Four other Duquesne players would finish in double-figures, including Olivia Bresnahan's 13 points and seven rebounds.
Yesterday's Results:
George Mason 68, St. Bonaventure 55
The Patriots were able to keep the Bonnies reeling, now losers of three straight, thanks to a Taylor Brown (25 points) buzzer-beater three-point circus shot to send the game into overtime. In the extra period Mason outscored the Bonnies 15-2 and improved their conference record to 3-1.
Pennsylvania 49, Richmond 47
In a non-conference game during conference play the Spiders had the lead with one minute remaining, however, with 26 seconds left the Quakers launched a three to guide the Quakers to the victory. Janelle Hubbard and Genevieve Okoro each scored 12 points for a Richmond squad that pulled down three offensive rebounds on their final possession but could not finish.
Atlantic 10 Standings—
George Washington – 4-0
Fordham – 4-0
VCU – 3-1
George Mason – 3-1
Dayton – 2-1
Rhode Island – 2-2
Duquesne – 2-2
UMASS – 2-2
Richmond – 1-2
St. Bonaventure – 1-3
LaSalle – 1-3
Saint Louis – 1-3
St. Joseph's – 1-3
Davidson – 0-4