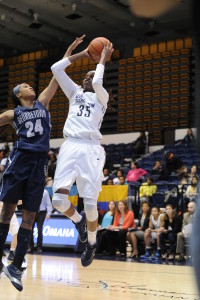 By Matt Fidurko
1. Jonquel Jones (George Washington) – Another double-double for the "Double-Double Machine" helped the Colonials to stay perfect in conference and win their 12th straight game. Jones poured in 21 points and pulled down 11 rebounds in GW's victory weekend victory over Richmond.
2. Taylor Brown (George Mason) – Brown is an elite scorer in the Atlantic 10 and her buzzer-beater and 22 points against LaSalle guided Mason to their second straight conference win. In a blowout loss to Duquesne earlier in the week, Brown would only score 13 points, however, she proved that after a bad performance she can really bring it.
3. Natasha Cloud (St. Joseph's) – Cloud has been taking on more of a scoring role lately for the Hawks, notching 20 points in a weekend loss to UMASS, however, the "Queen of Assisting" is still dishing out plenty of dimes for St. Joe's (seven against UMASS). Against George Washington, Cloud would also add 26 points, seven rebounds, and three assists.
4. Andrea Hoover (Dayton) – Hoover was back to being her dominant self in Dayton's victory over Duquesne. The senior was able to keep the Flyers near the top of Atlantic 10 with a 22 point and five rebounds performance this weekend at UD Arena. Against Davidson in a win, Hoover would score 15 points.
5. Charise Wilson (Rhode Island) – The freshman sensation Wilson and Rhody was back at it again as the Rams pushed their conference record to 2-1. Wilson led the Rams over the weekend, scoring 22 points and extending her streak of scoring in double-double to 14 straight games.
6. Kim Pierre-Louis (UMASS) – Pierre-Louis has been on and off since conference play started, however, when she is on, she is really on. Against St. Joe's on the road Pierre-Louis notched an enormous double-double (16 points, 10 rebounds) in an absolutely collasol road victory, while earlier in the week she poured in 26 points and grabbed nine rebounds.
7. Katie Healy (St. Bonaventure) – It was an off night for Katie Healy against the Fordham Rams at home (eight points, seven rebounds) and it was an off night for Healy in Richmond against the Spiders but look for Healy to return to her dominant self on the road against George Mason and back at home against Dayton on NBC Sports Network.
8. Ally Malott (Dayton) – It may seem like Malott takes a backseat to Andrea Hoover when it comes to Dayton women's basketball but she can be just as dominant as Hoover. In a win at home against Duquesne Malott would score 15 points, grab five rebounds, and dish out three assists. Earlier in the week against Davidson, Malott would lead the way for the Flyers, scoring 20 points and grab six rebounds.
9. Sadie Stipanovich (Saint Louis) – In the win against UMASS Stipanovich record her third-straight double-double, scoring 17 points and adding 11 rebounds. Stipanovich would do the majority of her damage in the second half, pouring in 13 points and grabbing eight rebounds.
10. Samantha Clark (Fordham) – When a low post player can finish inside, rebound, and step out and hit a three-pointer she can be absolutely lethal in the Atlantic 10. In a weekend road victory against St. Bonaventure Clark scored 17 points, while just missing a double-double with nine rebounds.
Top Freshmen:
1. Charise Wilson (Rhode Island) – Wilson is by far the top freshman in the Atlantic 10 and her first full week of conference play was very impressive. Wilson notched 22 points in Rhody's weekend victory, extending her streak of scoring in double-digits to 14 straight games.
2. Mackenzie Latt (Davidson) – Latt built on the best performance of her young career with another double-double this weekend. Latt notched 18 points and a game-high 12 rebounds in the Wildcats third-straight conference loss. Earlier in the week against Dayton, Latt nearly missed another double-double, adding 12 points, eight rebounds, four steals, and five assists.
3. Cierra Dillard (UMASS) – Dillard is the heart and soul of the Minutewomen and showed it in a huge road win for UMASS against St. Joe's. The freshman poured in 18 points, grabbed four boards, and dished out four assists in Minutewomen's weekend victory. Earlier in the week in a loss against St. Louis, Dillard scored 23 points, 18 of which came in the second half.
4. Mariah Ruff (St. Bonaventure) – Since being added to Jim Crowley's starting unit, Ruff has only made a positive impact both offensively and defensively. The Oneonta, N.Y. native struggled against Fordham, only scoring two points, however, the freshman would play 32 minutes and was composed the whole game.