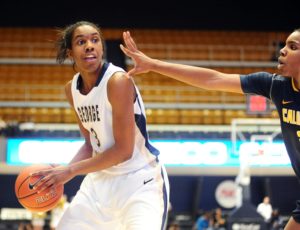 A back on track performance in North Carolina, an almost comeback in Richmond, a trio-takeover for Saint Louis, and another dominant performance in DC made up an interesting night in #A10WBB.
Compiled by Matthew Fidurko (@Durko33Matt)
Dayton 67, Davidson 51
In the first-ever meeting between the two programs the Dayton Flyers were able to go on the road and get back on track. Ally Malott led the fighting Rudy Flyers with 20 points and six rebounds; while the Wildcats and Coach Savage are still looking for that elusive first Atlantic 10 win.
Richmond 67, St. Bonaventure 61
It was almost a tale of two halves inside the Robins Center but the Spiders were able to even their conference record and end St. Bonaventure's four-game win streak behind Janelle Hubbard's 24 points, including two huge threes down the stretch.
Saint Louis 75, UMASS 67
Kim Pierre-Louis was back after a poor performance at St. Bonaventure, dropping 26 points and pulling down nine rebounds, however, the trio of Stipanovich (17 points, 11 rebounds), Kemph (16 points, 4 assists), and Price (16 points, five rebounds, six assists) was too much for the Minutewomen.
George Washington 83, St. Joseph's 69
Jonquel Jones put together her usual double-double performance (16 points, 14 rebounds) but it was Caira Washington who led the way for the Hawks, pouring in 23 points. The Queen of Assisting, Natasha Cloud, led St. Joe's with 26 points, 7 rebounds, and a surprising three assists.
Atlantic 10 Standings—
1. George Washington – 2-0
2. Fordham – 1-0
3. George Mason – 1-0
4. LaSalle – 1-0
5. Rhode Island – 1-0
6. Dayton – 1-1
7. Richmond – 1-1
8. St. Bonaventure – 1-1
9. St. Joseph's – 1-1
10. Saint Louis – 1-1
11. Duquesne – 0-1
12. VCU – 0-1
13. Davidson – 0-2
14. UMASS – 0-2