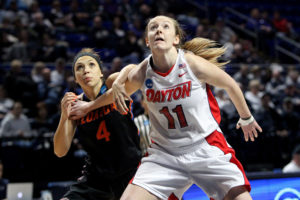 A look at a good Sunday for #A10WBB.
Compiled by Matthew Fidurko (@Durko33Matt)
LaSalle 73, Fairfield 59
Alicia Cooper's third double-double of her career (14 points and 10 rebounds) helps the revengeful Explorers keep the Stags on the snide in a battle of former MAAC opponents.
Towson 72, George Mason 70
Towson stops two-game slide by ending the Patriots four-game winning streak. Brown remains the Atlantic 10's leading scorer with 25 points.
Duquesne 82, Lehigh 75
The Dukes wrapped up their tough non-conference schedule in the 'Little Town of Bethlehem' with a victory behind April Robinson's career-high 28 points.
Quinnipiac 69, Saint Joseph's 67
Sarah Fairbanks' double-double (10 points and 11 rebounds) and Broomall, Pennsylvania's heart and soul Natasha Cloud's 13 assists are not enough to make it 21 championship game appearances in the Hawk Classic in 22 years for St. Joe's.
Dayton 72, #24 Green Bay 66
#24 Green Bay tries to play streak crushers, but Dayton extends the nation's longest home-court winning streak and win sixth straight. Ally Malott leads the way for the Flyers with 14 points and 14 rebounds.
Richmond 59, William & Mary 56
The Spiders win their fourth straight thanks to Genevieve Okoro's seven points and 10 rebounds.
UMASS 78, Boston University 57
The Minutewomen run by Boston University; Kim Pierre-Lewis' 30 points were the most by a UMASS player since Nov. 28, 2010 (124 games).
George Washington 72, Loyola 49
The duo of Caira Washington (19 points) and Jonquel Jones (double-double) guided the Colonials to their eighth straight win. GW's 10-2 record is the third-best start in the program's history.
Davidson 67, Virginia 57
Davidson got a tough road win against ACC Virginia in the Cavaliers' own tournament. Junior Hannah Early scored a season-high 24 points, all three-point field goals.
VCU 63, Coppin State 52
A strong second half by the Rams and 21 points from Keira Robinson enabled VCU to win their fourth straight game and keep Coppin State reeling.
Saint Louis 63, Eastern Illinois 49
It was #BillikenTime as Saint Louis held Eastern Illinois to 49 points and 29 percent shooting.