HARRISONBURG, Va. — St. Bonaventure head coach Jim Crowley schedules these types of games for a reason. Early season road tests are a staple of Crowley's teams over the past four seasons in the hopes of preparing his team for the gauntlet which is Atlantic 10 Conference play. Just two days after earning a convincing win over Big 4 rival Canisius to make it 22-straight wins over a Big 4 foe, Bona knew the type of test which awaited.
James Madison had reeled off a 29-win campaign just one season ago, captured the Colonial Athletic Association Tournament Championship and won a first round NCAA Tournament game over Gonzaga. Then, on opening night, the Dukes outlasted No. 22 UCLA to earn an overtime win. While all those are reasons enough to proclaim a tough test, the Dukes also held a 12-1 record at home last season with its average margin of victory being 32 points per game.
Add in the fact of the two teams playing contrasting styles with the Dukes pushing the ball up the court any chance they get while Bona runs a slow, half-court style and it had the makings of an uphill climb. However, once the game began, Bona displayed its trademark toughness. At the under 12 media timeout, the Bonnies trailed James Madison by just one point and had taken their offense completely out of its rhythm. While the Dukes would enter the break with a 10-point lead, it had more to do with an uncharacteristic 13 turnovers committed by Bona than it had with them fixing its offensive woes.
Unfortunately, St. Bonaventure could not correct its own shooting woes for the entirety of the game. The Bonnies shot just 24 percent from the field on an afternoon it went both 5:26 without a single point and 10:25 without a field goal at certain points. An inability to get second-chance opportunities or break down an aggressive man-to-man defense ultimately did Bona in. James Madison started the second half on a 14-2 run and never looked back, handing the Bonnies their first loss of the season in a 76-43 defeat at the Convention Center.
Although the result was not what Bona had in mind — these are the games the program has grown to expect to win over the years with victories over powers like West Virginia and St. Johns — it is part of a season-long process to get the team where they need to be. By the time Bona will reach Atlantic 10 play, they will have faced Toledo, Penn State and Georgetown with nine of their 13 non-conference games coming away from the Reilly Center. It's all done with a strategic plan in mind.
"This is as difficult of a place we're going to play and certainly one of the toughest teams we'll play," Crowley said. "That's what you hope for. Where you remember the time where the physical play affects us or the time we weren't moving the ball. You hope you pick those things up and also we hope to learn that we have to prepare better and do more to get ourselves to the level we want to get."
Part of that plan is to figure out a way to attack teams who may have more length than they do. Crowley's Bona teams will never be the most athletic or physically imposing of teams, but they learn to adapt while playing to their strengths. The Dukes represented their first big challenge of the season and Bona was not quite ready to deal with it.
James Madison dominated the battle on the boards, out-rebounding St. Bonaveture 53-to-27 and made a living off of second-chance points, grabbing 18 offensive rebounds and scoring 23 points. But the length also affected Bona on the offensive side of the court.
When St. Bonaventure is playing their best, Hannah Little and Nyla Rueter are able to come off back-screens, set at the top of the key and penetrate a defense for easy baskets or setting up a teammate for a high percentage shot. However, the Dukes' size in the front court forced Bona into heavily contested, low percentage shots which kept them away from their strength.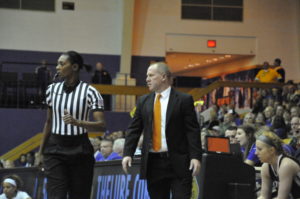 "We didn't do our jobs a lot of times," Crowley said of the Duke's advantage on the glass. "We stood around and watched or tried to jump with. It's a blessing and curse when you have an athletic players because they think they can jump with everyone and we couldn't … We'll see some teams like that in conference play and hopefully we've learned our lesson and can correct it."
But when Crowly and his staff look back on the entirety of the game, Bona did not play as poorly as the final score indicated. St. Bonaventure was plagued by turnovers in the first half of play, but committed just four additional turnovers the rest of the way. Additionally, aside from a two-minute stretch at the end of the game, Bona had held the Dukes to under 40 percent shooting from the field.
The defense, although it didn't look like it, had itself a good game. Plus, the mistakes Bona did make like not being more aggressive on the offensive end or boxing out defensively are easily correctable traits. After all, conference titles are not won in November. They are won in months of January and February when the this Bona team will be battle-tested enough to compete with any team they may face.
"I think we can defend really well," Crowley said of his defense holding the Dukes under 35 percent for 38 minutes of action. "They have a lot of weapons and they put pressure on you. I think we have the right to have confidence in what we do defensively. Obviously that's weird to say when you give up 76 points, but we aren't shooting it well."
The offense will come for the Bonnies. There are too many weapons on a team predicted to finish fourth in the Atlantic 10 Preseason Poll for  the woes to continue. So Bona will throw out the game's result, although it was disappointing, and use it as the learning experience he aimed it for be, preparing his team for a better future with a humbling in the present.
Ryan Lazo is the sports editor at The Hopewell News. You can follow him on Twitter @ByRyanLazo for additional news on the Atlantic 10 in addition to local and general sports news.