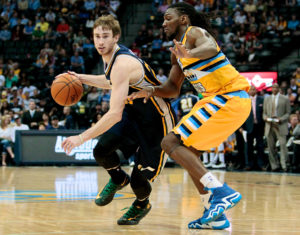 With the Heatles unofficially off the market, teams with cap space must turn their attention, and wallets, toward second-tier talents.
By: Joe Mags
To all of our displeasure, LeBron James, Dwyane Wade and Chris Bosh are most likely returning to Miami in some sort of organized, pyramid pay-scale fashion. How dull. If Miami's Big Three re-ups in South Beach suddenly Carmelo Anthony stands as the lone superstar talent available on the market.
There are only so many destinations that are actually in the discussion to add Melo: Chicago and their hard pitch to run their offense through him; Houston and Dallas are contenders in the West that Carmelo may be able to put over the top; and, of course, a return to the Knicks is possible if Phil Jackson is offering the five-year max-level contract only New York can give him.
It will be fun to watch Carmelo – a player so enthralled by the prospect of being a free agent in the prime of his career that he opted to do a strangely timed interview about the subject pre-season with the New York Observer – sort through these four (and maybe more) great offers and shift the playoff picture a bit on both coasts. Honestly, as a Syracuse fan and native, I'm happy for the guy, and I hope he gives us a show taking the next 7-10 days deciding which mega-contract to sign.
But what happens to the other dozen teams league-wide that have created substantial cap room in an attempt to add an All Star? Outside of a few blockbuster trade scenarios – I remain dubious to Golden State's insistence they prefer Klay Thompson to Kevin Love; and Rajon Rondo's days in Boston appear to be numbered considering they just gave Avery Bradley (AVERY BRADLEY?!!!) $8 million a year and drafted Marcus Smart and James Young – how are teams like Charlotte, Cleveland, Phoenix and even the Los Angeles Lakers going to use their cap space?
The secondary option for teams that miss out on the superstar(s) available this summer is to use that money on second-tier free agents instead. Look at the Mavericks last summer. After missing out on All Stars for two consecutive summers, the Mavericks added Monta Ellis and Jose Calderon – and were initially laughed at for it. But it worked: Dallas made the playoffs and took the eventual NBA champion San Antonio Spurs to seven games in one of the best series of the post-season. Now this summer, if Dallas fails to land Anthony, expect the Mavericks to reload on second-tier players; their recent trade for Tyson Chandler sent Calderon to New York, and the Mavericks seem poised to add a significant player on the wing and in the backcourt via free agency.
Players like Luol Deng, Trevor Ariza – Sidebar: He's probably re-signing with Washington – and Kyle Lowry are all going to command high salaries on the open market, but are the type of players that can elevate a good team into a really good team – or, in the case of Dallas, a really good team to potentially a great team.
But what about cases where the market for a second-tier free agent grows so wildly that teams have to put superstar money on the line to sign them? Are there any cases where it's worth paying somebody at or near the max when they are not really a max-level player?
Enter Lance Stephenson and Gordon Hayward.
ESPN is reporting that Indiana offered their enthusiastic, 23-year-old wing a five-year deal worth $44 million – and Stephenson's camp said thanks but no thanks. If this is true, then that's bad news for Indiana and bad news for the rest of the league if players like Stephenson are chucking $9 million a year offers from really good teams in the waste basket in search for more on the open market. (Check me out on that subtle Godfather reference.)
There's plenty of logic on Stephenson's side of this reported decision. For starters, he will very easily make double-digit millions per season on the open market. Easily. The Los Angeles Lakers may offer him $15 or $16 million for a couple seasons of his antics just to support Kobe Bryant's delusion they can make the playoffs.
And as far as finding another four or five year contract, that will be out there for him too. Charlotte is an outstanding fit for Stephenson – imagine the length and athleticism of Lance, Michael Kidd-Gilchrist and Noah Vonleh slotted at the 2, 3 and 4 – and he would elevate them to a Top 4 seed in the East overnight. Charlotte would grab Stephenson for four years and $44 million without blinking; teams like the Hornets don't have many opportunities to add 23-year-old players with the talent level of Stephenson outside of the lottery.
Is it short-sided or selfish of Stephenson to turn down a really good offer from Indiana, probably the highest offer the Pacers can make without selling significant pieces of the team? Maybe. But that's the landscape of the current NBA; franchises are making money hand over fist, and the players, who were fleeced in the most recent CBA negotiation, aren't turning down salary for wins.
And if players aren't taking pay cuts to stay with good teams, then what does that mean for Utah and Hayward? Hayward was trapped on last season's clunky, injury-riddled Utah team, a team that (A) incorrectly cast him to play their primary scorer and (B) had some of the worst guard play, albeit rookie Trey Burke missed a large portion of the season to injury, in basketball.
The Butler Bulldog alumnus is a restricted free agent, and while reports say Utah is willing to match any offer sheet thrown Hayward's way, I'm unsure Utah would be willing to spend the max-level money some teams are preparing to throw at him. Utah has a nucleus of six talented young players including Dante Exum, their top selection in June's draft. Hayward might be the best player out of all of them. But that shouldn't mean offering him the max just to keep him around.
No matter how much money the league is making for itself and its teams over the next four to five years, $15 million per year for Hayward is a huge overpay. Utah projects as a bad basketball team for the next two seasons at minimum, which could mean the majority of Hayward's max-level extension with the team would be lost to losing seasons.
Are the Jazz really doing what's in their best interest if they overpay Hayward to be the best player on a bad team for the next two or three seasons? Aren't they better off holding on to that cap space, watching how Burke and Exum fit together, assessing who is worth keeping between Alec Burks, Enes Kanter and Derrick Favors, and using that money down the line for extensions and/or acquiring better players?
Cleveland and Phoenix are considering overpaying Hayward because they feel he is the missing piece they need to make a run in the playoffs. And I think they're right to do so. A lot (a lot, a LOT, A LOT) had to go wrong last season for the Cavaliers to miss the playoffs in the wasteland which is the East, and with Andrew Wiggins and head coach David Blatt on board they are going to be better.
Phoenix might currently hold the belt in three important categories – the best team to miss the playoffs, the most fun team to watch in the league, and up-and-coming team with the brightest future. (There is, however, at least a 20 percent chance that New Orleans is so good a year from now that they eviscerate all of the good vibrations from Phoenix and personally kick them out of the playoff picture for another year.)
If the Cavs or Suns sign the 24-year-old forward, one of the most versatile players in the league, to a huge contract, even $15 million a season, it could be the move that pushes them up a rung in the league. I don't think the Jazz can say the same thing; I think they are much further away then they want to believe.
Back to Lance: Indiana should prepare to do whatever is necessary in order to match the ceiling offer Stephenson garnishes as a free agent. That will most likely involve moving on from Luis Scola, and in general, Indiana is going to have to strongly consider becoming a tax team. But they had nothing going for them by the end of the Miami series this season, and as much as Stephenson embarrassed himself, he was the closest thing to a weapon they had outside of Paul George. If the Pacers lose Stephenson to an eager up-and-coming team like Charlotte, or even a Carmelo-less Chicago Bulls, nobody will feel bad for them.
Joe Mags (@JoeMags_hoops) is a staff writer for pickinsplinters.com and interning for the Watertown Daily Times. Peace, love, recycle and ball.