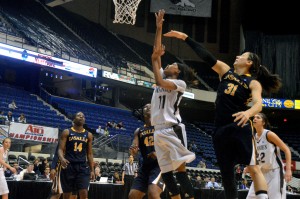 By Ryan Lazo
RICHMOND — There is no denying St. Bonaventure University's Quarterfinal clash with La Salle University was more than just a game. Sure, it was the first game for the No. 2 seeded Bonnies who may need to win the Atlantic 10 Tournament outright to earn a bid into the NCAA Tournament.
But their postseason hopes and resume-building needs were not the most important things in their mind this evening. Instead, their minds focused on keeping the memory of St. Bonaventure assistant sports information director Brian Moretti alive after he passed away Wednesday evening.
Each Bona player wore sneakers with a design of Family Guy's Brian Griffin with accompanied angel wings on one foot and the other adorned with the words, "Play for Brian." The first seat on the St. Bonaventure bench remained empty throughout the game and nestled on top of the Atlantic 10 Conference symbol was a paper also adorned with the same design and words on the player's shoes.
And the emotional toll it took on each Bona player was obvious after they spent a whole season of traveling, eating and practice time with the man who was so excited about Bona players winning All-Conference awards, he called every coach late Monday night to share his enthusiasm. They wanted to desperately win this game in his honor and a quick-start gave them the momentum they would need in a game which was starved for any semblance of an offense.
Nyla Rueter jump-started a 9-0 Bona run to start the game and capped off another 9-0 spurt with 2:07 remaining in the game to push Bona to their biggest lead of the game in an eventual 54-42 victory at the Richmond Coliseum, setting up a date with the winner of Fordham and Duquesne tomorrow afternoon.
"I had no idea if they would play," St. Bonaventure head coach Jim Crowley said alluding to what his team had to endure. "They said right away to my staff that they were staying here and we're playing which made me really proud."
It would be hard not be proud of the type of effort his players showed on the court while hustling for every loose ball, running through every screen and closing out on every shooter while holding La Salle (15-15) to a miserable 22 percent shooting effort.
While all of these are traits of Crowley's Bona (23-9) teams over the years, even he would have understood if the players would have sleepwalked through the game. It would have been a human reaction to be numb and not really focus on the little things needed to win.
Sure, there were some moments when their minds drifted but when it was over, they knew they had the type of performance which would leave Moretti smiling.
"Throw in that we had just one kid who had played an A-10 game," Crowley said. "It was a crapshoot, but these guys are pretty good with their back against the wall."
And at numerous portions of the game, La Salle put St. Bonaventure on the ropes, threatening to take control of the contest. But every single time the Explorers drew within a basket, Bona not only answered but expanded on it.
There was the 9-0 run executed by La Salle to tie the game at 9-9 with 9:57 left in the first half which was answered with a Hannah Little spinning post-move into the paint followed by a Chelsea Bowker 3-pointer. Then, there was the Leeza Burdgess' and-1 basket which pulled the Explorers within two at the 14:07 mark but was responded to immediately by Little with four consecutive points.
Even Rueter silenced a 5-0 La Salle spurt at the 8:38 mark with a 3-pointer of her own — she shot just 3-of-7 from the field for 14 points — to push back the Explorers. The extra gear was always there when Bona needed it.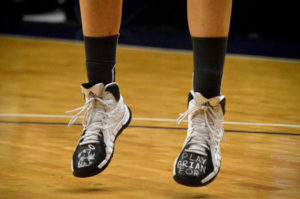 "We haven't been great about that on the road," Crowley said of answering. "Our last couple of road games, in all of those we had a lead or had a situation where we gave ourselves a chance for a big stop and we haven't gotten them … Today they trusted what we do."
Although a lot of that trust has been placed in the hands of Katie Healy and Little who executed the type of two-man game which makes Bona one of the more dangerous teams in the Atlantic 10.
Whether it was Little driving to the basket to draw attention away from Healy before dropping it down to draw contact or Healy dishing it to a cutting Little, La Salle had no answer. Little's ability to not only find creases into the lane, but to also draw contact at the line allowed her to set a career-high with 22 points on 7-of-9 shooting while also grabbing 17 rebounds.
Meanwhile, Healy shot just 2-of-7 from the field, but connected on 7-of-10 from the charity-stripe to finish with 11 points on the night completing the duo's offensive-attack.
"It should be. They share a brain," Crowley said about the duo with a laugh. "They have a great connection. Katie draws a lot attention with her post play; Hannah draws a lot of attention off her drives, so they know the other one will be there for each other."
It's that camaraderie between the players which not only helped Bona win on the court but off it as well, bringing them closer in a time of despair, knowing Moretti is smiling down on them as they advanced to the semifinals.
Ryan Lazo is the sports editor at The Hopewell News, covering eight high schools, Richard Bland and Virginia State University. You can follow him on Twitter @ByRyanLazo.