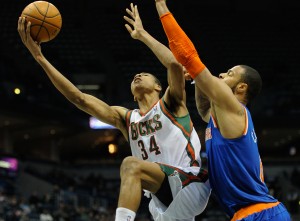 By Dave Holcomb
Despite J.R. Smith's 30 points and Carmelo Anthony's strong fourth quarter, New York loses to NBA-worst Milwaukee Bucks
There never really is such a thing as a must-win game the first week of February in the NBA, but with Knicks still a game out of eighth place after winning four of its last five, and facing the Milwaukee Bucks, the only team in the league without double digits in the win column, made this a game New York had to have. Plus, the Knicks have three tough Western Conference teams on the schedule coming up this week, therefore could not afford to lay an egg in Brew Town.
New York trailed most of the game and rallied to tie with two minutes left and then again with 19 seconds remaining, both times on a Carmelo Anthony 3-pointer. Milwaukee, however, shot 61 percent from 3-point land and point guard Brandon Knight made the team's 11th 3-pointer with seconds left to give the Bucks a 101-98 victory.
Knight finished with 25 points and shot 4-for-8 behind the arc. Milwaukee was pretty much right on par with its normal shooting percentage as the team made 44 percent of its overall shots. The Bucks are dead last in the NBA in points per game (91.9) and shooting percentage (43 percent). The team's 3-pointers made the difference as Milwaukee; the team normally shoots 34 percent on its 3-pointers.
New York shot great from behind the arc as well sinking 15 3-pointers, but also did not shoot a great percentage on 2-point field goals (43 percent). And even though the Knicks did a better job of getting to the free throw line, a criticism the team has had all season, New York made 15-of-24 from the charity stripe.
Entering the fourth quarter, Milwaukee led by six points and the Knicks seemed to lack energy even though the team claimed to be inspired by the Seahawks defensive performance in the Super Bowl. Anthony was having an off night, but guard J.R. Smith led the Knicks offense with 30 points.
Anthony turned it on in the final quarter, scoring 17 points and finished as the leading scorer with 36 points. Despite his heroics, the Knicks never led in the game.
Since January 3rd, New York is 9-7 and considering the team's 19-29 season record, that's not all that bad. But looking closer at that stretch, the Knicks won five straight, then lost five straight and then won four straight before losing its last two games including the loss against the Bucks on Monday. With the Blazers, Nuggets and Thunder up next, it is quite possible New York follows up that four-game winning streak it had last week with another long losing streak.
New York cannot possibly gain ground in the standings by following up winning streaks with losing streaks. To avoid that again, the team needed a win in Milwaukee and it failed to get it.