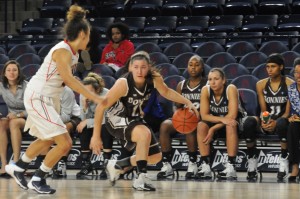 RICHMOND — Two years removed from a Sweet 16 berth, the learning curve continues for St. Bonaventure University's women's basketball team. The Bonnies can be an impressive squad with dangerous weapons for a short burst, but then remind everyone it's still a team with just one senior on the roster earning time on the court.
It's why through 22 games, the Bonnies have both impressed and disappointed with their play this season. However, entering their game against Richmond, St. Bonaventure seemed to be hitting their stride. After dropping two of their previous three games —  losses to both Dayton and Duquesne — Bona answered with a resounding 22-point win over La Salle.
The win over the Explorers fueled the Bonnies to consecutive wins over Saint Louis and Rhode Island, leading to a three-game win-streak before they faced the Spiders Saturday afternoon. And it was in the match-up with Richmond, Bona displayed why they are both a dangerous team to face in Atlantic 10 Conference play and also a team just learning what it takes to remain competitive in a 53-48 win at the Robins Center.
"We made shots in the second half," Bona head coach Jim Crowley said after his team's fourth-straight victory. "I thought Richmond did a good job of hurrying us and went into a more aggressive defense which is what they've done in the past. It was typical A-10 road game and I was really proud of my defense at the end of the game."
And Crowley had good reason to be proud of a defense which completely smothered the Spiders' (9-11, 3-4) offense, allowing just one made field goal over the final 9:04 of game-action. Bona (16-6, 5-2) would outscore Richmond 14-to-4 over the span, taking control of the game in the process.
The final minutes was just another example of a team maturing after a disappointing 10-19 season just one year prior. In fact, this was the Bonnies' second conference road win of the season compared to compiling zero wins last year. Instead of faltering down the stretch, this Bona team leaned on past experiences and stiffened down the stretch, focusing on the defensive side of the ball.
"I didn't know what the number was, but I knew they weren't getting good looks," Crowley said. "You could see our kids take it to another place and that was good to see … we had people play a lot of minutes and still we had the energy to defend as a group."
But no one displayed more energy for this Bona squad than Hannah Little.
The sophomore has taken the sixth-man role and made it her own this season, entering the game averaging 9.6 points and 7.8 rebounds per contest. Against the Spiders, it was no different. Whenever the Bonnies needed to make a play with the shot-clock inching closer to zero, it was Little who took control.
The 6-foot-1 forward drove to the hoop with a purpose, both drawing fouls and finishing baskets en route to a 12-point, 5-rebound effort as she logged 24 important minutes due to Gabby Richmond's foul problems. The energy she played with plus the impact she had on the game did not go unnoticed.
"I just saw Hannah's energy today was really good," Crowley said of the sophomore. "She's been good, but not great in conference … I think she's just getting her confidence over there and I wouldn't be surprised to keep seeing her play better and better as the year goes on."
The same can be said for another sophomore on the Bonnies' roster.
Nyla Rueter suffered through an up-and-down non-conference campaign, but has come alive in conference play. The sharp-shooter is averaging 13 points per game in seven conference games and is displaying deadly accuracy after entering the game second in the conference in 3-point shooting, hitting at a 50 percent clip.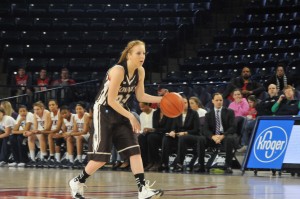 And it was a personal 10-0 Rueter run in the first half of action — she tallied a team-high 14 points on the afternoon — which resulted in Bona turning a five-point deficit into a five-point advantage, swinging momentum and setting the stage for a back-and-fourth affair.
Yet, it was neither Rueter or Little hitting the biggest shot of the game. Instead, Emily Michael with all of three shots on the game to that point, launched a 3-pointer from the left-wing with Bona trailing by three points with 7:06 remaining.
Her shot found nothing but nylon while demonstrating the mental toughness the Bonnies' point guard possesses.
"She's tough," Crowley said. "Emily starts everything with our defense. She's so good at ball-pressure and at the end of the game (Janelle) Hubbard couldn't get a good look … She's so much our unsung hero. She gets the ball where it's supposed to go. She has no ego about it and is the voice in the locker room."
And it was Michael's threaded pass to Katie Healy in the low-block which resulted in the eventual winning bucket as the forward deftly utilized a spin-move to go baseline before finishing strong. It was just another example of how the sophomore forward can impact a game.
The sophomore scored just two of her 10 points in the first half, but hauled in nine rebounds in the first 20 minutes, finishing with another double-double effort with 15 rebounds, making her presence felt in whatever capacity she could.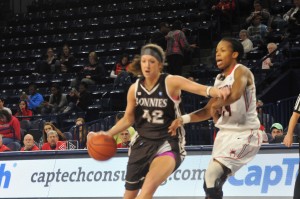 At the end of the game, Crowley was able to look at the scoreboard and at his team's play with approval. His team fought hard and captured a road victory, although also left room to improve, highlighting what this team can be capable of.
"That's part of the growth. There's a lot fewer of the moments there now, but they're still there," Crowley admitted. "You can go through things in practice, watch it on film, but at the end of the day, the best teacher is experience."
As St. Bonaventure continues their A-10 schedule, Crowley knows his team will  continue to face hardships. However, overcoming those difficulties — like they did against the Spiders — will determine how successful Bona will be this season.
Ryan Lazo is the sports editor at The Hopewell News, covering eight high schools, VSU and Richard Bland College. You can follow him on Twitter @ByRyanLazo