Just weeks removed from being the most picked apart union of the summer, Monta Ellis and the Mavericks look really good.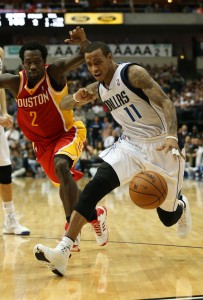 By Joe Manganiello
The Mavericks have Monta Ells, who, if you haven't heard, has it all.
Ellis and Dirk Nowitzki combined for 73 points in the comeback victory against the Houston Rockets last night, maybe the best game yet for the unlikely star-combo. They've won five of  six games – the lone defeat coming at the hands of the Heat, in Miami, by only six points – which puts the Mavericks at 8-4 on the season.
Maybe Dallas really has something. Maybe they really (gulp) have it all?
In all seriousness, Dallas was prematurely killed for the move – although the critique was warranted after taking a peak at Ellis' shot chart from last season. It was unclear how a roster with what appeared to be more question marks than answers would look over the entirety of the season, let alone the first month.
But honestly, they look good.
Credit head coach Rick Carlisle, truly one of the greats in the game, for defining the roles on this team right away. This is very much still Dirk's team, and when he is on the floor he remains the top option. As imagined, Calderon is an ideal pick-and-roll partner for the Hall-of-Fame power forward, and the two have been effective together.
What puts this team above expectations early on is the play of Ellis. He's committed; he knows this is his chance to prove he can work on a winning team. He's shooting nearly 50 percent, averaging a tame 2.7 three-point attempts per game, while adding passing (5.7 per game) and steals (1.6 per game) to boot. He's cutting to the basket, and not sucking the air out of the ball every time he touches it; there is even a hint of veteran experience in his game now that was never there in Golden State or Milwaukee.
It's a long season, and the Mavs venerability inside – Dwight Howard was 12 for 16 from the field and went for 33 points and eleven rebounds last night – is a concern. They are going to need to add bulk when the calendar turns over, and depending on what they choose to do with Shawn Marion's expiring contract, might need to add perimeter defense, preferably a bit younger and more spry than the likes of Marion and Vince Carter.
But, it goes rocks, pebbles, sand then water. The Mavericks have seen that Ellis can fit in with Carlisle/Nowitzki's plans, something that is mandatory if the team wishes to play meaningful games this spring.
Joe Manganiello (@joemags32) is a staff writer for pickinsplinters.com. He was published in the 2013-14 USA Today Sports College Basketball Preview. He studied journalism and cinema at Oswego State University – Peace, love, recycle and ball.