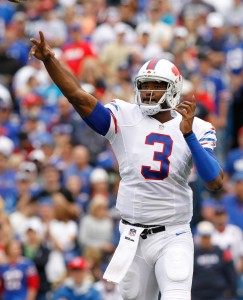 By Tim Mullhaupt
Week 3 has the makings of some great games and several blowouts. Let's get caught up with the whirlwind of news that transpired in the past couple of days.
Week 3 Power Rankings:
Disclaimer: Since this is the first week I've posted power rankings, these superlatives do not reflect actual movement in rankings, as this is the first rankings I've published this year. Instead, this week and this week only I'm going to base the "Most Improved/Furthest Drop" strictly on roster moves.
Most Improved-Indianapolis Colts: This was easy. The Colts are far from the best team in the NFL, but they certainly gained some teeth by adding Trent Richardson who should flourish in an offense that has other threats to take defenses' attention away from him. Andrew Luck should likewise benefit from a legitimate running option to reduce pressure and open up play action play calling. If the Colts can control time of possession, they could quickly become a powerhouse in the AFC.
Furthest Drop-Cleveland Browns: The Browns refuse to be outdone in the "Most Incompetent Franchise" competition, or as I like to call it "Ready for Teddy" sweepstakes. They'll certainly have some stiff competition from Jacksonville, but at least the Jags still have Maurice Jones-Drew (albeit a washed-up MJD). The Browns effectively traded their last legitimate offensive threat (if you ask me, Josh Gordon doesn't qualify with Brian Hoyer under center) for a 2014 first round draft pick, effectively tossing in the towel on the 2013 season in hopes that they can tank for the top pick in next year's draft, or at least have additional ammo to trade up into that position.
| | |
| --- | --- |
| 32. Cleveland (0-2) | 16. Baltimore (1-1) |
| 31. Jacksonville (0-2) | 15. Dallas (1-1) |
| 30. Tampa Bay (0-2) | 14. Detroit (1-1) |
| 29. Carolina (0-2) | 13. Miami (2-0) |
| 28. Minnesota (0-2) | 12. Indianapolis (1-1) |
| 27. Washington (0-2) | 11. New England (2-0) |
| 26. Pittsburgh (0-2) | 10. Cincinnati (1-1) |
| 25. Giants (0-2) | 9. Chicago (2-0) |
| 24. Jets (1-1): | 8. Kansas City (3-0) |
| 23. Oakland (1-1) | 7. Houston (2-0) |
| 22. San Diego (1-1) | 6. New Orleans (2-0) |
| 21. Philadelphia (1-2) | 5. Atlanta (1-1) |
| 20. Buffalo (1-1) | 4. Green Bay (1-1) |
| 19. Saint Louis (1-1) | 3. San Francisco (1-1) |
| 18. Arizona (1-1) | 2. Denver (2-0) |
| 17. Tennessee (1-1) | 1. Seattle (2-0) |
Week In Review:
1. The Clowns are Back:
Though it may not have been reflected in their early season record, Cleveland was finally on a steady track towards improvement. So imagine my surprise this week upon hearing the news that Trent Richardson, the Browns most talented offensive player, was on his way to Indy in exchange for a 2014 first round pick. Now look, in once sense I get it-Brandon Weeden is not the quarterback of the future for the Cleveland Browns. The Browns can make themselves more "Ready for Teddy," by trading away players that could earn them wins, and thus remove themselves from the Bridgewater sweepstakes. But to trade the number three overall draft pick from the 2012 draft this early in his career is classic Cleveland. Now looking at his stat line in his first year and two games, Richardson has not lived up to his billing as a top-5 draft pick. A career YPC of 3.5 is mediocre at best, but first consider the sample size-just 17 games-and the team he's played on. In Cleveland, the only other viable offensive threat is Josh Gordon, and that's not enough to keep opposing defenses from stacking the box against Richardson. It's no coincidence that upon hearing of the trade, coaches and players alike in the AFC North texted Colts' head coach Chuck Pagano, thanking him for removing T-Rich from the division. The trade itself seems eerily familiar to the one that sent Jerome Bettis from the Rams to the Steelers in 1996 in the Bus' 4th year in the NFL. Don't be surprised if the results are the same.
On a related note, how sad is it that Brandon Hoyer could now be the starter for the Browns moving forward? Hoyer will get the start Sunday in place of an injured Brandon Weeden and could hold on to the spot permanently. The former Patriot, Steeler, and Cardinal is reportedly the apple of GM Michael Lombardi's eye . Hoyer is now the 19th starting quarterback that has played for Cleveland since 1999. Someone has to rescue this city from the incompetence of the front offices that plague all its sports.
2. Bad Week for Premiere Offensive Tackles:
Imagine if Tom Brady, Aaron Rodgers, and Peyton Manning all missed a game in the same week. That's essentially the case with left tackles this week as Houston's Duane Brown, Denver's Ryan Clady, and Seattle's Russell Okung will all miss at least this week with various injuries. Brown is questionable against Baltimore, Clady is done for the year, and Okung has been put on IR with designation to return after 8 weeks. So who does this hurt the most; Matt Schaub, Peyton Manning, or Russell Wilson? Schaub should be ok moving forward so long as Brown doesn't have any setbacks. Russell Wilson is mobile enough to compensate while Okung is on the mend. Peyton stands to suffer the most here as he's never been known for his mobility and is playing with a 37-year old, surgery-riddled body. Now with all that said, it's not likely we see a major drop off from Peyton; he's still a master at the quick release and is an expert at identifying blitzes and pressure before the snap. Still, it'll be interesting to see if there's any drop off in any of these three offenses as a result of the loss of their blindside protectors.
3. The Calvary is Coming…Right?
Two teams have noticeably struggled offensively in the wake of some serious injuries to key personnel; Pittsburgh and New England. The Steelers have scored the third-fewest points in the NFL through the first two weeks and the Patriots have had trouble dispatching of the Bills and Buccaneers. The Steelers will have Heath Miller back for the first time since he sustained a major knee injury in December. The initial prognosis this week was that Rob Gronkowski had a chance at returning to the Patriots. As it turns out, Gronk is likely inactive for week three according to ESPN.com, but could very well be back next week. Roethlisberger (41-70, 58.6%, 442 yards, 2 TD, 2 INT, 74.8 rat) and Brady (48-91, 52.7%, 473 yards, 3 TD, 1 INT, 74.1 rat) have been uncharacteristically bad, thanks in large part to missing their two most-dangerous receivers from a year ago; Roethlisberger-Wallace and Miller, Brady-Welker and Gronkowski. In both cases, the big-bodied tight ends provide both quarterbacks with a physical target to compensate for corps otherwise lacking in physicality.
Game Recaps:
Chiefs 26 Eagles 17:
The Philly bandwagon may have a flat tire or two, but do they have a spare? In week three we saw the Mike Vick we've come to know in the past two years; washed up and turnover prone. That doesn't mean he won't have a good year with Chip Kelly, but Philly's loss displayed some troubling issues with the Eagles' offensive line-Justin Houston menaced rookie first round pick Lane Johnson for 4.5 sacks-and wide receivers, who couldn't beat the physical press coverage employed by KC's secondary.
The Chiefs are now 3-0 and seem to be asserting themselves as at least a playoff contender in the AFC. Justin Houston had a game for the ages, collecting seven tackles (six solo), four and a half sacks, a forced fumble and two fumble recoveries. Kansas City has now forced nine turnovers in three games, the best mark in the NFL. Without a turnover of their own in 2013, the Chiefs now lead the NFL in the all-important turnover differential stat with a stellar mark of +9.
Game Previews:
Texans at Ravens:
Houston will be missing their best offensive lineman in Duane Brown this week. Backup Ryan Harris will have his hands full with Terrell Suggs all afternoon but Gary Kubiak has proven to be a resourceful offensive mind, and will have a gameplan ready to counter this loss. The Texans' 9th-ranked passing attack should provide a favorable mismatch for Houston against Baltimore's 25th-ranked pass defense, especially with the news that Andre Johnson will play.
Baltimore will have their hands full with Houston's defense. The Texans allow the third-fewest number of yards through the air (156 YPG), and the Ravens lack receiving threats beyond Torrey Smith. With Ray Rice listed as doubtful with a hip injury, it'll be up to Bernard Pierce to keep balance in Baltimore's offense. Houston's run defense currently ranks 17th in the league, allowing 99.5 YPG. If Baltimore can generate sufficient pressure on Matt Schaub and the Brown-less Texans, then they'll have a chance.
Prediction: Texans 17 Ravens 13
I'd love to forecast a blowout here but I know better when a Harbaugh is on the sidelines. The Ravens defense will be able to contain the Texans' highly-touted run game and put pressure on Matt Schaub, but will ultimately struggle to generate any kind of offense against Houston's tough defense.
Giants at Panthers:
The Giants are in need of a turnaround game quickly if they want to stay in playoff contention in the NFC . It's becoming readily apparent that only one team will make it out of the NFC East-the winner. Big Blue would do well to start establishing some semblance of a ground game if they want to keep Eli healthy and out of the turnover column. They may be in luck against a Panthers' defense that ranks 19th in the league in rushing yards allowed per game (109).
Carolina continues to look the part of the mediocre team it's been for the better part of the last decade. For all the hype Cam Newton has generated, the team has the third lowest passing yards per game in the NFL, and has scored just 30 points in two games. Their strength lies within their run game (ranked 6th) and they could conceivably beat the Giants if they can dictate the tempo of the game and win the time of possession battle.
Prediction: Giants 24 Panthers 20
I like New York in this one. Eli could shake himself out of his funk if the running game gives him any help this week. I don't like either defense all that much, though both can get after the quarterback. That combined with the fact that both teams have been somewhat turnover-prone in the first two weeks (the Giants much more so than the Panthers), leads me to believe this one won't be as high-scoring as it could be.
Lions at Redskins:
ESPN rightfully highlighted the matchup of Calvin Johnson playing against the putrid Washington secondary. It's going to be a bloodbath, especially if Reggie Bush (currently questionable) can play. The running back has been a lethal receiving option out of the backfield, racking up 145 yards on 7 catches. If he doesn't play? No big deal, Joique Bell has caught 10 passes for 108 yards.
Washington, much like the Giants, will have the same opportunity to jump start a struggling running game against Detroit's middle-of-the-pack run defense. The more Washington can keep Stafford and Co. and their own defense off the field, the better. A running game would also help preserve RGIII, who does not appear to be 100 percent yet. Talented pass-rushers Brian Orakpo and Ryan Kerrigan will have to pressure Stafford if Washington wants to slow down the league's 7th best passing attack.
Prediction: Lions 33 Redskins 23
I just don't see a scenario where Washington's defense gets the better of the Lion's offense in this one. Stafford has been sharp and healthy to start the season, whereas RGIII has been neither. The 'Skins will need more than a few bounces to go their way to come out on top.
Chargers at Titans:
San Diego is coming off a big win against Philadelphia where Phillip Rivers looked every bit the quarterback that was once considered "elite" a few years back. Add into the equation that San Diego's biggest weakness-its 32nd ranked secondary-will be facing the weakest passing game in the league in Tennessee, and it's hard not to like the Chargers.
Tennessee has shown some surprising gumption through the first two weeks, knocking off the Steelers on the road in week one and taking the Texans to overtime in week two. The Chargers will prove to be a unique opponent in the sense that they are neither plagued by injury nor a familiar division rival as the Titan's last two foes were. Without a significant passing game, the Chargers can focus on stacking the box against Chris Johnson and forcing Locker to do what he cannot; throw the pigskin.
Prediction: Chargers 27 Titans 14
Cardinals at Saints:
Arizona has been scrappy to start the season and Carson Palmer continues to play decently. I like them a lot more than the average fan/analyst/pundit would, mainly because there's a lot of talent on the defensive side of the ball. Granted, the numbers don't reflect a dominant defense through two weeks, but the Cards have been able to keep games close, losing by three in week one and winning by four against a good passing offense in Detroit in week two. Defensive backs like Patrick Peterson can matchup physically against New Orleans receivers/tight ends like Marques Colston and Jimmy Graham.
New Orleans does a nice job throwing the ball, but their run game ranks near the bottom of the league, averaging just 76.5 yards per game. Don't expect that to improve against Arizona's staunch defensive front. Being one dimensional is rarely a good thing, and the Saints barely pulled out a squeaker against Tampa Bay last week. Their inability to run the football left Drew Brees exposed to pressure, and the stellar QB was sacked four times, and picked twice. If New Orleans can establish a ground game (starting to sense a common theme here) to the point where the defense is kept guessing, Brees and the Saints will roll to an easy victory.
Prediction: Cardinals 27 Saints 24
My brain is telling me this a dumb pick, but the Cardinals are an underrated team this year. Yes they play in a division with the Seahawks and 49ers, but that only makes them better. Playing two of the most balanced teams in the league twice a year has a way of making you savvy for most of the game plans you'll see throughout the year. That doesn't mean they'll win them all, but a flustered Brees may make one mistake too many and the Cards will pull off the upset.
Buccaneers at Patriots:
The Buccaneers would probably be a good team if they had a good QB. Josh Freeman must really dislike Greg Schiano. There are a lot of quarterbacks who would love to be on a team with talent like Vincent Jackson and Doug Martin on offense, and an up and coming young defense with an anchor in Darrelle Revis. With that said, I feel like the Bucs could contend in this one if they run the ball (there it is again), and they should against the Pats 28th ranked run defense.
Normally I wouldn't consider this a contest, but Tom Brady has looked really off in the first two games of the season, seeing a meager 52 percent of his passes completed. This can be largely attributed to the fact that minus Julian Edelman and Matthew Slater, there's not a receiver on the team who carried over from 2012. Gronk will of course be back, but not this week, and Danny Amendola is an unknown health-wise. It'll be a painful growing process, but Brady and his new toys will eventually gel, and then watch out. I just don't see that happening in a week against a secondary featuring Darrelle Revis.
Prediction: Buccaneers 23 Patriots 20
Listen, if Gronk were back, I give this one to the Patriots. Sadly for New England, he is not. Revis and Tampa's solid pass rush make Brady's day a rough one and the football world bears witness to a rare loss in Foxboro.
Packers at Bengals:
The Packers are coming off a beat down of Washington, and teams must always be wary of coming out flat after a blowout. That said, I trust Aaron Rodgers to be as pinpoint as ever when he travels to Cincy today. Outside of Peyton Manning and Matt Ryan, Aaron Rodgers has one of the nicest arsenals in the league at his disposal. Green Bay's real challenge will be containing AJ Green while possessing the 31st ranked pass defense in the league, surrendering 359 yards a game.
Cincinnati looks like the most balanced team in the AFC. They could validate this claim with a statement win over Green Bay today. Although not elite at anything, the Bengals really lack a major weakness. Their secondary will get their toughest test of the season against talents like Rodgers, Cobb, Nelson, Jones, and Finley, and if they falter, I'm not sure Andy Dalton can keep them in a shootout.
Prediction: Packers 24 Bengals 21
The Bengals prove themselves amongst the NFL's elite this week by hanging with the Packers for four quarters. Their defensive line should get after Rodgers and stuff the run behind the Packers' suspect offensive line, but ultimately Rodgers proves to be too good and the difference in this matchup.
Rams at Cowboys:
Sam Bradford does indeed finally look the part in Saint Louis, and he'll need to keep doing so if the Rams hope to keep pace with a talented Cowboys' offense. What will be most intriguing is how Saint Louis plans on incorporating top first-round draft pick Tavon Austin into the gameplan against a Dallas defense ranked 24th in the league in passing yards allowed per game (313.5). The speedster could provide mismatch problems for Dallas' defense as a runner and a receiver as well as a returner. Despite his two TD performance last week, Austin has yet to have had that "stellar" game that kick starts a career.
The struggling Dallas running game will test St. Louis' fifth-ranked run defense while Tony Romo will go to work against a secondary that is ranked 28th in the NFL, giving up an average of 330 yards per game. If Dallas can avoid costly turnovers such as the fumble last week against the Chiefs, they should have the upperhand at home.
Prediction: Dallas 27 Rams 17
I like the direction Saint Louis is headed in, but the secondary still has holes, and with just three players on defense posting sacks through the first two games, it's difficult to see Tony Romo having one of his patented meltdowns late in the fourth quarter. One can always hope, however.
Browns at Vikings:
This game may have been watchable had a certain running back still been in brown and orange, but he's not. Despite Cleveland having a decent defense, it'll eventually be worn down from being on the field so often after so many punts. That fourth ranked run defense won't mean much after the stop unit has been on the field for more than 70 plays, and plus it's Adrian Peterson. Something tells me that the Brian Hoyer era won't get off to all that promising a start either.
Minnesota's first two games this year were close losses to two division rivals. Whether by penalty or failure to execute, the Vikings have lacked discipline to finish games. They're approach today should be to wear down a talented Browns defense with a heavy dose of AP and a sprinkle of play action passes.
Prediction: Vikings 13 Browns 6
Similar to their game against the Ravens last week, the Browns defense will be able to keep this one close, but ultimately Adrian Peterson is Adrian Peterson. You may think you have him stopped but you really don't. The Browns know this all too well.
Falcons at Dolphins:
The Falcons have looked as good as advertised through their first two games of the young season, but will be missing Steven Jackson for a number of weeks. Can Matty Ice carry the load? Absolutely, and his plethora of weapons should be more than enough to dispose of the Dolphins and they're 20th ranked pass-defense.
Neither team in this matchup has run the ball all that well, and both do a decent job of stopping it. Look for Mike Wallace to get a few looks against the 30th ranked secondary in the league in Atlanta, and just his presence alone should free up space for Brian Hartline, Charles Clay, and Brandon Gibson.
Prediction: Falcons 31 Dolphins 21
Don't see Tannehill outdueling Matt Ryan. Is it possible? Absolutely, but there's just too much talent at Ryan's disposal for me to see that as a probable outcome.
Bills at Jets:
The Bills sure look smart at the moment for taking EJ Manuel over Geno Smith in this year's draft. The former has outperformed the latter mainly by making fewer mistakes. Those mistakes may come in bunches against a proud and experienced Jets defense which has shown well so far this year. Remember it was the Jets who last year made Andrew Luck look like a rookie, arguably more so than any other team did. I don't see Manuel faring any better.
Geno Smith has had 10 days to wipe that abomination of a fourth quarter against New England from his mind, and it'll be interesting to see how he fares against having the likes of Mario Williams and Marcell Dareus in his face. One area the Jets will try and exploit is the Bills' 30th ranked run defense which currently surrenders 141.5 rushing yards per game. If successful, the Jets can alleviate some of the pressure off their rookie signal caller and keep the ball out of harm's way.
Prediction: Jets 17 Bills 10
The Jets' defense will prove too much for Manuel and he'll be flustered into making a few turnovers. If the Jets can move the ball consistently on the ground, the Bills will have a real tough time playing catchup.
Colts at 49ers:
This game intrigues me about as much as any other. The Colts are a team I like a lot right now, and Andrew Luck may be my favorite player not wearing Black and Gold. The loss to Miami and injuries have raised questions as to just how good a team Indy is moving forward, but the addition of Trent Richardson should help an already decent running game develop to the next level. As mentioned at the top of the post, this can only help protect and enhance Andrew Luck. I'm not sure if it'll help this week against a very angry 49ers team seeking redemption after their embarrassing loss to Seattle last week.
The Niners have had better weeks. After getting crushed by archrival Seattle, stud pass-rusher Aldon Smith was arrested on suspicion of DUI, but will play Sunday. Vernon Davis, Colin Kaepernick's favorite red zone target is not guaranteed to play, after failing to practice this week following his hamstring injury against the Seahawks last week. Nevermind it all. Jim Harbaugh will have this team ready to go this afternoon and ready to redeem themselves. As much as I like the Colts, this is just the wrong week to play San Fran.
Prediction: 49ers 31 Colts 23
The 49ers have not run the ball well out of the gate, but look for that to change against the Colts' 29th ranked run defense. Controlling the clock and forcing a turnover or two on the way and this will be a relatively easy win for San Francisco.
Jaguars at Seahawks:
What can you say about Seattle that hasn't already been said? This defense looks incredible, and it's a defense that's missing a few key players like Bruce Irving and Brandon Browner. Against the 49ers, I saw a defense that could rival the great defenses of the last decade (see Steelers '08, Buccaneers '02, Ravens '00). How can the NFL's worst offense hope to compete against such a defense? They can't and won't.
Let's put the over/under for Jaguars' first downs, points, and turnovers at 3. I'm serious too. There's not a position on Jacksonville's roster that's better than Seattle's. This has the makings of one of the most lopsided games in a long time.
Prediction: Seahawks 41 Jaguars 3
Bears at Steelers:
Heath Miller's return won't be the quick fix for the Steelers…yet. Without a ground game, opposing defenses have jammed and pushed the Steelers smaller wideouts all over the field. Rookie starter-to-be Le'Veon Bell won't be back for at least one more week; until then, the Steelers will continue to sputter offensively.
Chicago's defense has been ok to start 2013 and now that Jay Cutler has some legitimate surrounding talent, the Bears should come away with a Sunday night victory. It's worth noting that Jay Cutler has never lost to the Steelers in the three games he's played against them in his career.
Prediction: Bears 27 Steelers 16
Until the Steelers can run the ball, they're sunk. Their defense will be on the field too often and tire too quickly thus negating what is one of the better stop units in the league. Chicago is one of those physical defenses that won't be easy to run on, and won't cede many yards to backups like Isaac Redman, Jonathan Dwyer, and Felix Jones. Chicago may struggle initially as the Bengals and Titans did, but as they possess the ball more often, they'll find more success against the aforementioned fatigued defense.
Raiders at Broncos:
The only thing saving the Raiders here from complete and utter annihilation is the fact that they are a division rival of the Broncos and have seen Peyton in orange twice already. Beyond that there isn't much hope as they head into Mile High with upset on their minds. Their defensive numbers, though seemingly impressive, are inflated by their game against the abysmal Jaguars. Don't expect Peyton and company to be nearly as easy.
Manning could threaten that single-game TD record again, but I'm not gonna be quite that bold. Again, I think there's a bit of familiarity with Peyton that will aid the Raiders in their quest to not lose by 50.
Prediction: Broncos 37 Raiders 10
That's it for me this week. I'll be back posting my Quick Reads on Tuesday. Have a Sunday everybody.
-Tim