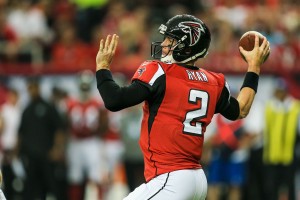 By Tim Mullhaupt
Breathe it all in. The NFL is back, and that is a beautiful thing. The first two weeks have come and gone, but not without their surprises. Without further preamble, here are a number of abbreviated observations from week 2's slate of games:
New England 13 Jets 10:
>Tom Brady has to be feeling like Will Ferrell in Kicking and Screaming right now, and I'm not sure Mike Ditka or a few Italians can save them. Get well soon Gronk, Love Tom.
>You have to feel bad for the Jets players on defense. Some may remember the scene from Ridley Scott's Gladiator where new gladiator recruits are chained in pairs as they take on what can only be described as the regional All-Stars. Long story short, this big German recruit (who later becomes Russell Crowe's right hand man) is paired with a scrawny dude who is understandably scared out of his mind, and is quickly uh, dispatched. The German guy, not wanting any dead weight to slow him down, uh, "separates" himself from his deceased pal with the help of his trusty sword and lives to fight another day. Unfortunately for the Jets defense, no such sword exists, and they're stuck with scrawny for better or worse-and you better believe this could get so much worse.
Falcons 31 Rams 24:
>Is there a QB who has it better than Matt Ryan?  Ryan is like the NFL's Charlie from Charlie's Angels; he's clearly the leader of this team, and surrounded by his own "angels" in Jones, White, Gonzales, and Jackson. That last angel may need to mend his wing though. Charlie will be holding his breath.
>Don't look now, but Sam Bradford may finally reaching his potential. The former number one pick is 59-93 (63%), for 651 yards, 5 TDs, and a two picks through his first two games. He's on pace for 5,200 yards and 40 TDs.
Bills 24 Panthers 23:
>Super Mario ate the big mushroom; EJ, CJ, and SJ made the offense look good, very good, best-in-the-AFC East good.
>Luke Kuechly must have long arms, because he makes a lot of plays from that other planet of his.
Bears 31 Vikings 30:
>If Matt Ryan is Charlie, Jay Cutler is Charlie Bucket and he finally has his golden ticket(s) in  Marshall, Forte, Jeffery, and Bennett.
>If Ryan is Charlie, and Cutler Charlie Bucket, then Christian Ponder is Charlie Brown running full speed as Lucy waits, waits with that evil, emotionless face. At this point I think there are a number of QB's who'd trade themselves into the weapons Christian Ponder has at his disposal. The Vikings cannot and will not progress any further than they did last year with Ponder at the helm.
Packers 38 Redskins 20:
>Can we officially re-assign the name A-Rod to Aaron Rodgers? No? Fine, we'll have to stick with the clumsier "Biggest, Baddest Quarterback in the NFL"
>Geez Washington is bad. Now I'm not saying it'll stay that way; RGIII should improve as his knee does, but that knee better heal quickly. Griffin and company will have to score 30 a game just to keep pace with opposing offenses.
Dolphins 24 Colts 20
>Miami exhales a little bit this week as big investments Mike Wallace and Dannell Ellebre and young running back Lamar Miller bounced back from quiet performances in week 1.
>Captain comeback fell short this week, but no reason to panic in Indy yet. As long as Andrew Luck is under center, this team is a contender. See, you can't write anything about the Colts without making rhymes. "Suck for Luck" was said just one too many times. Dang you Irsay. Dang you.
Chiefs 17 Cowboys 16
>How 'bout Kansas City? Andy Reid and Alex Smith are a couple of cast offs on a mission, one that is off to a 2-0 start. I'm not on the bandwagon yet, but the potential is there for the Chiefs to sneak into the playoffs as a wildcard, especially when you play both Oakland and San Diego twice a year.
>Ehhh Tony Romo's inability to win a game in the fourth quarter…the sky is blue….oranges are orange…Cowboys fans are upset with playcalling…yada, yada, yada.
Chargers 33 Eagles 30
>Still trying to figure out how San Diego pulled this one off. It seemed that every time the Eagles took the field, they scored. So too (seemingly) did Eddie Royal. Mike McCoy and Ken Whisenhunt seem to be just what every player on the Chargers offense needed for a career renaissance.
>I've never seen a team defend a player more poorly than the Chargers did (or did not) DeSean Jackson. As it was he put up 193 yards and a touchdown, but could have had another hundred and a few more TDs had it not been for a few near misses on deep throws from Vick, and T'D-negating penalty.
Ravens 14 Browns 6
>Firstly, I want to congratulate Joe Flacco on the birth of his son Sunday morning. Secondly, boy does Baltimore's offense look flimsy. It took until the late 3rd quarter for the Ravens to score. Baltimore should be happy that the defense rebounded after their beating in Denver.
>Cleveland's defense seems markedly improved, but their offense is still in the dog house, especially now that Brandon Weeden's status is up in the air moving forward. Until some semblane of a passing attack is assembled in Clevelaned, Trent Richardson will be forever doomed to stat lines that read 14 carries for 58 yards.
Texans 30 Titans 24
>Are the Chargers and Titans this much improved or are the Texans regressing? Granted Houston won both games but both in frantic, comeback fashion and while I have little doubt in the Houston's offense, it's surprisingly the defense that seems a step behind. Though it's only been two games, Houston has forced just one turnover and allowed a total of 52 points for an average of 26 a game (which can be adjusted to 22.5 due to the TD the Titans off an interception Sunday).
>Meanwhile the Titans appear to at least be back in the discussion of average football teams. Beating Pittsburgh may or may not be an impressive feat, but taking Houston into overtime is. I just question their potential with a poor QB in Locker. Let's just call him the Charlie Brown of the AFC.
Cardinals 25 Lions 21
>Still not sure if Carson Palmer is the second-coming of Kurt Warner, but the Cardinals seem to actually compete with him at signal-caller. Here's another NFL-character comparison; Larry Fitzgerald to Oliver Twist. Is there a more underprivileged player than Fitzgerald? Granted, he got to go to the big dance in 2008 where he did everything he could to win a ring, but his window is running out. It'll go down as one of the saddest cases of talent exhaustion in NFL history.
>Reggie Bush's injury has the Lion's holding their breath, but Calvin Johnson doesn't. Megatron continues to play off the charts. Losing to Arizona certainly won't help Detroit keep pace in arguably the toughest division in the NFL.
Saints 16 Buccaneers 14
>The Saints defense does appear to be back with the return with Sean Payton, as it has allowed just 31 points in the first two games. Drew Brees had a rare off day, but New Orleans still pulled off the win. Looks like the Saints will be playoff contenders once again in 2013.
>The Bucs defense does appear to be ascending into the next level with the addition Darrelle Revis and the development of their young linebackers. Did you see Mason Foster's pick-6? Very Harrison-esque. But then there's Josh Freeman messing up what appears to be a good thing and asking to be traded…so close, yet so far.
Raiders 19 Jaguars 9
>In what has to be one of the worst matchups of the young century, the Raiders pulled off an easy win against what has to be one of the worst teams in recent memory. Condolences to anyone who didn't have this one blacked out.
>Suck for Luck ended up being the 2011 Colts' mantra…so does that make the Jags' "Ready for Teddy"?
Broncos 41 Giants 23
>This was supposed to be one of the better games of the year and instead, Raiders Jags ended up being closer. Granted, the first half of this one was closely contested, but Peyton and the Broncos ended up doing whatever they wanted in the second half just like last week against Baltimore.
>The Giants, wow. Eli is currently on pace for 40 TDs and 6,496 yards according to ESPN.com. The catch? 56 interceptions. Maybe if the running backs ever show up to a game, the G-men will actually be able to win a football game.
Seahawks 29 49ers 3
>I don't think I've ever seen a secondary play as well as Seattle's did on Sunday. In a league where passing is synonymous with breathing, the Seahawks absolutely smothered a 49ers passing attack that in the previous week made a "good" Green Bay secondary look like a pee-wee team.
>Can't say the 49ers were much worse defensively. While their offense was only able to muster a net of 107 yards through the air, Russell Wilson was held to a meager net of 118, connecting on just 8 of his 19 attempts. The difference in this one came down to turnovers, and for the first time in his NFL career, Colin Kaepernick looked absolutely flustered as he coughed up the football 4 times (three interceptions and a fumble).
Bengals 20 Steelers 10
>Cincinnati really needs to make Giovanni Bernard their full time starter. I understand that Green-Ellis is essentially the closer due to his ability to secure the rock late in games, but what Bernard did with 9 touches should scare a lot of teams in the NFL. This isn't just because Bernard is on my fantasy team; without him on the field, the Bengals offense looked very average (albeit against an at-the-time, non-winded Steelers defense-one that is still very good I may add). AJ Green was handled by Ike Taylor, and aside a handful of gains to tight ends Gresham and Eifert, Andy Dalton was unable to connect consistently with his receivers. The end result doesn't lie; with Bernard on the field, the Bengals scored 14 points. Without him, 6. If Cincy wants to contend with the high octane offenses they'll encounter in the playoffs, they need another high octane player not named Green.
>Let me preface this by saying I'm one of the biggest Steeler fans you'll ever meet, and in the past, one their bigger homers. That said, this season, unlike so many of their past years, is leaving little doubt that this team isn't very good. Granted some returning players in Heath Miller and rookie Le'Veon Bell should bolster what is quickly becoming the worst offense outside Jacksonville. That's not to say I think this season's towel has been thrown in yet, but unless Bell is a prodigy, this team looks far too one dimensional to stay healthy, let alone rally and become a playoff contender.
That's all for now folks. I'll be posting a preview of this week's games, along with a more detailed look into some of the week's more intriguing story lines in a few days.
-Tim