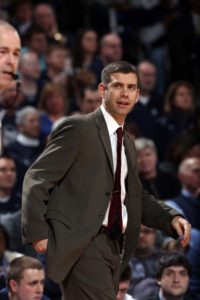 By Ryan Lazo
BROOKLYN, N.Y. — Butler University is quickly gaining similarities to a train, one that is slowly gaining steam and once it gets going, there is no way to stop it.
The La Salle Explorers learned this lesson the hard way in an quarterfinal match-up against the very Bulldogs that have made the NCAA Tournament 12 times in the past 14 years. While the Explorers held the higher seed, make no mistake about it, it was the Bulldogs who had something to prove.
And Butler took a few right and left hooks from the Explorers in a tightly contested first half, but one can only keep the Bulldogs down for so long before the train gets back on the track. Butler came out of the locker room with one mission in mind — win.
The Bulldogs started the second half on a 13-5 run, taking a 10-point lead and kept on rolling the rest of the way, securing a berth into the semi-finals to face No. 1 seed Saint Louis, with a tidy 69-58 victory over La Salle.
"We had a number of contributions from a number of different guys," Butler coach Brad Stevens said as he scribbled notes down in the press room. "Probably the difference in this game from the last time, having Rotnei helped, but we got great play from our four spot."
Right.
Because these very Explorers had previously knocked off both Butler and VCU in the same week. While it's difficult enough to defeat the Bulldogs once in a season, it's almost unheard of to do it twice.
Why is that?
Because Butler has too many talented players who buy into the Bulldogs' way, learning from mistakes and correcting them almost instantly.
"No matter how good a coach is, it comes down to players. And a coach selects the players and I think he has a certain kind of guy in mind," La Salle coach John Giannini said about Stevens. "They turn out to be tough, extremely skilled, smart. And he's built a culture there. He's built a program."
And that culture that Giannini speaks of is one of winning.
When Butler faces a tough situation, they don't panic. When things are not going their way, they correct their mistakes. And if they fall once to an opponent, they make sure to not let it happen again.
Last time, Butler did not take advantage of their interior players and the lack of size the Explorers have, especially with the season-ending injury to Steve Zack.
"The bigs played great against these guys the last time and Fromm has played well in limited minutes," Stevens said. "We need those guys to be good against a smaller team. We tried to do what Dayton did to us yesterday and that was to attack the paint all game."
Each forward Stevens put into the game made an immediate impact, but none more so than Kameron Woods. The sophomore forward completed two and-1s in the second half alone, making life difficult for the Explorers. He scored 10 points on 4-for-5 shooting and grabbed nine rebounds, just missing a double-double.
"He's really stepped his game up these past couple of weeks," Clarke said of his teammate. "It starts in practice and he's an extra spark for us when he comes in. He's all over the boards and he makes all the energy plays, the effort plays, especially on the offensive glass. He's been huge for us."
Effort plays?
That should be a Butler trademark phrase because each one of their players puts forth a tremendous effort. Roosevelt Jones is one of the glue guys on Butler because of his tremendous energy on the court. The All-Defensive team member drew the toughest assignment, Ramon Galloway, and came up aces.
He limited the First-Team All-Conference player to a miserable 1-for-10 shooting performance and four points.
"We put our best defender on him," Stevens said. "There's a reason he was all defensive team and you have to pay a lot of attention to him. But the problem with putting Roosevelt on him is that you have to give some up as well."
But Jones took a lot away as well when he finished a 5-of-8 shooting night for 10 points and six rebounds. It was Jones, Andrew Smith, Erik Fromm and Woods who helped Butler control the glass and effectively the game with a 41 to 23 domination on the boards.
However, Butler's next opponent is a Saint Louis squad that has already defeated them twice this season. Stevens said he knows his team is going up against one of the best teams in the country.
"There's a reason they have beaten us twice and we're going to have to play better than we did in each of the first two times," Stevens said bluntly. "I've said it all year, I'll say it again, I think Saint Louis is one of the best teams in the country. I don't care what their ranked and all that stuff. Somebody who didn't play against them is going to watch their tape next week and they're going to say, 'uh-oh.'"
But with Butler's train continuing to roll forward, future opponents will be saying the same things about a Bulldogs team that doesn't make mistakes and never relents, making each game and each possession a battle.
Ryan Lazo can be reached on Twitter @RMLazo13