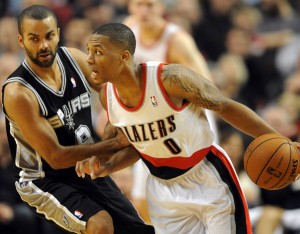 By Joe Manganiello
Everybody aims to show up to the party on time, with being fashionably-late often a chic and acceptable alternative. But there is a big difference between joining the party in progress and just plain being late.
So let me state how grateful I am that I wasn't late to the Damien Lillard party.
Just being honest, I had barely seen Lillard play before Thursday night. He played his college ball at Weber St., where his abilities were concealed perfectly. Not only did I never watch a Weber St. basketball game during his four years there, but I had never even heard of Lillard.
Subsequently hearing, reading about and occasionally seeing highlights of him since he was drafted No. 6 overall by the Trailblazers, ran away with the best player at the summer league honors and has been leading all rookies in points and assists has made me very embarrassed, because I pride myself in almost always being both an active basketball fan and an informed one.
I certainly was not on time to the Lillard party. Whenever I arrived, it goes without saying, I'd be lucky if anybody found me fashionable. I needed to jump at the first chance I could to see this guy play.
So on the same night I had the pleasure of watching my first-place Knicks embarrass the Lakers through three brilliant quarters of basketball (before Carmelo landed awkwardly on his driving ankle at the end of the third-quarter, missed the rest of the game and suddenly the Knicks 20-point lead shrank to single digits), I got to watch Damien Lillard put up an early career-high of 29 points in a victory against the Spurs.
I walked into the party a few minutes later than I wanted too, and a bit underdressed, but oh man, am I there now.
Lillard can do things only a handful of point guards in the game can do, already. He can get to the basket with both hands. I didn't say drive to the basket; he can GET to the basket with either hand. At 6-foot-3 with long arms, his quickness and ball-handling is scary.
The future of the Portland pick-and-roll is in good hands, as there hasn't been a PF/PG duo this good and this young since when? Amar'e and Steve were not this early in their careers when they played together; Deron and Boozer were not as talented, if only because Boozer has half the offensive game of Aldridge; and while CP3 to Chandler was fun for the brief time they played together, Aldridge's mid-range game adds a facet that Chandler simply does not possess.
The Derrick Rose comparisons for Lillard are very fair – and a bit humbling, considering Rose is the league's youngest MVP winner – but Reggie Miller said it best tonight when he discussed how much better Lillard's jump shot is then Rose during his rookie season. Think about the most of the best young point guards that have come out of college the last five years: Rose, Westbrook, Rubio, Jennings, Holiday, Teague, Wall, Irving and Kemba. These guys really struggled from the field early in their careers, particularly from mid-range and out.
Lillard does not struggle from the field. His jump shot is a strength of his game. Defenders cannot afford to play off him the way so many guards approach guys like Rondo or the aforementioned Wall because Lillard will make the open jumper. In fact, defenders who play up on him – like Gary Neal of the Spurs on Thursday – will find themselves victim to a deadly double o-move where Lillard appears to enter a spin, only to dribble between his legs and step back into a pure stroke. Lillard devastated Neal with that move at a crucial juncture of the game, as the Lillard three-pointer kept momentum with the home team.
So he drives both ways, can shoot 50 percent from the floor, seldom makes mistakes (two turnovers in 40 minutes on Thursday) and on a night where he was far and away the team's number-one scoring option, he still found the time to add seven rebounds, six assists and check Tony Parker, committing just one personal foul in the entire, grueling second half.
A quarter of the way into his first NBA season and the guy outplayed Parker on national television. This is not a shot against Parker or the Spurs – who were playing on back-to-back nights – but a huge compliment for one of the three best rookie point guards I have seen the last ten years (Paul, Irving and Lillard).
Backtracking slightly, I excluded Stephen Curry and Ty Lawson from the list earlier in the article. This is because they entered the league with plus-jump shots, which helped them assimilate very quickly to the NBA game. This is what we're seeing from Lillard, but at an even higher level.
He and Kyrie Irving, in successive years, have been asked to take over hard-luck franchises and create the majority of their team's points night in and night out, as rookies. Think about how difficult that must be. Irving came off an injury plagued freshman season at Duke where he only appeared in a fraction of the team's games, and months later was piecing together 20, 6 and 6 type nights for an NBA team.
Lillard is doing this too, with the one slight difference being the Trailblazers might actually be a good basketball team. I'm not talking good like Hornets good, as in, "I'd watch the Hornets because they have a good player like Anthony Davis." I'm not even talking Utah good, where they will win 80-90 percent of their home games, rebound and defend well enough to lift their porous offense and win just enough road games to make the playoffs as a low-seed.
I mean that the Trailblazers have two all-star candidates, a do-it-all forward in Batum, an offensive weapon in Matthews, a gruff rebounder in Hickson, a freakazoid athlete in Meyers Leonard, a pair of heady jump shooters in Babbit and Pavlovic, a talented young combo-guard off the bench in Nolan Smith and a veteran big man off the bench in Jarod Jeffries. That's a ten-man rotation that can win basketball games. Considering the team's best player will only improve with age and experience, the team figures to improve steadily throughout the season.
Imagine a first-round series between the high-seed Spurs and the low-seed Trailblazers and all the parallels. The game's greatest power forward (Duncan) against one of the league's brightest young big men (Alridge); the crafty, HOF shooting guard (Ginobili) against the third-year, ever-expanding wing (Matthews); a positional battle between the league's two most underrated small forwards (Leonard, Batum) adds to the fire.
And the prime-time matchup in that series being between its point guards: still one of the quickest players in the league, an all-star and as good a PG the league has had in twenty years (Parker) against the ROY, surprising all-star and matchup nightmare (Lillard).
I made it to the party just in the nick of time. I couldn't be more happy that I did not make another injudicious stop before hand. I am here and loving it.
It might just be the party people are raving about for years.