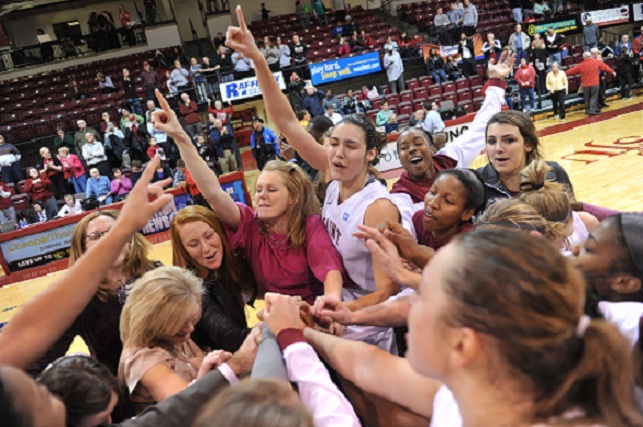 By Aaron Smith
Anytime a coach or a player achieves a milestone in his/her career, it is reason to stop for a brief moment and appreciate the accomplishment. Every once in awhile those milestones are reached during performances that will be talked about for months to come. On Saturday, St. Joseph's coach Cindy Griffin collected the 250th win of her coaching career in style, as the Hawks upset #5 ranked Maryland, 50-49.
For the women's basketball program, this is their first win over a nationally ranked team since the 2007-2008 season, and their highest victory of a nationally ranked team since the Hawks defeat of #3 Montclair State in 1977. During that game, a Hawks team led by Muffet McGraw defeated a Red Hawks squad led by Carol Blazejowski. McGraw is the current head coach for the Notre Dame women's basketball team, Blazejowski was the Vice President and General Manager of the WNBA's New York Liberty, and both are in the Basketball Hall of Fame.
But yesterday's victory belonged to the 2012-13 Hawks squad led by 18 points and 8 rebounds from redshirt senior, Chatilla van Grinsven and 10 points from  junior guard, Erin Shields. Natasha Cloud also contributed 8 points and 7 assists in the winning cause.
Earlier in the week, St. Joe's used  a three pointer at the buzzer by Shields to defeat crosstown rival Drexel, 47-45.
St. Joseph's women's basketball team is Pickin' Splinters choice for Performance of the Week.
Who is your Performance of the Week?