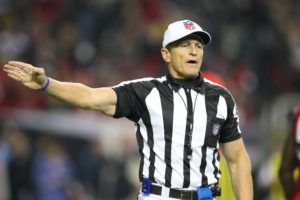 The Roger Goodell puppet show of using replacement referees in regular season National Football League games came to a merciful end Wednesday night with a tentative new labor agreement between the league and the NFL Referees Association.
To many fans, the replacement referees were as incompetent at controlling games as Fozzie Bear is at telling jokes. Social media allowed fans to heckle the league and its inept officials from a safe position like Statler and Waldorf did to Muppet Show performers.  The Count should have enjoyed counting all the flags thrown by the replacement officials. According to Pro-Football-Reference.com, the replacement referees called 655 penalties in 48 games.
Indeed, the replacement referees seemed like something out of the crazy world of the Muppets. To celebrate this wackiness and what would have been Jim Henson's 76th birthday on Monday, the predictions theme for Week 4 is the Muppets and the other characters and worlds Henson created.
Seattle Seahawks (2-1) at St. Louis Rams (1-2)-Sept. 30-1 p.m.-FOX
Cleveland last defeated Baltimore in 2007. The Count appeared on Dancing with the Stars in 2007. Seattle beat St. Louis one, two times that season. Cue the Count's trademark laugh, thunder and lightning.
Bryan Paul's Pick: Seattle
Pollock's Pick: Seattle
Carolina Panthers (1-2) at Atlanta Falcons (3-0)-Sept. 30-1 p.m.-FOX
St. Louis last defeated Seattle in 2010. During Super Bowl XLV, the conclusion of the 2010 season, an NFL Network commercial featuring television icons celebrating football, including Ernie from Sesame Street, aired during the game. Carolina was 2-14 during the 2010 season. Atlanta was 13-3.
Bryan Paul's Pick: Atlanta
Pollock's Pick: Atlanta
New England Patriots (1-2) at Buffalo Bills (2-1)-Sept. 30-1 p.m.-CBS
A scene from The Dukes of Hazzard appeared in the Super Bowl XLV NFL Network commercial with a Falcons flag on the General Lee. The show premiered in 1979. Director James Frawley shot the opening scene of the 1979 film The Muppet Movie in Georgia. The Bills are 9-6 against the Patriots in years a Muppet feature film screens in theaters. Last season, Buffalo defeated New England 34-31 at home. The Muppets played in theaters during the 2011 holiday season. There isn't going to be a Muppets film in theaters this year.
Bryan Paul's Pick: New England
Pollock's Pick: New England
Minnesota Vikings (2-1) at Detroit Lions (1-2)-Sept. 30-1 p.m.-FOX
ABC broadcasted the holiday special John Denver and the Muppets: A Christmas Together on Dec. 5, 1979. While many viewers felt the show was heartwarming, Lions fans shouldn't feel that way. Minnesota has a 277-257 record since the special aired. Detroit is 210-318-1.
Bryan Paul's Pick: Minnesota
Pollock's Pick: Detroit
San Diego Chargers (2-1) at Kansas City Chiefs (1-2)-Sept. 30-1 p.m.-CBS
Denver died in 1997. Puppeteer Eric Jacobson began sharing the role of Bert on Sesame Street with Frank Oz in 1997. Oz began performing Bert in 1969. The Chiefs were 31-29 against the Chargers between 1969 and 1997. Since 1997, Kansas City is 11-4 at home against San Diego.
Bryan Paul's Pick: Kansas City
Pollock's Pick: San Diego
San Francisco 49ers (2-1) at New York Jets (2-1)-Sept. 30-1 p.m.-FOX
The Jets won Super Bowl III on Jan. 12, 1969. Sesame Street premiered on Nov. 10, 1969 on National Educational Television. The Jets haven't been to the Super Bowl since 1969. The 49ers have won five. Jets fans should blame their struggles on Big Bird, Oscar and Elmo instead of Rex Ryan, Mark Sanchez and Tim Tebow.
Bryan Paul's Pick: San Francisco
Pollock's Pick: San Francisco
Tennessee Titans (1-2) at Houston Texans (3-0)-Sept. 30-1 p.m.-CBS
PBS replaced National Educational Television in 1970. In 2008, PBS began airing Sid the Science Kid, a computer-generated series produced by the Jim Henson Company. But who uses science to pick NFL games? The Texans lost in overtime 30-27 to Jacksonville in Week 4 of the 2008 season, while the Titans defeated Minnesota 30-17.
Bryan Paul's Pick: Tennessee
Pollock's Pick: Houston
Cincinnati Bengals (2-1) at Jacksonville Jaguars (1-2)-Sept. 30-4:05 p.m.-CBS
While PBS broadcasts Sesame Street in America, the show also has an international presence. Halum is a Bengal tiger that appears on Sisimpur, the Bangladeshi Sesame Street, which began production in 2005. In three games against the Jaguars since 2005, Cincinnati has outscored Jacksonville 71-62. But this game will be played in America, where there isn't a Bengal tiger on Sesame Street.
Bryan Paul's Pick: Jacksonville
Pollock's Pick: Cincinnati
Oakland Raiders (1-2) at Denver Broncos (1-2)-Sept. 30-4:05 p.m.-CBS
The first season of The Muppet Show became available on DVD in 2005. The Raiders were 7-4 against the Broncos during the show's broadcast from 1976-1981. Unfortunately for Oakland, The Muppet Show hasn't been on the air for 31 years.
Bryan Paul's Pick: Denver
Pollock's Pick: Denver
Miami Dolphins (1-2) at Arizona Cardinals (3-0)-Sept. 30-4:05 p.m.-CBS
Puppeteer Steve Whitmire joined The Muppet Show in 1978 and after Jim Henson's death in 1990, began performing Kermit the Frog. Cardinals fans wish another puppeteer succeeded Henson. The Dolphins are 45-43 against NFC teams since 1990. The Cardinals are 28-56 against AFC teams.
Bryan Paul's Pick: Miami
Pollock's Pick: Arizona
New Orleans Saints (0-3) at Green Bay Packers (1-2)-Sept. 30-4:25 p.m.-FOX
Whitmire also succeeded Henson in performing Ernie. In 1970, one of Ernie's songs, "Rubber Duckie," reached number 16 on Billboard's "Hot 100 Singles" chart. The Packers are 8-2 at home against the Saints since 1970. Maybe the Saints, like Bert, prefer the company of pigeons instead of rubber ducks.
Bryan Paul's Pick: Green Bay
Pollock's Pick: Green Bay
Washington Redskins (1-2) at Tampa Bay Buccaneers (1-2)-Sept. 30-4:25 p.m.-FOX
Walt Frazier of the 1970 NBA champion New York Knicks appeared on Sesame Street in an episode that originally aired on Dec. 16, 1970. In years a basketball player has appeared on Sesame Street, Washington has an 86-77-1 record. During this year's NBA offseason, Blake Griffin of the Los Angeles Clippers tapped a segment scheduled to air during the current Sesame Street season.
Bryan Paul's Pick: Washington
Pollock's Pick: Tampa Bay
New York Giants (2-1) at Philadelphia Eagles (2-1)-Sept. 30-8:20 p.m.-NBC
The Kermit the Frog balloon made its first appearance at the Macy's Thanksgiving Day Parade in New York City in 1977. Since 1977, there have been 15 years the balloon wasn't in the parade. The Giants were 8-7 in games at Philadelphia in those seasons. However, according to a Feb. 22 press release, Macy's Inc. says the Kermit the Frog balloon will be part of this year's parade.
Bryan Paul's Pick: Philadelphia
Pollock's Pick: Philadelphia
Chicago Bears (2-1) at Dallas Cowboys (2-1)-Oct. 1-8:30 p.m.-ESPN
The Kermit the Frog balloon didn't appear in the parade in 1989. Henson began merger negotiations with Michael Eisner of the Walt Disney Company in 1989. In 2004, Disney acquired the Muppets. The Cowboys are 2-1 against the Bears since 2004. Plus, Disney owns ESPN, the network that broadcasts Monday Night Football.
Bryan Paul's Pick: Dallas
Pollock's Pick: Dallas
Bryan Paul's Week 3 record: 9-7
Bryan Paul's season record: 29-19
Pollock's Week 3 record: 4-12  
Pollock's season record 29-19
Head-to-head matchups in Week 3: Bryan Paul 7-2
Head-to-head matchups this season: Tied 10-10
Week 5 theme: Broadcasting