by Patrick 'Rey' Reynell
The 2012 USA Olympic men's basketball team won its opening game in pool play against the Tony Parker-led French national team today 98-71. Here are some positives and negatives that come out of the Americans' debut in Pool A.
The Positives
LeBron James can play like "Magic" and get away with it.
Unlike his time with the Cavs or even this past season with a hobbled Dwayne Wade and Chris Bosh, James can actually be a facilitator with a scoring loaded Team USA and pass the ball rather than having to attack every possession. James led the USA team with 8 assists, and none prettier than this 60-foot bounce pass to Kevin Durant.
More important, however, were James' quick, deft looks to his cutting teammates in the half court (He even hit a cutting Carmelo Anthony. James even makes 'Melo want to move without the ball!). When Chris Paul would exit the game, it was evident that James took ownership of the unselfish play that will make Team USA difficult to defend.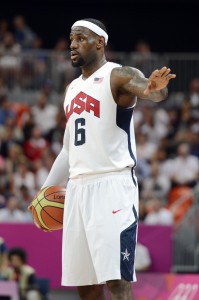 Like Magic Johnson, he ignited the transition game, controlled the half court, and was able to get a few of his own points when needed. Unlike in the NBA where James faced past criticism for not being the shoot-first alpha dog, he has enough scoring around him on Team USA to play that point forward he so gracefully seems to enjoy.
Despite the lack of a true center behind Tyson Chandler, Team USA is deeper and more complex than years past.
Maybe this is why Kobe Bryant and James think they can compete with the original 1992 Dream Team. Plain and simple: Complain about "small ball" all you want, there isn't much that this team doesn't have. France, despite all of its efforts, simply had no answer for Durant catching-and-shooting. He's too long and his two-foot hop is too quick. Carmelo Anthony has proven to be a valuable outside threat who, at 6'8″ and much stronger than he gets credit for, will exploit any screen switching and zone matchups with his ability to shoot off the dribble.
As mentioned by commentator and Philadelphia 76ers coach, Doug Collins, Russell Westbrook can fulfill the hyperactive, up-tempo transition style that Dwayne Wade brought to previous international competitions. In fact, it was apparent that Durant will not crash for rebounds with Chandler in the game. So, combat a 6'10" wing releasing in the open floor and then along with the most athletically gifted perimeter player in all the world. Safe to say that Team USA is not worried about the game being slow or fast; they've got personnel to suit either style just fine at this point.
Coach K's dead ball possessions may stifle any momentum changes.
Coach K claims to be more of a motivator rather than an Xs and Os type coach. Team USA's dead ball possessions proved otherwise. Though often times stagnant and typical one-on-one NBA productivity in the half court, Coach K's crop of dream teamers were the epitome of timing and execution in other areas. None was more evident than a baseline-out-of-bounds possession in the third quarter.
Durant took the ball out, and Team USA lined up horizontally across the top of the key with Russell Westbrook wide on the opposite wing. Anthony popped out ball-side on a double screen to the arc to stretch a defender away while one of the screeners released deep for a safety inbounds. Kevin Love screened away from the ball for Westbrook at the top, who then curled tight off  it towards the ball. Since he did not get the pass, Westbrook ran his defender and his own body into Love's defender, who had to sag off the high screen to help. Love, waiting for Westbrook to clog the middle, made a timely slip to the ball and scored an uncontested layup.
The Negatives
Deron Williams does not look confident on offense.
With the question going into these games of whether Williams or Chris Paul should start, Paul showed a cerebral, deliberate attacking style while Williams displayed a more apprehensive style of himself. France decided to sag their backside of the defense so much so that it appeared to be match-up zone. On the ball-side, the French also made it a point to switch all ball screens so as to limit the amount the Americans could curl tight and attack the basket. These two strategies caused a sea of blue jerseys within 15-feet of USA's basket at all times. Williams tried to force his way into the lane, picking up a traveling and yet another offensive foul (picked up a few of these in the exhibitions). Rather than utilize his deadly cross-over step, he wanted to force the pick-and-roll action with his screener, allowing the switched defender to completely take away any separation needed for a good passing lane once coming off the pick.
Williams will need to find his flow since Westbrook is more-or-less playing more a wing role. The Nets' point guard should take a note from watching Chris Paul play: keep it simple. You're on a team with the greatest players in the world. It is not Deron Williams job to create something every possession.
Basketball is a game of rhythm. What is the beat of Team USA's drum?
This may sound contradictory to a previous point, but this American team has not been dance partners long enough to exude confidence in their often times sporadic play. Unlike other international teams, this USA team has not really played much together. There was a mention of France's players like Tony Parker, Ronny Turiaf and others having played together since their teenage years. And, if injuries haven't plagued such a team as France, their fluidity is apparent when watching them against a more hodgepodge grouping like the Americans. Against Spain and Argentina in exhibitions, Team USA lacked defensive communication and were consistently hurt by movements off the ball and ball reversals.
Basketball is like dancing: Partners have to communicate and be able to anticipate the flow of one another. Team USA showed for the final three quarters against France their ability to balance a multifaceted attack. Yet, there will be times Kobe can't defend or knock down shots (Argentina), or Kevin Love doesn't rebound as easily (Spain), and Westbrook points the proverbial gun at his team's foot. The question is when USA is not at their best, will they have enough chemistry to grind out possessions and seek high percentage shots on the offensive end while not letting easy attempts sneak by them on the defensive end.
Half court defense.
It's still an issue. Will it matter if the USA can get out in transition like they did after the first quarter against France? Perhaps not. If you watched their practices on NBATV, Coach K obsessed over it in his drills. The 2010 Worlds provided a small sampling of it with Coach K. Yet someone, maybe Spain or Argentina, have to be thinking that longer possessions and defensive rebounding will keep them close with the Americans.