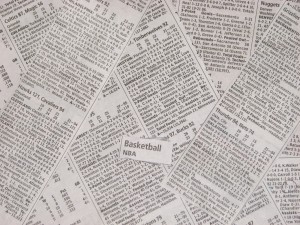 By Kyle Soppe
Hopefully you tuned in last night to watch one of the better three point performances in recent memory, as the Knicks looked like a dangerous playoff team with a 118-110 win over the Boston Celtics. As impressive as the shooting was from New York, Boston's ability to run three point specialists off of the three point line was dreadful.
How many games does a team control the game (leading by as much as 21) when their starters are outscored by 45 points? Not many, if any. But the Knicks managed to pull that off, thanks in large part to the smokin' hot shooting from their back up back court. Their three starting guards shot 20% from the field, on their way to 8 total points. The Knicks trio of reserve guards shot 58.6% from the field, and scored 53 points.
The bench attack was led by Steve Novak and JR Smith. It is no secret that they can shoot the ball, but 15/20 from distance is unheard of. They had no reason to even approach the rim (combined to go 1/6 from inside of 23 feet 9 inches), as Boston struggled to get around screens on the perimeter. Games in which the Novak championship belt is displayed as many times as Tyson Chandler has dunks, the Knicks are going to be a force.
Carmelo Anthony didn't miss out on the fun, as he led the home team with 35 points. In four games against the stingy Celtics, Anthony is averaging 30.8 ppg, 5.3 apg, and 7.5 rpg (all over his season averages). His triple double (aided by the team knocking down three pointers) was his first of the season, as he routinely fired cross court passes right into the shooting pocket of an open long range assassin. His 10 dimes were also a season best, and nearly matched his total from all of last week (14).
More fun with Melo takes place when you look at his free throw accuracy. The Syracuse product missed only one free throw, giving the Knicks eight wins in their last 10 games when he misses one or fewer. He has seen his efficiency rise, a rare feat when shot attempts increase. For the season, he averages a solid 1.21 points per shot, but over the last two games, he's up to 1.51.
Tyson Chandler, my leader in the Defensive Player Of the Year voting, showcased his offensive skills in this one. While the Knicks managed to block 0 shots, Chandler dominated the rim on the other side for a change, making 9/10 field goal attempts. The Knicks have won six straight games (dating back to January) in which their big man has shot at least 90% from the field.
New York had the games two highest scoring quarters to start the game (32 in the first and 40 in the second) and finished with the games two lowest scoring quarters (24 in the third and 22 in the fourth).
The Celtics can look at their bench, or lack their of, when it comes to assessing blame for this defeat at the Garden. The bench managed to hand out only one assist, score a mere two points, and record seven fouls. Ray Allen (now a member of the bench) was inactive, but this still has to be concerning for Celtics fans.
In a game in which they were pretty much dominated, the Celtics starting five recorded a positive plus/minus ratio (+5).
Less concerning is the play of their MVP candidate at point guard. Another double double for Rondo (23 straight with double digit assists), as he was largely responsible for what little production Boston had in the first half (11 points and 9 assists). More out of character, was his willingness to dirty his nose in the paint and come up with a team high 6 rebounds. The C's had won 9 straight games in which their all star point guard had grabbed at least 6 boards.
Paul Pierce poured in a game high 43 points, 17 of which came from the charity stripe. Over the last 4 games, 35.9% of Pierce's points have come at the line. His ability to get to the line typically translates to W's, as this was only Boston's third loss in the last 11 games in which #34 has attempted at least 10 freebies. He single handily shot more free throws than the perimeter oriented Knicks, a stat that will lead to a win far more often than a loss.
The Celtics only managed to attempt 66 shots last night; the Cavs think that's a low total, and they scored 77 points (on 78 shots).