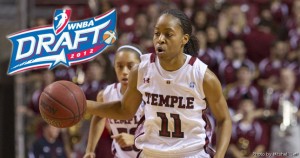 BRISTOL, Conn. – With the 23rd overall pick in the WNBA Draft, the Chicago Sky selected Temple senior Shey Peddy. She becomes just the third-ever player from the program to be drafted by the league, now entering its 16th season. Peddy was the first pick for the Chicago Sky in this year's draft, in the second round.
Peddy, the Atlantic 10 Player of the Year, A-10 Defensive Player of the Year and Big 5 Player of the Year, was the team and league leader this season with 17.6 points per game. On the national scale, she was honored as a WBCA All-Region selection which made her a candidate for All-American honors. Peddy averaged 3.1 steals per game to lead the team, rank second in the A-10 and 17th among all players in NCAA Division I.
In just two years at Temple, Peddy surpassed the 1,000-point mark and finished with 1,025 points as an Owl and 1,876 overall, including two years at Wright State.
Peddy finished her career ranked ninth all-time at Temple in steals after just two seasons, with 206. Her 10 steals in a win at Rhode Island tied the all-time single game program record. Impressive from the perimeter, Peddy hit 77 three-pointers this season to rank first all-time in a single season.
"We're all really happy for her," said Temple head coach Tonya Cardoza, who has known Peddy for many years as they hail from the same hometown of Roxbury, Mass. "I've watched how hard she's worked over the last couple of years and watched her grow, and I know how much she wanted this. She'd never voice it but you can tell. This is such a great opportunity for her and her family."
Talking about Peddy's opportunity specifically with the Chicago Sky, Cardoza thinks it's a great fit. "Chicago is a great organization," said Cardoza. "Pokey Chatman is a great coach and there's lot of good talent there. They are looking for guards, they need guards, and this is a great opportunity for Shey. Pokey is all about work ethic. She's a players' coach but she doesn't let you get away with anything. She's going to bring out the most in Shey."
Former Owl Candice Dupree was also drafted by the Chicago Sky as the sixth overall pick in 2006. Temple alum Kamesha Hairston was taken as the 12th overall pick by the Connecticut Sun in 2007, which was the last time a player was drafted from Temple's program.