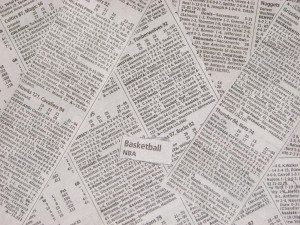 By Kyle Soppe
What better way to celebrate Easter with a great hoops game and a playoff at the Masters? I'll leave the golf analysis to long time Bubba fan, Smitty, and offer my take on the Knicks thrilling 100-99 overtime victory over the Bulls .
If you glance at the box score or watch the highlights on ESPN, the first thing you'll see is Carmelo Anthony. He poured in a season high 43 points, with every bucket being more crucial than the previous one. He drilled a three from about 28 feet to force overtime, and then hit what proved to be the game winner from 26 feet with seconds remaining. A career 31.9% three point shooter, Anthony was the only Knick to get it going from distance. Shot taker (not always shot maker) JR Smith misfired on 9 of his 11 three point attempts and the NBA leader in three point percentage (Steve Novak) missed all four of his attempts. Outside of Melo (4/5), New York shot 4/29 from behind the arc.
Warning: If you're a Knicks fan, turn away now.
Carmelo Anthony has taken 78 shots in April, and handed out only 8 assists. His 1:1 assist to turnover ratio is also an indicator that this season could play out as many Melo season have … disappointing. When he is on (like last night) he's an elite scorer in the NBA, but we have seen this story before, and Knicks fans won't be happy with how this ends.
The Knicks were leading by 25 points in the first quarter, and trailing by as much as 10 with under 4 minutes remaining in the fourth. Simply amazing that they were able to bounce back and win this game.
Tyson Chandler snared 16 rebounds (10 offensive), providing Anthony with the opportunity to play super hero. It was the 7th time in 9 games in which Chandler has recorded at least twice as many rebounds as field goal attempts.
On the Bulls side, this was a story of two halves. In the first half, it was a game that they had no business winning; in the second half, it was a game they had no business losing. Sure, the Knicks wouldn't have won this game without Anthony, but my vote for my influential player goes to Iman Shumpert. The rookie won my vote for defensive player of the year with his effort in defending the reigning league MVP. He swarmed Rose all night long, forcing tough shot after tough shot and turnover after turnover. When all was said and done, Rose "got hot" in the second half and finished 8/26 from the field with twice as many turnovers as assists.
Rose's biggest gaff came when Shumpert wasn't playing defense … nobody was. Rose and Luol Deng each missed a pair of free throws in the final 34 seconds, giving the Knicks a chance. The odds of those two players missing 4 consecutive free throws is 7.8%.
Deng tied a season high with 5 offensive rebounds, but it wasn't enough to overcome his woeful offensive night. He missed all 5 of his three point attempts, and is now 2/17 over his last 5 games. The Bulls are the consensus second bet team in the East, but elite teams find a way to pull this game out. Luckily for Chicago, they get another chance against the Knicks this week, in a game I fully expect them to win.