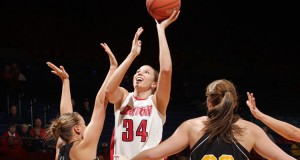 The 2011-2012 college basketball season has been been an exceptional year, especially for the Atlantic 10 conference. St. Bonaventure won its first A-10 regular season crown with an undefeated record in conference play. The Dayton Flyers defeated the Bonnies in the tournament finals to win their first A-10 Conference Tournament championship.  The A-10 conference was well represented in post-season play, and once again validated its status as one of the top conferences in all of women's college basketball.  With a great combination of experience and youth, the future for the A-10 conference remains bright.
For Pickin' Splinters, 10 players stood out from the rest of the crowd in 2011-12. Ten players, who in the eyes of the Pine,  constitute the best of Atlantic 10 had to offer.  Pickin' Splinters is proud the present the  inaugural Atlantic-10 Benchmarks.
First Team
Megan Van Tatenhove (St. Bonaventure) – 13 points and 6 rebounds per game for the Bonnies. The Sheboygan Falls native was an integral piece in St. Bonaventure's greatest season in the school's history.
Jessica Jenkins (St. Bonaventure) – A-10 career leader in three pointers made with 338 trifectas. Led the Bonnies with 13.9 ppg. Shot 95.6% from free throw throw line, just missing three free throws all year.
Abby Oliver (Richmond) –  Averaged 16.4 points  and 2.5 assists per game for the Spiders.  31.6 minutes per game.
Shey Peddy (Temple) – Player of the Year in the A-10, led all scorers in the conference with  17.6 ppg. Was the Defensive Player of the Year averaging 3.1 steals per game.
Justine Raterman (Dayton) – Do it all forward averaged 14.4 points and 6.3 rebounds to go with 46 threes. Was the Most Outstanding Player in the A-10 Tournament. Recently named to the Lowe's senior class first team All-American.
Second Team
Brittany Wilson (La Salle) – Play-making guard excelled at creating her own shot,  averaging 14 points and 4.8 rebounds per game.
Michelle Baker (St. Joseph's) – The senior guard was the  Hawk's leader with 13.0 points and 3.3 rebounds per game.
Alex Gensler (Duquesne) – Concluded her solid career at Duquesne, averaging 13.8 points and 3.1 assists per game.
Wumi Agundiabe (Duquesne) – Led Dukes averaging 14.7 points per game. Averaged 6.4 rebounds, and had 36 blocked shots on the season.
B.J. Williams (Temple) – Averaged 7.1 points and 4.9 assist per game. Held 1.7 assists to turnover ratio (157 assists/93 turnovers).