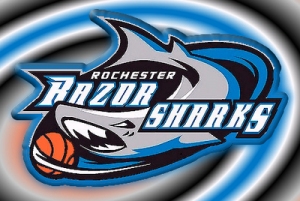 Vincent Simpson hit three free throws to take the lead for good as the Scranton Wilkes-Barre Steamers came into Rochester and defeated the RazorSharks 120-117 on an April Fools' Day afternoon game at the Blue Cross Arena at the Rochester Community War Memorial.
After the RazorSharks went on a 9-1 run to start the fourth quarter and take a 95-90 lead, Brandon Tunnell (15 points, 7 assists) of the Steamers drove through the lane to make the basket and the foul, swinging momentum back towards Scranton Wilkes-Barre setting up a back-and-forth affair for the remainder of the contest.
The Steamers took a seven point lead with 3:29 left in the game when Jerice Crouch (19 points, 7 assists) hit a 3-pointer and a Steamers turnover led to a fast break with Crouch throwing an alley-oop to Aaron Williams (team-high 20 points, six rebounds) who finished with an emphatic dunk to bring the crowd of 4,877 to their feet and bring the RazorSharks within two points.
After a Chris Commons (27 points, six blocks) 3-pointer gave the Steamers a lead, Williams hit one of two free throws for Rochester to tie the game with 20.5 seconds remaining.
With the Steamers in possession of the ball, Simpson (20 points, eight assists) took a 3-pointer for the win, but was fouled by Johnny Mayhane (seven points, seven rebounds, five assists) and proceeded to hit all three free throws.
A Jamaal Davis (eight points, eight rebounds) 3-pointer missed at the buzzer, sealing the Steamers first win against the RazorSharks this year.
Other leaders for the RazorSharks were Tasheed Carr with 17 points and six assists and Todd McCoy with 16 points. Jarhon Giddings had 12 points, seven rebounds, and three steals off the bench, Brandon Webster ended with 11 points and seven rebounds, and Melvin Council had a team-high eight assists.
For the Steamers, Tyler Bullock had 14 points, six rebounds, and three steals and Colby Batiste finished with a double-double of 13 points and 10 rebounds along with four assists and three steals. Matt Gorman finished with 11 points and six rebounds and Kyle Robbins had 10 points and six rebounds.