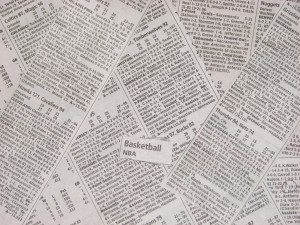 By Kyle Soppe
Here's an uncommon headline for NBA fans: "Lakers overcome Kobe to defeat Hornets". But that's exactly what happened on Saturday night, as the Lakers came back in the fourth quarter to beat New Orleans 88-85.
Kobe Bryant missed his first 15 shots, more shots missed than any other player in the league last night. He connected on 1/8 three pointers, leading to this projected conversation between head coach Mike Brown and Andre Bynum …
"Coach, Kobe has been shooting threes all his life, and he went 1/8 in the game. Look up the stats man, that's my career percentage. Bench Kobe or let me take threes, it's simple logic."
"Um, Andrew, you know Kobe is a career 34% three point shooter right? Simply an off night: he's a proven shooter. You, however, cannot shoot."
"It's a what have you done for me lately league Coach. I'm shooting 50% of late and Kobe is 11.1%. I may not have gone to college, but don't take me as a fool. I'm putting the Warriors on notice for the Sunday night game, the threes are coming in bunches from this guy!"
All joking aside, the Lakers were able to pull this game out due to the play of Bynum and Gasol. The duo made 62.5% of their shots on their way to 40 total points. They also collected 21 rebounds, as the Lakers owned the paint.
With Kobe struggling, the Lakers moved the ball a bit more effectively, as they recorded an assist on 88.9% of their buckets. Ramon Sessions led the way with 10 dimes, and has seen his assist total increase 2.7 apg with the move to LA from his career average.He also only turned the ball over once, as he is doing everything the Lakers had hoped.
As for the Hornets, they managed to take 15 more shots and shot a higher percentage than LA, usually a good formula for winning the game.
The Hornets were guaranteed to lose due to the stat line of Jarrett Jack. The point guard recorded 10+ assists for the fifth time this season, and the Hornets have yet to win a game in which he does so. The same applies for when he takes at least 19 shots, as New Orleans is 0-5 under those circumstances.
When crunch time came, the Hornets crumbled. They shot 33.3% in the final quarter, and seven more personal fouls than the Lakers (leading to a +6 free throw advantage). Good teams find ways to win, and bad teams find a way to lose, and Saturday night's game in LA was the perfect example.