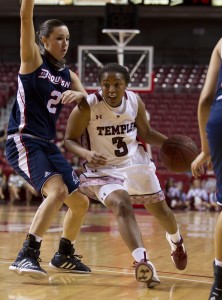 By Kyle Soppe
The Temple Owls polished off a pair of conference opponents this week, thanks in large part to the play of senior guard BJ Williams. On a team with two time reigning player of the week selection Shey Peddy, Williams is typically counted on as more of a calming influence and distributor than a scorer. Williams continued to add to her A-10 leading assist total, but also exploited defenses that played her as a pass first guard to the tune of 34 points in wins over St. Louis and UMass.
On Wednesday, Williams logged a game high 34 minutes, as her productive play made it impossible to bring her out of the game. She poured in a season best 21 points, including three triples, as her Owls cruised to a 66-50 win in St. Louis. Temple struggled on the offensive end early, but two treys from Williams kept them within striking distance. Shey added four rebounds, three assists, and two steals in the victory, proving to the A-10 that she is a threat to score as well as set up her open teammates.
The news of Williams' scoring touch must have been slow moving, as UMass fell victim to some more sharp shooting. Williams, who coming into the week ranked as the fifth most dangerous Owl scorer, double her season average on her way to 13 points in a 77-50 victory. She came into the week struggling with her stroke, but punished the Minutewomen by making three of her five attempts. But the scoring hasn't changed Williams' elite court vision, as she handed out a game high six helpers and only turned the ball over twice.
Her six three pointers on the week were by far the most in a two game stretch. This season, her previous high for three pointers made in a two game span was three, the same number of threes Williams hit in each game this past week. With nine assists and four turnovers, Williams eclipsed a 2.0 assist to turnover ratio for the week.
The Temple Owls (16-8, 9-1) are nipping at the heels of the St. Bonaventure Bonnies for the top spot in the A-10 and seem locked into a bye in the season ending conference tournament. This senior laden team is proving why they were picked as a preseason A-10 champion, and with production like this from Williams, they may be even better than advertised.