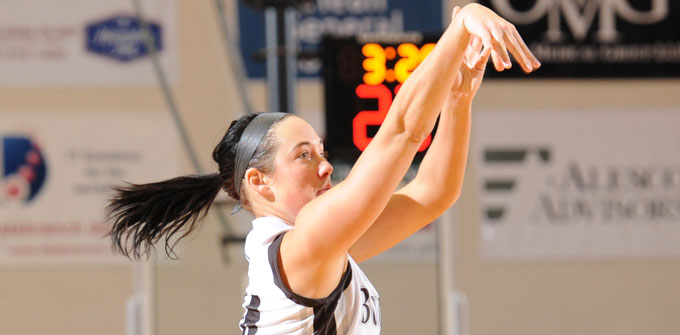 By Kyle Soppe
The St. Bonaventure women's basketball has proven to be the top team in the Atlantic 10, and proved so with two very impressive wins this week over quality opponents. Leading the charge was dead eye shooter Jessica Jenkins, who paces the first place Bonnies in minutes per game, points per game, three point percentage, and steals. Call her Jess, call her JJ, but I call her this week's "Performance of the Week."
On Wednesday, the Richmond Spiders visited the Reilly Center and were outplayed from the very beginning. There was but a single lead change, in large part due to the constant play of Jenkins. Seemingly every time Richmond made a run, the Bonnies senior would deliver a back breaking, momentum shifting bomb. On the night, she tallied 18 points to go with four rebounds, but her impact is felt in ways the stat sheet cannot reflect. The presence of her shooting touch opened up things in the middle for St. Bonaventure, allowing her teammates to also succeed. It was for this reason that the Bonnies were able to overcome early foul trouble of fellow senior Megan Van Tatenhove, and defeat the Spiders 75-59.
Without much time to bask in the glory of a solid home win, SBU hit the road for a showdown with Charlotte, the co-leader of the A-10. The senior-led Bonnies fell behind by as much as 13 in the games first 25 minutes, but Jenkins calmly continued to play her game, resulting in a gutty 68-63 victory. The Bonnies struggled to find their scoring touch early, but it was only a matter of time before #14 would step up. Jenkins connected on 6/10 treys for a team high 23 points. Her six triples gave her 293 for her career, breaking the all time A-10 record. The victory also gave the 2012 senior class 85 victories over four years, matching SBU's all time winningest class.
Jenkins averages 14.7 points per game, and has accounted for more than half of her 18-2 team's season three pointers. She is remarkably efficient, shooting 96% from the line and recording more steals than turnovers, and has the benefit of three years of experience. For those who haven't had the pleasure of watching Jenkins play, I strongly encourage making the time to watch this jump shooter do her thing. SBU is already getting votes in the AP top 25 poll, and after two huge wins, it would not surprise me if they received more national support.
The Bonnies will host St. Joes on Wednesday, as they look for their eighth straight win.
Who else deserves recognition for the past week of conference play in the A-10? Let your thoughts be heard, here on the Pine.