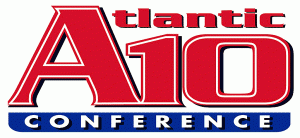 Gensler, Payne, Robinson Honored with Weekly Women's Basketball Awards

NEWPORT NEWS, Va. – Duquesne's Alex Gensler was named the Atlantic 10 Women's Basketball Player of the Week, while La Salle's Jada Payne and Ashley Robinson of Saint Joseph's were named the league's Co-Rookies of the Week, the Conference office announced on Monday.
Gensler moved from 23rd into 20th place on Duquesne's all-time scoring list (1,035 pts.) after hitting a career-high 33 points at defending Northeast Conference champion Saint Francis (PA) on Friday, leading the Dukes to the 74-70 victory. Gensler also set a school record with eight 3-pointers and 12 field goals and became the first DU player to score at least 30 points since Kristi Little did on 1/18/09. The local Pittsburgh product finished the week shooting 60 percent (12-20) from the floor and 62 percent (8-13) from beyond the arc. She also added one assist and one steal. She was also named the Pickin' Splinters Player of the Week.
Payne averaged 15.5 points in a 1-1 week for La Salle, including a 15-point outing in her collegiate debut as the Explorers rolled past Lehigh, 63-43. The Hickory, N.C., native also registered 16 points in La Salle's narrow, 81-76, loss to Albany. The freshman guard finished the week shooting 50 percent from the floor (10-20) and 88 percent (7-8) at the line, while adding 11 rebounds, one assist and two steals.
Appearing in her first game as a Hawk after missing the past two seasons with injury, Robinson made an immediate impact, averaging a double-double as SJU went 1-1. In Friday's season opener at Princeton, the Warrington, Pa., native came off the bench to score a game-high 18 points and add a team-best 10 rebounds to go with three assists and two steals. She followed with another solid performance in a reserve role, chipping in six points, while snagging a game-high 10 rebounds in SJU's win over Lehigh. Additionally, she hit 12-of-12 from the foul line to open the year.