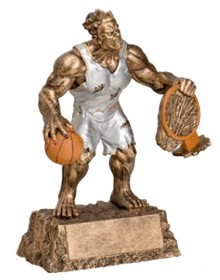 By Ian Levy
This piece also appears at
At the beginning of December I wrote a post handing out "awards" for some of the less than stellar achievements of the season's first half. I titled the post 1st Quarter Crapulence, which as a commentor pointed out was a completely incorrect use of the word crapulence. With another 20 or so games under our belts, here are the newly re-christened Mid-Season Anti-Awards. These Anti-Awards include the ones we looked at last time as well as a few new categories.
The Shawn Bradley Award – This award goes to the player 6'10″ or taller who has had the highest percentage of his shot attempts blocked.
The front-runner is still Bulls' rookie, Omer Asik. Asik's pace has slowed somewhat over the 2nd quarter of the season as his Blkd% has fallen to 25.0%. He certainly hasn't locked this award down as Denver's Chris Anderson has returned from injury and is having his shots rejected at a ferocious pace.
The Shawn Kemp Award – This award goes to the player who has fouled out of the most games. From 1986 up through the present, Shawn Kemp is the NBA's leader in foul outs with 115, 35 more than his next closest competitor.
Serge Ibaka has jumped out to the lead with 6 disqualifications because of fouls. However, it's way to early to count out Andris Biedrins or DeMarcus Cousins. Biedrins and Cousins have 5 and 4 disqualifications respectively, and both average more than 5 fouls per 36 minutes. 
The Jahidi White Award – This award goes to the player with the lowest ratio of Ast/FGA (minimum 200 minutes). The award is named for White who assisted on just 1.7% of his teammates' baskets over a 334 game career.
Robin Lopez is in the lead by a nose with an Ast/FGA ratio of 0.026. He's just barely edging out Serge Ibaka, who's ratio is a sparkling 0.036. Ibaka seems determined to take home some of my Anti-Award hardware. If you really want the trophy then just keep chucking young fella!
The Darrick Martin Award – This award goes to the player with the lowest FG% and a minimum of 100 attempts. The award is named for Darrick Martin, a career 38.2% shooter who played 514 games over 13 NBA seasons.
Lou Williams, our leader after the first quarter of the season, has shot himself right out of this race, pushing his FG% to 39.1%. This still leaves us with a stacked field. Jawad Williams, Rasual Butler, Jason Kidd, James Posey and Greivis Vasquez are all shooting under 36.5%. The current leader is Williams at 32.5%, but if I was a betting man I'd be putting some money on Corey Brewer, who at 37.3% sits 8th, to run away with this award in the second half of the season.
The Jason Kidd Award – This award goes to the player with the most turnovers in a single game. Jason Kidd has had a Hall of Fame career with many terrific positive statistical contributions. He's also had 3 career games with more than 12 turnovers.
Amare Stoudemire is out in front and looks like a lock to take this award home. His 11 turnover game against Washington on December 10th is currently the highest in the league. But with Stoudemire contributing 3 of the top 10 turnover games this season don't discount the possibility of him topping his personal "best."
The Matt Bullard Award – This award goes to the player 6'10″ or taller with the lowest Total Rebound Percentage. (Minimum 200 minutes)
There are several strong candidates for this award and the list reads like a who's who of soft, fluffy, squishy, finesse players. Danilo Gallinari, Donte Greene, Hedo Turkoglu, Matt Bonner, Rashard Lewis, Andrea Bargnani, Brook Lopez and Vlad Radmanovic are all in the running. Gallinari currently has the lead grabbing just 7.4% of the available rebounds while he's on the floor. However, this race just has too many big names to project a winner at this point.
The Kobe Bryant Award – This award goes the to the player who has missed the most shot attempts in a single game. The award is inspired by Kobe's performance in Game 7 of the Finals last season.
Kobe's 21 missed field goals on November 11th against Denver are still in the lead. In a Herculean effort to lock up the award, Kobe also missed 19 shots on November 28th against Indiana, December 28th against San Antonio and November 19th against Minnesota. Derrick Rose appears willing to fight Kobe tooth and nail for this award. Rose has also missed 19 field goals on three separate occasions.
The Nick Anderson Award – This award goes to the player who missed the most free throws in a single game. Anderson was actually a decent free throw shooter. But his four missed free throw attempts in the 1995 Finals against Houston kind of stand out in my memory.
Dwight Howard is really just competing with himself in this category. This season he has missed 12 free throws in a game once, 11 free throws once, 10 free throws twice and 8 free throws twice. There are other candidates out there, but this is really Howard's award to lose.
The Chris Childs Award – This award goes to the player who has posted the highest Turnover Percentage so far this season. It's named after former New York Knick Chris Childs, who retired with a career Turnover Percentage of 22.8%. (Minimum 300 minutes)
Chris Duhon continues to be the front-runner, by a large margin, with a Turnover Percentage of 32.9%. Duhon has been playing fewer minutes recently but has persisted in doggedly coughing up the ball every opportunity he gets.
The Darius Songaila Award – This award goes to the player who has provided his team with the least overall production. I use Wins Produced to determine the winner here. (Minimum 300 minutes)
Toronto's Andrea Bargnani is still out in front. With a WP48 of -0.076, Bargnani has "contributed" -2.0 wins to the Raptors. Despite his lead this race is closer than you might think. Bargnani has actually improved his WP48 since the last time we looked. Meanwhile, J.J. Hickson, Brook Lopez and Wesley Johnson have all declined significantly and find themselves within striking distance.