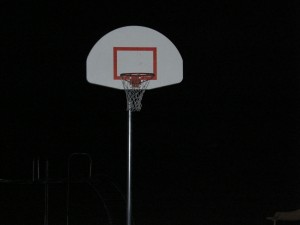 By Ian Levy
The Outside World is a weekly recap of the best basketball writing and analysis the internet has to offer.
– If you're a Clippers fan or fantasy owner counting on Blake Griffin to be healthy this entire season, you might want to take a look at this. 50 gold stars for effort and chutzpah. Minus 50 gold stars for terrible risk assessment. You can only walk away from something like that so many times.
– Good news for Heat fans. Neil Paine of Basketball-Reference did some researching showing that, as in football, blowing out bad teams is actually the best indicator of post-season success. It's predictive value is better than that of close wins over good teams or blow outs over good teams.
– You may already be aware of this, but 30 Rock's Tracy Jordan is not an actor. He's just a character. As proof, I offer this video of him wearing a microphone and sitting courtside at a Knicks game.
– The Onion reports on another catastrophic injury for the Blazers' Greg Oden. Bad luck just keeps mounting up in the City of Roses. In a weird twist of fate I put that link in as a joke Wednesday morning only hours before it was reported that he actually was going to undergo a season-ending second microfracture procedue on his other knee. Kevin Pelton of Basketball Prospectus answers some common questions on the situation.
– Zach Harper and Noam Schiller lament what's been lost and what could have been in Portland.
– Andres Alvarez at Nerd Numbers the Blog takes a look at some of the best and worst statistical performances of this young NBA season.
– Stephen Jackson's troubles off the court have created the image of a pretty unlikeable guy. But that's just image. Here he's happy to share his knowledge of positioning with a youngster, even if that youngster happens to be on the other team.
– Other than the coach, no one knows their team better than the General Manager right? That may not be the case in Detroit or Sacramento. Pistons by the Numbers disagreed with Joe Dumars on several recent points he made to the media. Tom Ziller of Sactown Royalty tries to keep his head from exploding after hearing Geoff Petrie assess the Kings' strengths and weaknesses.
– This likely doesn't happen often, but Joakim Noah made a mistake in the rebounding department and it might have cost the Bulls the game.
– A fun game. Two players, with names removed, compared just by statistics and award resumes. Who would you rather have?
– T.J. Lavin saw this video and said Russell Westbrook "killed it."
You can also find Ian at Hickory-High.com and Indycornrows.com