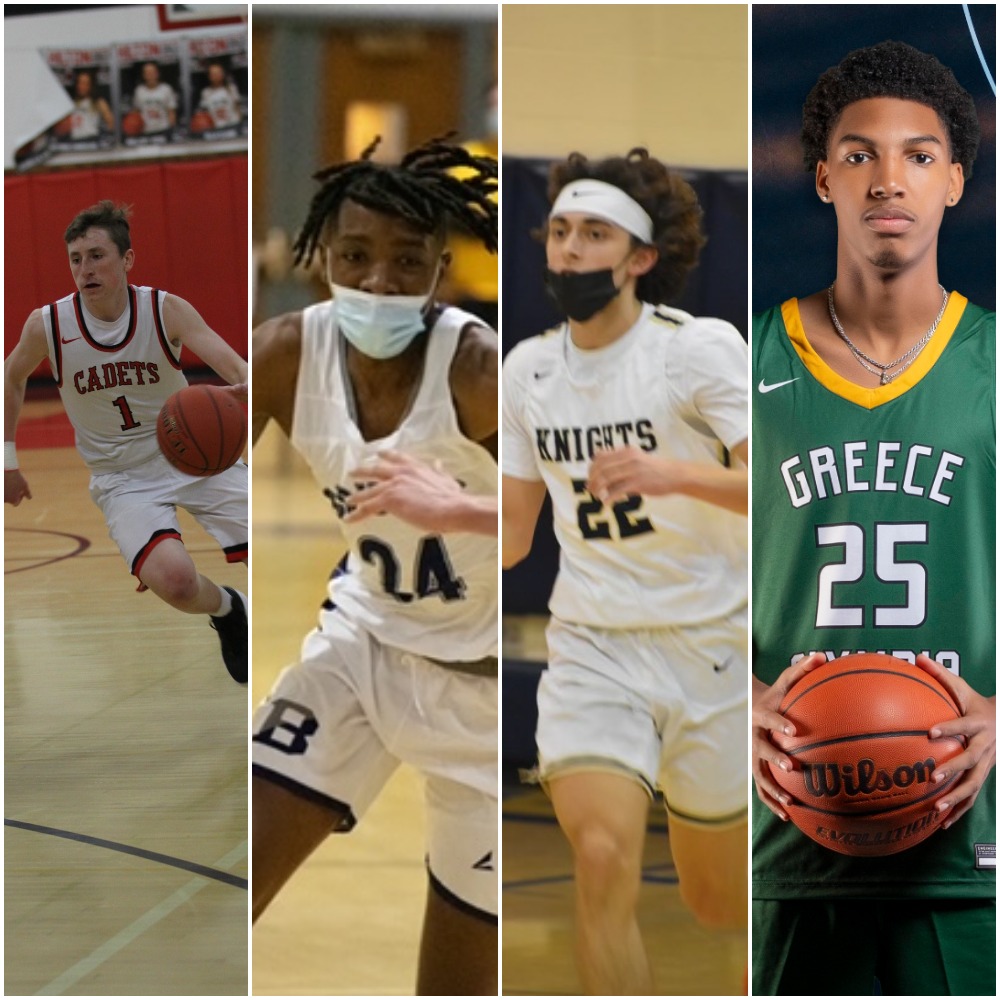 By PAUL GOTHAM
ROCHESTER, N.Y. — Sam Pisanelli helped Pittsford Sutherland to a pair of wins. Preston Prince posted double-double numbers as Hilton went undefeated for the week. Brighton's Reggie Smith, Jr. stuffed the stat sheet in two victories while Anthony Starks and Greece Olympia continued their winning ways. The four were named Player of the Week (Jan. 10-16) for the respective divisions as announced by Monroe County coaches.
Prince shot 50 percent from the floor and averaged 21.5 points and 14.5 rebounds in wins over Gates-Chili and Fairport to earn Division I Player of the Week (POTW). The Hilton senior scored 27 points and hauled in 20 boards in a 68-38 road victory over the Spartans. The 6-foot-4 guard/forward followed with 16 points and nine rebounds as the Cadets (5-5) beat Fairport in overtime. Prince connected on a pair of baskets in the extra period during the win over the division rival. The Niagara University Baseball commit handed out six assists, had two steals and connected on 16-of-32 shots for the week. Hilton travels to Greece Athena for a 6:45 PM tip off on Tuesday.
Smith started the week with 15 points and eight rebounds in Brighton's 74-66 win over Penfield and ended the seven-day stretch with 25 points and 10 rebounds in a 65-60 win over Spencerport. The sophomore guard/forward was named Monroe County Division II Player of the Week. Smith handed out seven assists and blocked two shots in the Bruins' win over Penfield. He had three assists and three blocks in the victory over Spencerport. Brighton (7-3) travels to Brockport on Wednesday for 7:15 PM start.
Pisanelli averaged 15 points per game over three contests last week to earn Division III POTW. The junior guard scored 19 on 8-of-9 shooting in 18 minutes of action in a Sutherland (6-3) win over Spencerport to open the week. He followed with 16 points in a setback against Honeoye Falls-Lima and 10 points in a win over Brockport. Pisanelli, who opened the season with double-doubles in wins over Penfield and Wilson Magnet, grabbed six rebounds against HF-L and seven boards during the matchup with Brockport.  The Knights host Gates-Chili on Wednesday for a 7:15 start.
Starks scored 25 points and grabbed 14 rebounds in Olympia's lone game of the week. The senior forward shot 10-of-15 from the floor and 4-of-6 from the free throw line as the Spartans (7-3) won their second straight and fifth in the past six outings. Starks also had three steals and two blocks in the win.  Olympia visits divisional rival HF-L on Wednesday. A 7:15 PM tip is slated.