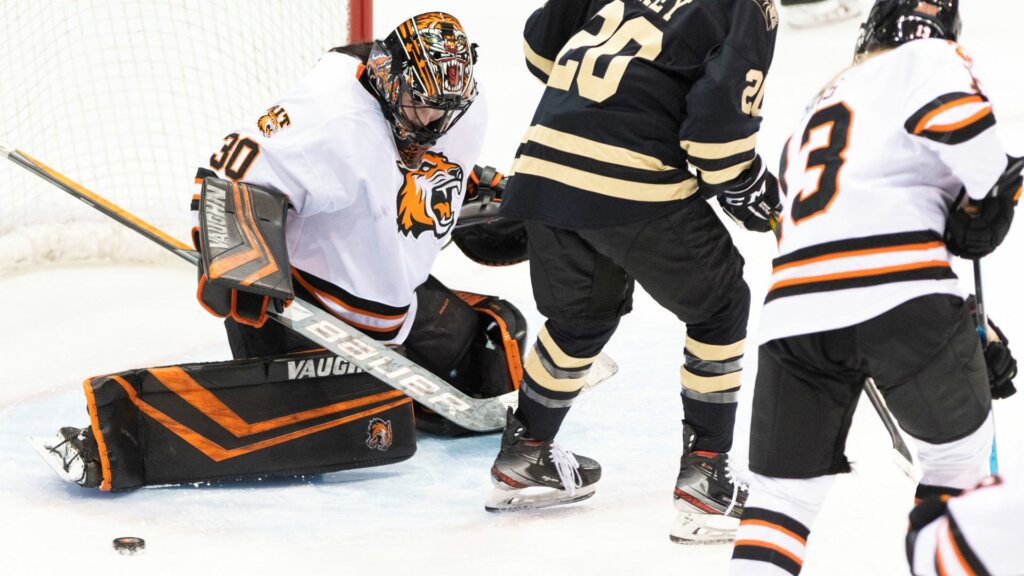 Courtesy of RITAthletics.com
ROCHESTER, NY –– Despite a career-high 55 saves from senior goaltender Jessi O'Leary (Woodstock, New Brunswick/Notre Dame Hounds), the RIT women's hockey team was defeated by Lindenwood University 2-0 in College Hockey America action from the Gene Polisseni Center Sunday afternoon.
Shots were 57-18 in favor of the Lions. The Tigers were whistled for three penalties for six minutes, while Lindenwood finished with four penalties for eight minutes. RIT went 0-for-4 with the extra skater, while the Lions went 0-for-3 on the power play.
Megan Wagner and Gigi Pora each scored for Lindenwood, while Rachel Goff (Naperville, IL/Chicago Mission) and Kaitlin Finnegan each had an assist for the Lions. Annika Asplundh picked up the win in net for the Lions, making 18 saves.
Wagner gave Lindenwood the lead on her second goal of the season at 5:13 of the third period off an assist from Finnegan. Wagner beat O'Leary with a shot over her shoulder into the top corner off the pipe. Pora added an empty-net goal at 19:02 to make it a 2-0 final
Tori Haywood (Pickering, Ontario/St. Mary's Catholic) had a great chance to tied the score on her shot from the slot the Asplundh was able to save. She had a great chance in the first period when she dug out a puck along the boards in the first period, and drove in on net only to have her shot turned aside.
These same two teams will play again on Monday, Jan. 11, at 3 p.m. from the Gene Polisseni in the second of four games between the Lions and Tigers this season.