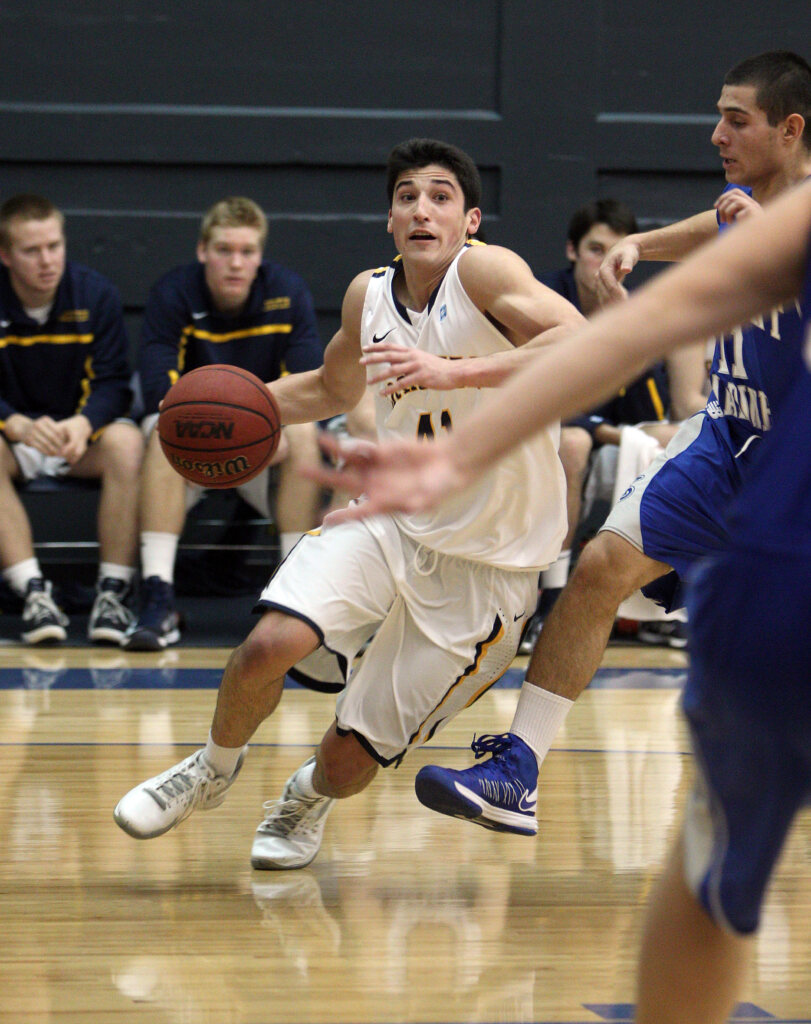 Courtesy of University of Rochester Athletic Communications
John DiBartolomeo, Rochester Basketball Standout, Named As One of the Best Division III Players in the Last 10 Years
ROCHESTER, N.Y. – John DiBartolomeo, who was a dominant player at both ends of the court for the University of Rochester, has been named to the Team of the Decade for men's basketball by D3hoops.com. The organization selected 25 Division III players – four teams of five players each plus another five as Honorable Mentions.
DiBartolomeo is one of two players selected from schools in the University Athletic Association. Sean Wallis of Washington University-St. Louis is the other. The group has three players from the East Region (New York State): DiBartolomeo on the Second Team, Jared Suderley of Hartwick College and A.J. Matthews of Farmingdale State are listed among the Honorable Mentions. DiBartolomeo is a native of Westport, Connecticut and an alumnus of Staples High School.
See the full team here: https://www.d3hoops.com/awards/all-decade/2010s/men/selections
With DiBartolomeo in the lineup, Rochester won the 2010-11 UAA title and shared the 2012-13 title (with Washington and Emory). The Yellowjackets played in the NCAA Division III Championships in each of those years. The 2010-11 team won neutral court games against Elms College of Massachusetts (81-70) and MIT (60-52) at Ithaca. UR hosted the sectional round but was knocked out by Middlebury College (61-52) in the Sweet 16.
In his senior season, DiBartolomeo led Rochester back to the NCAA tournament. He scored a career high 42 points in a 91-86 first-round victory over Fitchburg State College of Massachusetts in the Palestra. Rochester lost at the buzzer, 70-68, to Ithaca in the second round game.
While at Rochester, DiBartolomeo was a three-time All-American and finished his career third in school history in scoring (1,779), second in assists (533), second in steals (201) and second in free throws made (520).  He also guided the Yellowjackets to an 18-0 start in 2012-13 which led to a #1 ranking in Division III. He was named the Division III National Player of the Year by D3hoops.com and by DIIINews.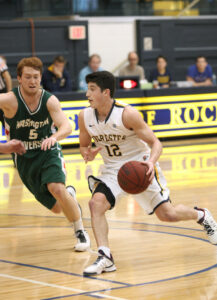 As a senior, he topped the 30-point barrier six times, starting with 37 points in an opening night victory over the U.S. Merchant Marine Academy at home. In late January, he scored 36 points including 19 of 19 from the foul line as 2nd-ranked Rochester rallied to defeat 19th-ranked Brandeis University. The 19 free throws are a single-game Rochester record. The win pushed UR into the #1 ranking nationally by D3hoops.com.
In August, DiBartolomeo re-signed a contract with Maccabi Fox Tel Aviv, defending champion of the Israeli Winner League. DiBartolomeo is a former Israeli international point guard. He holds a dual citizenship in Israel and in the United States. This is his fourth season with Maccabi Fox Tel-Aviv. He was a member of the Israeli Senior National Team two years ago. This is his eighth season in pro basketball.
He played previously in Spain with Palma. He won the Israeli Premier League championship title for two years in a row (2018 and 2019). He received Eurobasket.com All-Israeli League First Team honors in 2017 and 2019.
Before joining Maccabi Fox Tel Aviv, DiBartolomeo played with Maccabi Haifa. In 2015, just over two years after graduating from Rochester, DiBartolomeo played against two NBA teams when Maccabi Haifa made a brief trip to the United States. He played against the Memphis Grizzlies in the FedEx Forum in Memphis. He had three points and three assists in 19 minutes. Three nights later, Maccabi Haifa played in the Staples Center in Los Angeles against the Los Angeles Lakers. DiBartolomeo played 22 minutes, scored five points, and handed out four assists.
Among his assorted honors at Rochester, DiBartolomeo was named the UAA Rookie of the Year in 2009-10 and First Team All-UAA in 2010-11, 2011-12, and 2012-13. He was the UAA Player of the Year in 2010-11 and 2012-13. He was a consensus First Team All-American as a senior (D3hoops.com, DIIINews, NABC, USBWA). DIIINews named him an All-American in his junior year as well. He played in the Reese's NABC Senior All-Star Game in 2012-13.