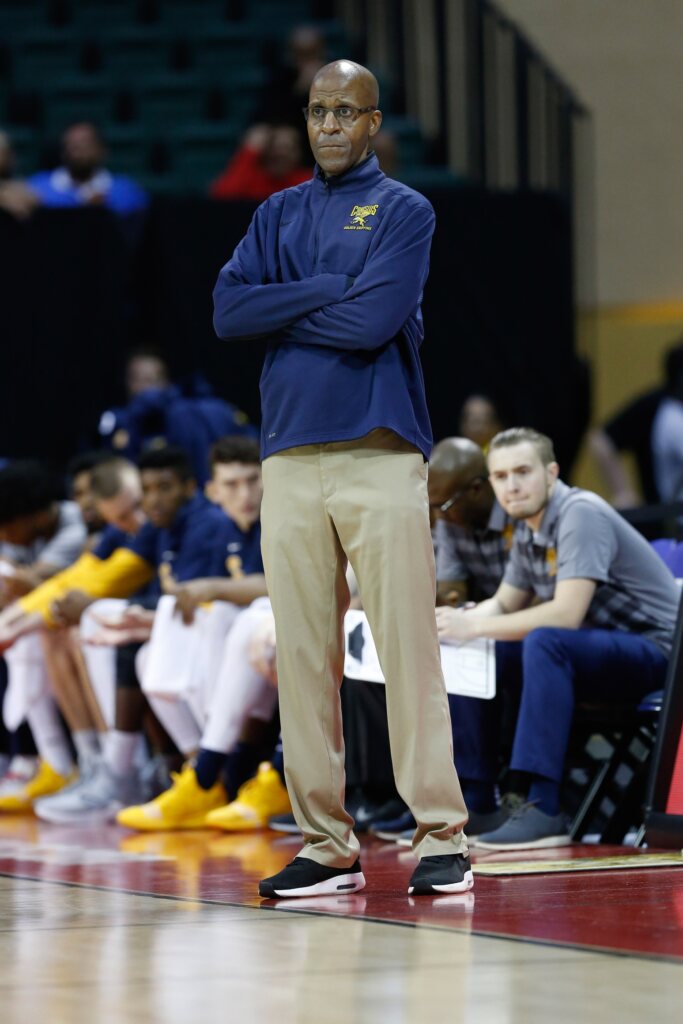 Courtesy of GoGriffs.com
Canisius sophomore Jacco Fritz recorded his third career double-double with 14 points and 10 rebounds and junior Jordan Henderson added 14 points and two assists as the host Golden Griffins started the 2021 calendar year off with a victory on Friday, defeating Saint Peter's 70-58 at the Koessler Athletic Center.
The win, which ended Canisius's three-game losing streak, moved the Blue and Gold to 2-3 overall and 2-3 in MAAC action, while Saint Peter's fell to 6-4 overall and 3-2 in conference action.
Fritz scored his season-high 14 points after going 5-for-9 from the floor and 4-for-5 from the free-throw line on the day. Eight of his season-high 10 rebounds came off the defensive glass, and he was also credited with four assists and he matched a career-high with three blocked shots. Henderson hit three of the team's eight 3-point field goals and also made 5-of-6 chances from the charity stripe in the victory for the Griffs, who ended the game by shooting 44.6 percent from the floor, 40.0 percent from 3-point range and 75.0 percent from the free-throw line. Four different Canisius players also grabbed five-or more rebounds in the contest, as the Blue and Gold out-rebounded the Peacocks by a 38-35 count.
For Saint Peter's, redshirt-senior KC Ndefo led all scorers with a game-high 17 points off the bench, and he was also credited with a game-high five blocked shots. Sophomore Dough Edert chipped in 15 points to the losing effort, as Saint Peter's ended the game by shooting 40.7 percent from the field, but made just 3-of-18 tries from behind the arc.
"First of all, Saint Peter's is a really, really good team," Canisius head coach Reggie Witherspoon said. "They just play so hard and they're so well-coached. They play together, too. But this was a pretty good effort for us. We've got a long way to go, but I thought the first half was pretty good. With that being said, we still have some things that we need to get better at."
Canisius trailed Saint Peter's 15-13 after Ndefo scored a traditional three-point play with 10:46 left before halftime. From there, Canisius took over, as the host Griffs outscored the Peacocks 27-6 over the final 10:24 of the opening stanza. In that scoring spurt, senior Jalanni White scored nine-straight points for Canisius to give the Griffs a 38-21 lead with 1:05 left before intermission. Canisius took a 19-point cushion into the locker room at halftime after senior Majesty Brandon raced the length of the floor with 4.8 seconds left on the clock and got a shot off just in front of the halftime horn. The 40 points scored by Canisius in the opening half are the most for the team in a 20-minute stretch this season.
"Hopefully a game like today builds confidence from a standpoint that if we do what we're supposed to do with the intensity level that we need to bring, that we will always have a chance," Witherspoon added. "Coming off the last game, we got taught a lesson by a really, really good team. My challenge to the team is to always be awake, aware, alert and urgent. We may have hit those markers early on, but we needed to be a little bit more poised. Once they settled in and calmed down a little bit, I thought we had a really strong stretch of 16 minutes or so of good team basketball in the first half."
Saint Peter's was able to trim Canisius' lead to six at 42-36 with a 15-2 run in the first 6:43 of the second half, but the Griffs responded with the game's next four points to make the score 46-36 with 12:16 remaining. The Peacocks would get within seven points moments later before back-to-back baskets by Fritz, capped by a dunk in transition, pushed Canisius' margin to 11 points at 53-42 with 8:39 left to play.
White and Brandon each posted nine points on the final scoresheet in the win for Canisius, which has taken five of the last six meetings between the two Jesuit schools, dating back to the 2017-18 campaign. Junior Malek Green was good for eight points and five rebounds off the bench, while sophomore Armon Harried chipped in seven points, seven rebounds and a blocked shot in 23 minutes of work. Canisius will close out its two-game MAAC series with Saint Peter's at the Koessler Athletic Center on Saturday, with tip-off set for 1 p.m. The game will be broadcast live on ESPN3, and the radio call available through WECK Buffalo Radio (1230-AM, 100.5-FM and 102.9-FM) and GoGriffs.com.